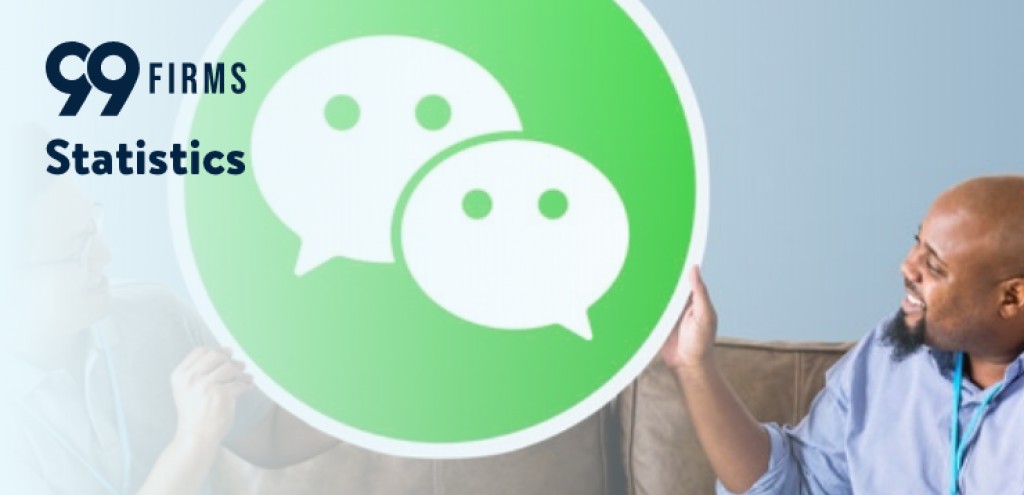 WeChat, or Weixin in China, is a social media app launched by Tencent in 2011. As these WeChat statistics show, the app started out as a messaging and networking service like, say, Facebook or WhatsApp. However, the platform has since gone on to introduce several more features that have made it an increasingly indispensable companion among its predominantly Chinese users.
While its use outside China remains fairly low, and concerns related to censorship and privacy remain pertinent, its dominance in one of the largest markets in the world makes it an entity well-worth understanding. The service recently achieved a billion monthly active users and continues to introduce innovations to discover new paths for growth. These services don't just make it a strong competitor to globally popular social networking platforms but also to leading players in other verticals like Visa and MasterCard.
We're sure these carefully chosen stats will further improve your understanding of digital marketing trends in 2020 and illustrate what makes this app tick.
Fascinating WeChat Stats (Editor's Choice)
WeChat users send 45B messages daily.
WeChat users send 6.1B voice and 205M video messages daily.
On average, users spend more than 66 minutes on WeChat daily.
WeChat had 2.47M monthly active users in the US as of July 2018.
17% of male internet users in the US use WeChat, as opposed to 6% of female users.
13% of urban US internet users use WeChat, compared to 8% of rural users.
News and promotions are the two main reasons people follow WeChat Official Accounts.
Over 200M bank cards in China are linked to WeChat Pay.
1. WeChat had 1.056B monthly active users by October 2018.
That's more than the population of Europe and Russia combined! When ranking the most popular social networking sites worldwide, WeChat ranks a commendable fifth. The only other sites/apps above it are three Facebook platforms (Facebook, WhatsApp, and Facebook Messenger) and YouTube. Some other well-known platforms like Instagram, Twitter, and LinkedIn score below WeChat in terms of active users.
(Statista)
2. On average, a WeChat user in 2018 would have 110% more contacts than he did in 2015.
According to WeChat usage statistics from 2018, its user base has grown at a rapid pace as it continues to build upon the number and quality of services it offers. The more connected its users become, the stickier the platform gets, and the more frequently it's used. A 110% increase in three years is a remarkable growth when other social media networks are beginning to see stagnation.
(China Internet Watch)
3. WeChat users send 45B messages daily.
According to official sources from Tencent Holdings, as far back as November 2017, WeChat users were already averaging 38 billion messages daily. This was an increase of 25% over the previous year, bringing the platform even closer to WhatsApp's daily average figure of 55 billion.
(Time Out Beijing)
4. WeChat users send 6.1B voice and 205M video messages daily.
A key difference WeChat usage has from that of WhatsApp is that a very large fraction (about 16%) of those daily messages on WeChat consists of voice messages and not plain text. An additional 205 million messages even include video along with voice. WeChat is making use of better internet connectivity and improved bandwidth to facilitate easier communication.
(China Daily)
5. WeChat has 68M videos uploaded every day.
With WeChat, facts like these prove that the app has emerged as a strong competitor to Snapchat and YouTube. While it is still some distance away from catching up with YouTube's 300 hours worth of videos uploaded every minute (YouTube doesn't release data on the number of videos), video has surely emerged as one of the more popular services among the wide range of things one can do on the platform.
(In The Black)
6. 98.5% of 50- to 80-year-old smartphone users in China use WeChat.
Unlike many other global social networking apps, WeChat popularity has risen the fastest in recent times among senior users. It has become an integral part of the lifestyle, at least in China, with its messaging, calling, entertainment, and payment options taking care of multiple needs. According to a China Daily article, by September 2018, over 63 million WeChat users were registered as 55 years old and above.
(technode, China Daily)
7. On average, users spend more than 66 minutes on WeChat daily.
Users spend more time every day on WeChat than they do on Facebook (about 50 minutes). At the higher end, there are about 17% of users who spend more than 4 hours communicating, shopping, or entertaining themselves on the platform.
(The Telegraph)
8. 60% of WeChat users open the app more than 10 times a day.
WeChat scores very high on engagement rates as well, with more than 60% of its users opening the app more than 10 times every day. WeChat user numbers show that an incredible 21% of them do so more than 50 times!
(Tencent)

9. In 2017, WeChat accounted for 34% of China's total data traffic.
Given all that one can do on WeChat, both at work and at leisure, it's understandable that its share of total data traffic is very high. No single app has this kind of dominance over such a large market in any other part of the world, which is a sign of the app's power. In contrast, Facebook statistics show the social network accounts for only 14.1% of the traffic in North America, 23.6% in Latin America, and 16% in Europe.
(WeChat Impact Report 2018)

10. WeChat drove RMB 333.9B in Chinese currency, covering travel, food, shopping, tourism, etc.
The latest WeChat statistics prove that it has had a tremendous social impact also, with about $50 billion USD in domestic consumption across a wide range of sectors moving through the platform. According to the same report, WeChat also contributed to the employment of 20.3 million people in 2017, more than double 2014's figure, and WeChat-driven information consumption reached RMB 209.7 billion (approx. $30 billion USD) during the same period.
(WeChat Impact Report 2018)
11. Hong Kong's WeChat penetration is 44%, the highest outside mainland China.
Despite the large number of users worldwide, WeChat has stayed relatively under the radar because the number of active users outside China is quite low. Since Tencent does not release territory-related user data, it was notoriously difficult to get information on WeChat users by country in 2018. Unsurprisingly, Hong Kong has very high penetration, as does Singapore at 24%.
(Statista)
12. WeChat had 2.47M monthly active users in the US as of July 2018.
Among the most popular messenger apps in the US, apart from the usual suspects like Facebook Messenger, Snapchat, and WhatsApp, other competitors like GroupMe, Discord, Kik, and Telegram rank above WeChat. Even within the US, a large proportion of the users are believed to be members of the Chinese diaspora.
(Statista)
13. WeChat.com's second-highest traffic comes from the US, after China.
While global, WeChat's traffic isn't the best way to get an idea of the overall WeChat user numbers, it is interesting to note that, as of December 2018, the US accounts for 15.48% of the site's traffic. This is next only to China, which accounts for 24.28% of the traffic, and above Hong Kong, which accounts for 9.39%.
(SimilarWeb)

14. 23% of US internet users in the 18–24 age group use WeChat.
As is the case with many other social media apps, the adoption rate for WeChat in the US is the highest among the youngest adults. It's slightly lower for the 25–34 group at 22% and then decreases progressively with increasing age, according to these WeChat statistics. In the UK, the highest use of
WeChat is in the 25–34 age group at 23%, followed by 20% for the 18–24 group.
(We Are Flint)
15. 17% of male internet users in the US use WeChat, as opposed to 6% of female users.
There's a notable difference in the adoption rate for WeChat between male and female users in the US. In the UK, on the other hand, 11% of male internet users above 18 and 8% of female internet users report using WeChat.
(We Are Flint)

16. 19% of US internet users with an annual household income over $100K use WeChat.
There's also a slight difference seen in WeChat usage in terms of household income, both in the US and the UK. In the US, as household incomes fall, the number of WeChat users also seems to decrease progressively. In the UK, households with annual income above £48,000 have 15% WeChat users, and this rate also mostly falls uniformly as the incomes decrease.
(We Are Flint)

17. 13% of urban US internet users use WeChat, compared to 8% of rural users.
Perhaps expectedly, the WeChat adoption rate, both in the US and the UK, is notably higher among urban internet users. In the UK, while 11% of internet users residing in urban areas use WeChat, only 6% of those in rural areas do so.
(We Are Flint)
18. 90% of Chinese professionals prefer WeChat for workplace communications.
With its huge user base and an increasing number of features enabling work-related tasks, WeChat stats show that it continues to blur the line between personal and professional life, with nearly 90% of more than 20,000 surveyed web users in China considering the app their top choice for daily work communication. It can even serve as a no-frills video conferencing software, thanks to the Group Calls feature.
(South China Morning Post)

19. 70% of the Chinese rely on WeChat for work-related communications instead of email.
Chinese users may not check their email accounts regularly, but they frequently read their messages on WeChat. With 70% of the Chinese using WeChat instead of email to communicate with clients, suppliers, and colleagues, organize work, and read professional information, the platform works as a great resource to generate leads.
(MarketingToChina)
20. By the beginning of 2018, WeChat at Work reached 30M active users.
WeChat at Work is a collaborative communication tool similar to Slack that's found favor with many Chinese workers. According to the WeChat statistics from 2018, it had 30 million active users from 1.5 million registered companies across 50 different industries.
(technode)

21. By the end of 2017, the number of WeChat's Official Accounts surpassed 20M.
The millions of jobs created through WeChat include the many bloggers and entrepreneurs who started companies via WeChat Official Accounts, many of which become million-dollar-brands. Active WeChat Official Accounts numbered over 3.5 million in 2017, a year-on-year increase of 14%.
(WalkTheChat)
22. News and promotions are the two main reasons people follow WeChat Official Accounts.
WeChat Official Accounts are a great way for entrepreneurs and businesses to earn money, as long as they're providing what their audience expects from them. According to WeChat statistics, 74.2% of users cited news as the primary reason they follow any Official Account, while 41.9% do so for promotions.
(Statista)
23. 34% of WeChat Official Account owners say it has helped cut costs by more than 30%.
WeChat Official Accounts proved objectively beneficial to their enterprise owners. Apart from the reduction in operational costs, 32% have sold products via these accounts, and 40% have used them to provide services or customer service.
(technode)

24. China accounted for more than 60% of the global user base for proximity mobile payments in 2018.
Despite the rise of Android Pay, Apple Pay, and Samsung Pay, China remains the global leader in proximity mobile payment adoption rates. The high penetration, especially in urban areas, has given WeChat revenue a massive boost, as well as an enviable head start over its global competitors.
(technode)

25. WeChat Pay is used by 93% of consumers engaging in offline purchases in tier 1 and 2 cities in China.
WeChat Pay, the digital wallet service, first began playing catch up to Alipay, the market leader, in 2014. Its penetration in the urban market has been remarkable, with 44.5% of users claiming not having to carry cash is the primary reason for using WeChat Pay.
(Penguin Intelligence, technode)

26. 688M people sent WeChat hongbao on the Chinese New Year in 2018.
Hongbao, the monetary gift in a red envelope traditionally given by elders as blessings to young ones on the occasion of the Chinese New Year in February, is fast turning completely cashless too. 688 million WeChat users on the 2018 Chinese New Year sent money via WeChat's hongbao service instead of handing over actual cash, a 15% increase from the previous year.
(technode)

27. 41.2% of users from China prefer WeChat when paying for their insurance products.
In a May 2018 survey of the most popular methods of payment when purchasing insurance products in China, 41.2% of respondents said that they use WeChat. This is next only to the 57% who prefer to use Alipay.
(Statista)
28. Over 200M bank cards in China are linked to WeChat Pay.
WeChat stats show that its payment service is now so popular and widely used in China that cash has become virtually redundant in many cities. Almost all vendors, even local fruit sellers, now accept these methods. At the end of 2016, over 300,000 offline retail companies accommodated WeChat payments. Of course, this success in the domestic market hasn't been replicated in any other country as of now.
(Mailman)
29. The number of users paying with WeChat for public transport has increased by 4.7X since 2017.
WeChat stats show that the app is fast replacing traditional modes of payment in the markets it dominates. Its use as a payment method in retail stores has increased by 1.5 times, in restaurants by 1.7 times, and for medical expenses by 2.9 times in just one year.
(China Internet Watch)
30. 40.3% of WeChat users donate to charity using the platform.
It's not just consumption that's being driven by WeChat. One of the most socially relevant WeChat trends has been an increase in the number of users who are donating to charities using the platform. This number reached 40.3% of WeChat users in 2017, almost twice the 2015 figure. Many of these are people who wouldn't otherwise donate to charity in the absence of such readily available avenues.
(technode)
31. On average, WeChat statistics show that hospital wait times have gone down by 43.6 minutes when using WeChat.
China's hospitals are noted for their inefficiencies. Using modern technology to bypass some of the inherent issues, 40% of health institutions in China are using WeChat in some form. This includes communicating news and updates with patients, sharing information about doctors, and allowing patients to make appointments online. WeChat Pay is also used for accepting registration fees and medical bills.
(technode, Forbes)

32. WeChat's ARPU in 2016 was estimated to be $7, significantly higher than WhatsApp's.
Tencent and Facebook, the respective owners of WeChat and WhatsApp, do not release revenue figures specifically for these two messaging apps. However, according to some estimates, while WeChat turnover amounted to $6.2 billion in 2016 thanks to a high ARPU of about $7, WhatsApp's ARPU is expected to grow to only $4 by 2020.
(Forbes, Investopedia)
33. 76.4% of WeChat users use Moments to share experiences and to catch up with their friends' stories on a daily basis.
Moments is the name for the social feeds of friends' updates on WeChat, where users can post images, text, comments, and articles or share music and "like" shared content. This is the most popular feature offered by WeChat, with more users using it every day than any other feature. 61% of WeChat users said they check Moments every time they open the app, according to more WeChat statistics. Advertising experts leverage this and target the Moments users to get their attention. (Statista)
34. The WeChat platform offers more than one million mini-programs.
Mini-programs are sub-applications, smaller than 10 MB in size that can run instantly on WeChat's interface. They don't need to be downloaded from any app store and run from within WeChat on any OS. Gaming and e-commerce are the most popular segments among WeChat mini-programs and another tool to ensure stickiness among users.
(South China Morning Post, Luxion Media)
35. WeChat mini-programs have over 300M daily active users.
Mini-programs are helping the platform retain users, with WeChat personal statistics showing that the proportion of people who return the next day to use the app had increased to 25.5% in mid-2018, compared to 13.2% in late 2017. The record for daily active users of mini-programs (280 million) was set during the Chinese New Year Holiday in February 2018, helped partly by a mini-game called Jump Jump.
The number of mini program DAUs continued to grow, and today, there 300 million of them, which is a 45% increase in usage compared to 2019.
(Jing Daily, South China Morning Post)
36. 67% of WeChat e-commerce mini-program users are female.
A 2018 survey by research agency ALD revealed some interesting points in relation to the use of mini-programs. According to additional WeChat stats, the numbers jump to 95% for vertical retailers. Such mini-programs have helped brands like Longchamp, Gucci, Michael Kors, and Fendi market their products effectively.
(Luxion Media)
37. In 2018, WeChat was the top platform for delivering news feed ads in China.
When it comes to ranking the top mobile news feed platforms, in terms of monthly active devices, WeChat takes first place with a substantial lead over its competitors. According to WeChat marketing statistics from 2018, while it had 1.08 billion units, QQ had 669.8 million, and Tencent Video had 558.83.
(China Internet Watch)
38. WeChat launched its own version of Facebook Stories in December 2018.
Providing ample proof that instead of resting on its laurels, WeChat is moving aggressively to corner as much of the social networking market as it can, the platform launched its biggest upgrade in six years in December 2018. This included two new sections – Time Capsule and Top Stories – and several news features for WeChat iOS 7.0. The new version is not available in Android as of writing this but is expected to be very soon.
(China Internet Watch)
39. Chinese tourists are driving WeChat's adoption in other countries.
Over 70% of Chinese travelers' mobile internet traffic in Korea took place on WeChat. And WeChat statistics by country also show that 20% of payments from Chinese tourists in Japan in 2017 were made via WeChat Pay. WeChat's cross-border payment solution helps overseas merchants draw Chinese travelers into their shops and serves as a lasting link to the platform's hundreds of millions of users. Chinese tourists can make payments to merchants in Chinese yuan while merchants receive payments in their local currency.
(technode, GoMedici)
40. WeChat Pay can now handle transactions in 13 different currencies in 25 countries and regions.
Mainly with the aim of serving Chinese outbound tourists, WeChat Pay has established partnerships with a growing number of overseas merchants with the ability to handle transactions in 13 different currencies in 25 countries and regions. WeChat Pay has also been gradually moving into European countries since 2015, joining the growing trend of cashless payments everywhere.
(technode)
Key Takeaways from Our WeChat Statistics:
While many other social networking services face stagnation, WeChat continues its relentless pace of growth, even if it is largely limited to Chinese users.
Apart from strengthening its existing services, WeChat continues to aggressively offer new ways for consumers to engage with the platform.
Initially driven by Chinese tourists and expats, the service has begun to make slow but steady inroads into other markets, making it a strong potential threat to the dominant players.