No matter what your online marketing strategy is, Facebook has to be a big part of it. With almost 2.7 billion active users, Facebook is by far the largest social media platform in the world. But you already know that, don't you?! You're probably more interested in some other, more substantial Facebook statistics. With that in mind, we have prepared a list of facts and figures that will interest you, amaze you, and help you improve your digital marketing strategy.
Facebook Statistics (Editor's Choice)
28.5% of the world uses Facebook.
There are 1.84 billion daily Facebook users.
73% of adults aged between 50 and 64 use Facebook.
83% of Facebook users worldwide are 45 or younger.
54% of women and 46% of men use Facebook.
India has the largest audience size—320 million.
Facebook's total revenue for 2020 was $85.96 billion.
1.25 billion users are watching Facebook videos.
Facebook Usage Statistics
1. 28.5% of the world uses Facebook.
This is over a quarter of the entire world's population, genuinely making Facebook the biggest social media platform ever. Upon seeing this figure, it's no surprise social media marketers make it a big part of their overall marketing strategy, and so should you.
(Statista)
2. According to Facebook user stats, over 270 million profiles on Facebook are fake.
Facebook has been "cleaning house" recently, but being such a large platform, it's challenging to find and remove this massive number of fake accounts. At least they've admitted that there are this many (a number close to the population of Indonesia).
(Mashable)
3. Facebook Lite has 200 million users worldwide.
Facebook Lite is Facebook's smaller app, which runs similarly but uses less space and data, making it perfect for people who don't want to spend too much of their monthly data package on Facebook. These 200 million users prove that this version of Facebook's app is still quite useful and doesn't compromise the quality of the overall experience.
(Engadget)
4. The average number of Facebook daily active users was 1.84 billion as of Q4 2020.
Facebook traffic stats have been slowing down in growth in recent times. Considering that 28.5% of the world's population is on Facebook and that the company's image has worsened a bit, this number is still very high.
(Facebook)
5. The number of Facebook monthly active users was 2.8 billion as of Q4 2020.
Facebook users over time have grown, reaching 2.8 billion in the third quarter of 2020. We can safely assume that the social media giant isn't planning on stopping its growth anytime soon. The only limit is the finite number of people in the world. But even that increases over time, so essentially, the number of Facebook monthly users can keep on growing forever.
(Facebook)
6. 69% of Gen Z-ers use Facebook to learn about live events.
If you're promoting live events that target the younger generations, you need to remember this. If such a high number of Gen Z-ers use Facebook for discovering and learning about live events, then there's no better place than this platform to advertise them.
(StubHub)
7. 73% of adults aged between 50 and 64 use Facebook.
People usually assume that most Facebook users belong to the younger generations and that they are the most active users. However, these Facebook user statistics prove that older people are also very present on this social network.
(PewInternet)
8. 69% of American adults are using Facebook regularly.
With almost half of the nation being on Facebook every single day, the high percentage of Americans on Facebook isn't a surprise.
(PewResearch)
9. 53% of Americans use Facebook a couple of times a day.
This number is the biggest in the US. All other social media platforms are used less, with Facebook-owned WhatsApp being the closest at 44%.
(Statista)
10. US adults are spending an average of 38 minutes per day on Facebook.
Time spent on Facebook statistics reveal that US adults are now spending an average of 38 minutes every day on Facebook, up from 27.20 minutes in 2019.
(Whatagraph)
11. 45% of all US adults get news from Facebook.
Many people today get their news from not-so-trustworthy sources. So this figure isn't too shocking. Almost half of the entire adult population in the US currently on Facebook gets their news there.
(Reuters)
12. With 2.5 million users, California is the leading US state by Facebook users.
When considering Facebook users by state, California is the leader. New York comes in second with 2.2 million, followed by Texas with 1.5 million, Florida with 1.48 million, and Illinois with 1.47 million.
(Infogram)
13. 400 new users sign up every single minute.
Even with more than a quarter of the world's population already on the platform, Facebook popularity is still quite high. Facebook stats reveal 400 new accounts every minute, meaning that it takes less than two days for there to be a million new users on the platform.
(WordStream)
14. Every 60 seconds there are over 317,000 status updates, at least 400 new users, and 54,000 shared links on the platform.
These numbers are for just one minute. Now, isn't that something? Oh, and for those interested in how many Facebook posts per day there are, these numbers will surely give you a clue.
(DigitalMarketing.org)
15. 98.5% of user accounts are accessed via smartphone.
In the seemingly never-ending mobile vs desktop war, smartphones are winning. Almost every active user accesses Facebook via their smartphone, but this doesn't mean that they've entirely cut off their desktop use.
(Statista)
Facebook Demographics
16. 83% of Facebook users worldwide are 45 or younger.
This may not surprise many—when it comes to the Facebook age demographics, you probably already expected this number to be pretty high.
(Marketing Wire)
17. Facebook is most popular among those with some college or higher education.
Facebook is the most popular network among college graduates, with 73% of its users having a degree. Usage penetration is 71% for those who have attended some college, and 64% for those who have attended high school.
(Statista)
18. Facebook penetration is highest among the $30k-$60k and $70k-$80k income groups.
The figures for these income groups in the US stand at 88% each. This is followed by those earning $80k-$100k and over $100k, at 86% each. Usage penetration for those earning less than $30k stands at 85%, and it's lowest among the $60-$70k income group, at 81%.
(Statista)
19. 54% of women and 46% of men use Facebook.
Looking at some more detailed Facebook user demographics, women are slightly more interested in the platform. Men aren't far behind, but these figures should be considered in any marketing strategy that targets Facebook.
(Statista)
20. 18.8% of the platform's global active users are men between the ages of 25 and 34 years.
Considering Facebook users by age, males aged 25-34 constitute the largest user group. The next largest demographic is men between 18 and 24, followed by women aged 18-24 (9.6%), and male users between the ages of 35 and 44 (9.6%), as demographics of Facebook users reveal.
(Statista)
21. India has the largest audience size—320 million.
If you look at the number of Facebook users by country, it's obvious that the largest Facebook population (310 million) is from India, followed by the US (190 million), Indonesia (140 million), Brazil (130 million), and Mexico (93 million).
(Statista)
22. 81% of users access Facebook only via mobile.
When looking at Facebook users by year, they've been consistently on the rise—especially on mobile, as Facebook facts reveal. As of 2021, over 80% are Facebook mobile users, meaning they access the platform only on mobile. 98.3% of active users access the network using any kind of mobile phone, whereas 17.3% are using both desktop and mobile. The figure for those who access the platform via laptop or desktop stands at 1.7%.
(Statista)
Facebook Growth & Earnings
23. Facebook acquired WhatsApp for $19 billion in 2014.
Facebook has always calculated its purchases well, and buying WhatsApp only further supports the company's business choices. At the beginning of 2018, WhatsApp had around 1.5 billion users and represented Facebook's second-biggest property. Most of these users joined after Facebook bought the company, demonstrating what a lucrative investment it was.
(CNN, Statista)
24. Facebook bought Instagram for $1 billion in cash and stocks in 2012.
Some Facebook stats are more incredible than others, and the purchase of Instagram is even better than WhatsApp's, judging by the fact that Instagram was bought for only $1 billion. Since then, Instagram grew to be one of the biggest social media platforms in the world.
(Forbes)
25. Instagram is now responsible for 20% of Facebook's mobile ad revenue.
Instagram belongs to Facebook, and the platform has been thriving ever since its acquisition, as per the latest Instagram marketing statistics. Instagram is used in more and more marketing campaigns, so figures like this one shouldn't be too surprising.
(Emarketer)
26. Facebook's total revenue for 2020 was $85.96 billion.
Despite everything, Facebook is still growing, and quickly. With these numbers, Facebook is one of the biggest IT companies in the world and also one of the richest, noting a 22% YoY increase.
(Facebook)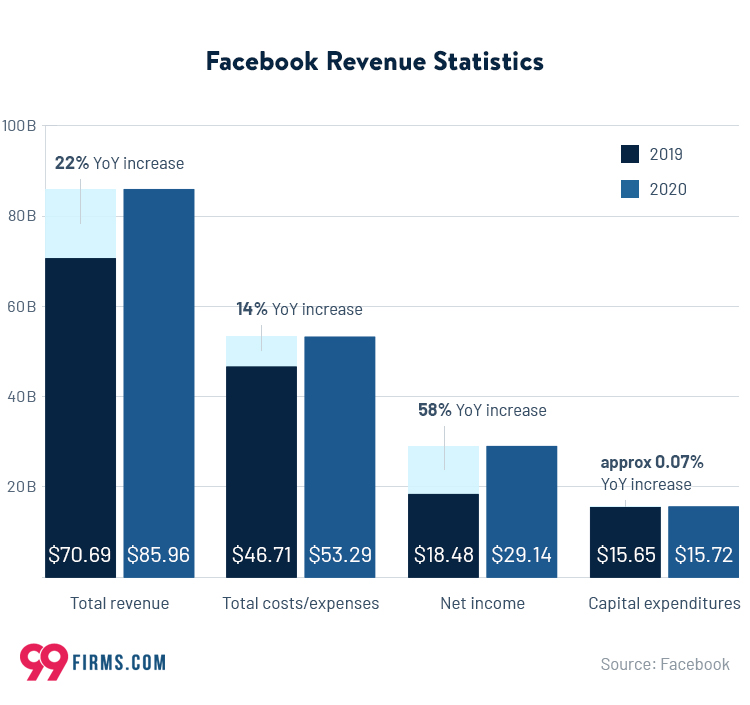 27. Per Facebook statistics for 2020, the platform's total costs and expenses were estimated at $53.29 billion.
The total costs and expenses were estimated at $46.71 billion in 2019, noting a 14% YoY increase. The operating margin for the said period was estimated at 38%.
(Facebook)
28. Facebook's net income for 2020 was estimated at $29.14 billion.
This is an increase from $18.48 billion in 2019, showing that the company is still experiencing more than just good growth. These figures also point to the fact that no matter what happens, the juggernaut is not slowing down in its growth.
(Facebook)
29. 2020's capital expenditures reached $15.72 billion.
Facebook rarely stops expanding in other areas, like land, buildings, and equipment. It's very likely that these expenditures will further increase for 2021.
(Facebook)
Facebook Marketing Statistics
30. Over 160 million businesses have Facebook pages.
Did you ever wonder how many businesses are on Facebook? Now you know, and the total of 160 million is an impressive figure, proving that no proper business should avoid Facebook. If you run a company and want to compete, consider hiring a Facebook advertising agency to help you accomplish your business goals.
(Facebook Newsroom)
31. Media brands produce the most Facebook posts per day—7.51%.
Beyond media brands, sports brands have an average of 3.43 daily posts, followed by higher-end brands with 1 post per day. Food and beverage brands produce the least Facebook daily posts—only 0.36 on average.
(Statista)
32. 32% of users engage with brands regularly.
These Facebook stats indicate that every third person on Facebook interacts with at least some brand, and they do so regularly. The number shows it's essential to have a presence on the platform and to be responsive as well.
(Ecommerce CEO)
33. Page posts on Facebook have a 2.6% organic reach on average.
Statistics show that pages have little organic reach. Paying Facebook for ad exposure is the most common way of reaching viewers on this platform.
(Marketing Wire)
34. For 59% of marketers, Facebook is the most important social platform.
The importance of the platform is widely known, but these Facebook marketing statistics show that it's far more important to marketers than many would assume. If you want to have a successful marketing campaign, Facebook has to have a big (if not the biggest part) part in it.
(Statista)
35. 47% of marketers said that Facebook had the greatest impact on purchases.
Facebook is a huge part of today's consumer culture. Many people find products through Facebook, whether intentionally or through ads. This number is also set to increase in the years to come.
(Soravjain)
36. 42% of customer service responses from brands on Facebook happen within the first hour of a customer's post.
With Facebook statistics like this in mind, you should certainly aim to be in this 42%, especially since the figure will probably increase. Quick and detailed responses are greatly appreciated by the vast majority of people, which is why they are essential parts of every customer service.
(Soravjain)
37. 70% of marketers said that they use Facebook to acquire new customers.
The right question here is, are you part of that 70%? If not, you definitely should be. Considering the number of active Facebook users in the world, it's imperative to utilize the platform to find new customers.
(Soravjain)
Facebook Ads Statistics
38. 93% of social media advertisers use Facebook Ads.
Most of the advertisers on the platform use Facebook ads, making them useful and nearly obligatory in a way. This also explains the huge profit Facebook makes from ads.
(Marketing Wire)
39. Facebook has 10 million advertisers.
This is one of the most important Facebook advertising facts. Facebook has 9 million advertisers. The top 100 advertisers spent $11.2 million in 2020, down by 18% from 2019.
(Statista, Market Watch)
40. Only 20% of Facebook posts trigger an emotional response, while ads don't generate an emotional response at all.
This means that if you have ads that thrive on emotional impact, we advise you to skip Facebook for them and opt for some other platforms instead.
(CampaignLive)
41. The average CPC for Facebook Ads is $1.72.
If you're interested in Facebook advertising ROI statistics, it might be useful to know that ads in the Finance and Insurance industry have the highest CPC at $3.77. The average CTR of Facebook Ads is 0.9% and the average CVR is 9.21% across all industries, with Legal (1.61%) and Fitness (14.29%) being the leaders in the respective categories.
(Wordstream)
42. Facebook ads that target custom audiences have a 14% lower cost-per-click and have 64% lower cost-per-conversions than ads using interest-based or category-based targeting.
This piece of Facebook advertising stats is self-explanatory: custom targeting is much more affordable than interest- and category-based targeting.
(Wish Pond)
43. The best time to post on Facebook is between 9 AM and 10 AM, and 1 PM to 4 PM on Thursday, Friday, Saturday, and Sunday.
People post all the time and pay little attention to when they do it. However, if you're running a marketing campaign, you have to consider Facebook ad statistics like these. Multiple studies have shown that it's best to post between the morning hours between 9 AM and 10 AM, and the hours between 1 PM and 4 PM, since that's the time when people are most active on the platform. Weekends get the highest level of engagement, but people are not as active online on Tuesdays as they are on other days.
(Social9)
44. In 2020, Facebook CPC was most expensive between 9 AM and 5 PM.
The COVID outbreak has shortened expensive ads' peak time. Facebook advertising statistics reveal that CPC on the platform peaked for 12 hours in 2019 (between 10 AM and 10 PM), while in 2018, CPC was most expensive between 8 AM and 10 PM.
(AdEspresso)
Facebook Video Statistics
45. 1.25 billion users are watching Facebook videos.
Social media users love video content. In fact, they prefer it over any other content type. This opens alternative possibilities for marketers who want to show off a brand's personality and connect with the audience on an emotional level.
(Variety)
46. Users spend 3X longer watching live videos compared to static content.
Social media users prefer video over any other type of content, and Facebook users have a favorite format—live videos. The average watch time of Facebook Live videos is 3X the traditional ones. This is because Facebook Live is a highly entertaining format that sparks engagement.
(Bold Content Video)
47. In the Gaming category, 200 million people watch Facebook videos every month.
Facebook video stats during COVID-19 show that the pandemic boosted the overall usage of Facebook Watch, noting a vigorous growth in live streaming. Gaming was one of the categories that experienced a surge in watch time. To be more specific, the watch time on Facebook Gaming grew by 75% from Q1 to Q2 2020.
(Variety)
48. Mobile-optimized video content has a 27% higher likelihood of driving lift compared to video ads that aren't optimized for mobile viewing.
Video is one of the most effective ways to connect with customers, but to capture attention, you need a mobile-first strategy that makes the experience of viewing videos on mobile seamless.
(Facebook Business)
49. 85% of the videos viewed on Facebook are watched without sound.
These Facebook video stats show not only that you're probably already aware of the fact that people rarely play videos with the sound on, but also that you're perhaps even one of them!
(Digiday)
50. Facebook video posts get up to 8 billion views a day.
With 500+ million Facebook daily users accessing the social media platform to watch videos, this post format is garnering a significant number of views. This alone is a reason enough to consider using video ads to improve conversions.
(Lyfe Marketing)
51. Facebook videos have an engagement rate of 6.3%.
Facebook videos have a higher engagement rate than those posted on YouTube or Instagram. Also, Facebook video ads have an average CPC of $1.86, making them a very affordable option for businesses of all sizes. Finally, the average Facebook engagement rate for static posts stands at 3.6%, which further proves that video is a user-favorite post format.
(Lyfe Marketing)
Fun Facts About Facebook
52. Facebook got its one millionth registered user in December 2004.
Facebook was first a closed network for Harvard students, back when the average age of Facebook users stood at 20-something. However, it started expanding beyond the college web network into the world in March 2004. Then it barely took ten months for Facebook to gain one million users.
(Telegraph)
53. Facebook launched its News Feed in September 2006.
Who would have thought that Facebook could exist without its news feed? Well, it did, for the first two-and-a-half years of its existence. September 2006 was a big change for all Facebook users; before that, they had nothing remotely similar to the news feed we all know and use regularly.
(Telegraph)
54. Al Pacino was the first "face" on Facebook.
All the way back in 2004, when the average time spent on Facebook per day was zero, Andrew McCollum designed the first logo for Facebook, which had a mysterious face on it. People couldn't figure out who it was, or even if it was an actual person. However, it's now known that the face belonged to Al Pacino.
(Factslides)
55. The "Like" button was originally an "Awesome" button.
As one of the lesser-known (or forgotten) Facebook facts, the platform initially dubbed their ubiquitous Like button as the Awesome button. After all, Zuckerberg and his roommates were college students when they founded Facebook.
(Parade)
56. Facebook is available in 142 different languages.
The list of these languages covers the world's major languages—most of the languages spoken by millions of people. Admittedly, some of these languages are also just different variations of the same one, which is why there are a few English languages on the list.
(Quora)
57. Facebook is primarily blue because Mark Zuckerberg has red-green color blindness.
Just in case you've ever wondered what's up with Facebook's ubiquitous blue color scheme.
(Factslides)
58. You can't block Mark Zuckerberg on Facebook.
Is Mark Zuckerberg bothering you with messages and posts on your wall? Just go on and block him so he can't bother you anymore. Oh wait, you can't.
(Factslides)
59. The most-followed celebrity on Facebook is Cristiano Ronaldo with 148 million fans.
Most likely many of you thought that this would have to be someone else, like one of the Kardashians, Beyonce, or maybe Rihanna, but according to the most recent stats, it's the Portuguese soccer star Cristiano Ronaldo with his astonishing 148 million Facebook fans.
(Facebook)
60. The most popular Facebook fan page is Facebook, with over 21 million fans.
Cristiano Ronaldo with his whopping number of fans is still not nearly as close to the most popular fan page on the platform. According to Facebook page stats, over 21 million fans want to see what the social media giant has to share with the world.
(Facebook)
61. The average number of Facebook friends is 338.
Even though the median number of friends each user has on Facebook is quite high, users consider only 28% of those to be close or genuine friends. When it comes to the average number of Facebook friends by age, Millennials lead the way as the generation with the longest friends list.
(Pew Research)
62. 30% of users say they're connected to people they've never met in person.
This wouldn't seem strange to those of you with a few hundred friends on Facebook. What's odd is that Facebook advocates sending friend requests only to actual friends, but there are many of us who don't do that, which results in people having a bunch of Facebook "friends" who they've never met.
(Marketing Wire)
63. According to recent Facebook statistics, 58% of users say they're connected to their work colleagues.
While people mostly connect to friends on Facebook, many people consider colleagues their friends as well. So it's only natural to connect with them on Facebook.
(Marketing Wire)
64. American moms post 2.5X more status updates and 3.5X more photos.
Now you finally understand why there are so many pictures of babies on Facebook!
(AdWeek)
65. There is an estimated average of 3.57 degrees of separation between any two people on Facebook.
Have you read the book Six Degrees of Separation by John Guare? If you have, you know that every person in the world is connected to any other person via a maximum of six people. In essence, everyone knows everyone through someone else.
(The New York Times)
66. A 2.18-4.32% increase in divorce rates is associated with a 20% annual increase in Facebook enrollment.
Social media has forever changed the way we meet people and interact with each other. Facebook and marriage problems statistics confirm that using social media can cause marital problems leading to divorce. Research has discovered a close connection between Facebook enrollment and higher divorce rates.
(McKinley Irvin)
67. 770,000 people from 175 countries used Facebook to donate over $17 million in one week following the April 2015 earthquake in Nepal.
This is genuinely a beautiful example of how people can work together and help each other out. But it also shows how social media plays a huge role in the charitable work done across the globe today. That's especially the case when disastrous and sudden catastrophes occur.
(Time)
68. Jennifer Christine Harris set fire to and murdered her best friend after being unfriended on Facebook.
If the above was one of the remarkable Facebook facts, this one is hideous and unsettling. It's strange what kind of unbelievably negative effect a simple social media platform can have on some people.
(Lol Wot)
69. A Casablanca court sentenced Fouad Mourtada to 3 years in prison in 2008 for creating a fake Facebook page of Prince Moulay Rachid, the brother of the king of Morocco.
Some of you might believe that everyone takes Facebook seriously in Morocco, but it's actually the crown that the people take so seriously. The unfortunate Fouad Mourtada said that he admires the prince and that he created the profile in an attempt to be funny.
(BBC News)
70. A blogger paid a woman $8 an hour to slap him every time he went on Facebook to help him fight his addiction.
Social media addiction is a serious issue, and there are other statistics like this one out there. We're guessing that the woman didn't have a problem with being paid for such a simple service.
(Lol Wot)
71. Facebook stores approximately 300 petabytes of user data on its servers.
To put all of that into perspective, if only one petabyte comprised songs, it would take 2000 years to play them back to back! We all know it, and Facebook statistics confirm it: the social media giant stores a lot of its users' data on its servers.
(SlideShare)
72. Peter Thiel, the co-founder of PayPal, was Facebook's first major investor.
Peter Thiel was introduced to Mark Zuckerberg by Reid Hoffman, the co-founder of LinkedIn. He invested half a million dollars in Facebook, becoming the first outside investor for the future social media leader.
(Parade)
73. As of September 2020, Facebook has 56,653 employees, an increase of 32% year-over-year.
Keeping up with one-fifth of the world's population is no easy feat to achieve, which is why Facebook employs that many people. These employees are dispersed all across the globe, as Facebook demographics point out that the platform is used in almost every country in the world. There have been some accusations that Facebook should employ more people for the various services they provide, but it remains to be seen if they will.
(Facebook)
74. In 2010, a Facebook employee hoodie sold for $4,000 on eBay.
A simple hoodie from a regular employee at Facebook was sold for $4,000 back in 2010. The hoodie was like the one Zuckerberg wore during his interview with Kara Swisher at the D Conference.
(AdWeek)
75. Cambridge Analytica yielded 50 million Facebook profiles in 2014 and used personal info to build a system that could profile individual voters in the US and target them with personalized political ads.
The Cambridge Analytica and Facebook scandal has had a massive impact on user data privacy and has been widely distributed in pop culture through documentaries on Netflix and more.
(The Guardian)
76. 57% of customers claim that social media influences their shopping, with Facebook leading these platforms at 44%.
This is a significant number, especially for influencer marketing agencies. If more than half of customers claim that social media influences their shopping, then that means advertising on Facebook and other social media platforms is now more critical than ever. Furthermore, Facebook Marketplace statistics reveal that 15% of users shop on the platform, translating into 800 million monthly users of the Facebook Marketplace alone.
(Marketing Dive)
77. There are over 10 million groups on Facebook.
Facebook group statistics further reveal that a whopping 1.8 billion people use Facebook Groups. Users between 18 and 24 years of age are open to brands posting in Facebook Groups, as long as their posts go beyond just promotion, providing real value instead, as per the platform's native research.
(Hootsuite)
Frequently Asked Questions
When are Facebook users most active?
The previous best time to post on Facebook was from 11 AM to 2 PM, with Wednesday being the peak day, but after the COVID-19 outbreak, users become more consistently active on weekdays, making Monday, Wednesday, and Friday the best days to post, and the top hours are between 10 AM and 11 AM.
What is the fastest-growing demographic group on Facebook?
Facebook user demographics are continuously changing, and now users 65 years and older are the fastest-growing group. 37% of the so-called Silent Generation (those born before 1945) are now on Facebook compared to only 21% in 2012. Baby Boomers are also adopting Facebook fast—60% of them are now on Facebook compared to 43% in 2012.
What age group uses Facebook the most?
86% of the 18-29-year-olds and 77% of people aged 30-49 are using Facebook, making them the two age groups using the platform the most.
How many businesses use Facebook?
As of 2020, Facebook stats reveal that the platform has 9 million advertisers who are using the platform to reach their audience. Facebook usage for advertising purposes is continually growing, testifying to the fact that advertising on the largest social media network is vital in helping businesses stay competitive.
How often do people check Facebook?
The average Facebook user checks the platform 8 times a day on average. At the same time, the average user spends 20 a day on Facebook channels.
Why do people use Facebook?
According to Statista, the majority (88%) of users are using the social media platform to keep in touch with friends and family, 33% are on Facebook to get entertainment, 23% to get news, and 17% to follow brands or companies. 11% of the Facebook active users are using the platform to strengthen their professional network.
How many Facebook accounts are there?
Facebook statistics reveal there are 2.7 billion users on the platform. 11% of the monthly active users, or around 275 million profiles, are duplicates, whereas 5% (137 million) user profiles are fake accounts.