While most people would say that Hulu is nowhere near Netflix in terms of popularity, Hulu statistics show otherwise. This streaming service sprang to prominence thanks to its original shows and has shown to be a strong competitor to Netflix and Amazon Prime, with its user count rising every year. Let's take a peek at the numbers behind this Disney-owned streaming service!
Hulu Statistics (Editor's Choice)
Hulu has 43.8 million subscribers in the US. (Statista)
52% of all Hulu subscribers are female. (Morning Consult)
In 2020, Hulu had a 67% retention rate. (Bloomberg Second Measure)
Hulu's original titles account for about 40% of the platform's content. (The Streamable)
Hulu's ad revenue is projected to reach $3.13 billion by the end of 2021. (eMarketer)
Hulu holds a 13% share of the SVOD market in the US. (Cord Cutter News)
More than 50% of Hulu's viewers are either Millennials or Gen Z. (Morning Consult)
Key Hulu Statistics
1. Hulu is only available in two countries: the US and Japan.
Hulu has remained mostly focused on the US market, with Japan serving as an offshoot. There are definitely some intentions to bring Hulu to other countries, but the company has been tight-lipped if and when that will happen. Luckily, no matter where you're located, a Hulu VPN can give you access to this platform and open up a whole new world of entertainment.
(JungleTopp)
2. Hulu's platform receives 34.7 million visitors from multiple countries.
While this streaming service is available in only two countries, it receives traffic from all over the world. Region-hopping has become increasingly popular in recent years, thanks to VPN services. Hulu statistics further unveil that the United States receives the highest traffic, with 32.5 million visitors, accounting for 93.5% of the site's overall traffic, with the rest of the traffic divided globally.
(ScreenBinge)
3. Female users account for 52% of all Hulu subscribers.
There isn't much of a difference between males and females in terms of consumption patterns when it comes to Hulu demographics. Among the competing streaming providers, only Netflix (also 52/48) has an equal gender ratio. Compared to the other services, CBS All Access has a bigger male audience (about 69%). Discovery+ and HBO Max are in the same boat (62% and 61%, respectively).
(Morning Consult)
4. Over half of Hulu's viewers belong to either Millennials or Generation Z.
Hulu users statistics unveil that over 50% of the service's subscribers are young people, with the average age of Hulu viewers being 31. Hulu's user base is split between Millennials and Generation Z, with the former accounting for 37% and the latter for 17%.
(Morning Consult)
5. Half of Hulu users earn less than $50,000 per year.
They comprise the majority of Hulu's total subscription base. Those earning between $50,000 and $100,000 per year account for 31% of the streaming service's audience, while those earning more than $100,000 per year account for only 19% of Hulu viewership.
(Morning Consult)
6. The number of Hulu subscribers reached 43.8 million in 2021.
Hulu lags behind its competitors in terms of subscribers. However, we should bear in mind that services like Netflix provide content to users all over the world, whereas Hulu's content is limited to only two countries. By comparing Hulu vs Netflix statistics in this context, we see that the latter has roughly 209 million global paid memberships.
(Statista, The Motley Fool)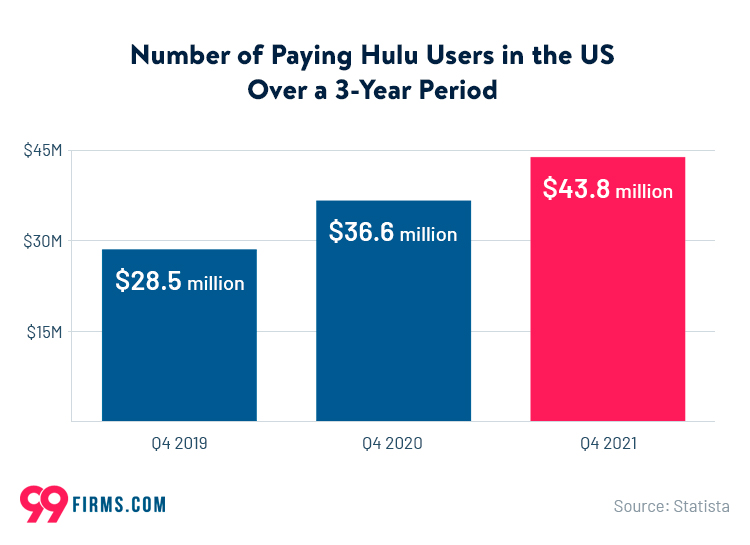 7. 70% of all Hulu subscribers were on an ad-supported plan in 2019.
Hulu, like most of its competitors, offers an ad-free version of its streaming service. However, most users opt for the ad-supported plan, which costs half the price of the no-commercials service, as Hulu subscription statistics confirm. Since the ad business is a significant source of revenue for the company, Hulu aims to make the way it shows advertising more viewer-friendly by capping ad length to 90 seconds.
(Variety)
8. Hulu made $4.4 billion in revenue in 2020.
This marks quite the surge in Hulu revenue, which stood at $200 million back in 2010, showing that its efforts to boost the platform's public image during the last decade paid off. The company's ad business is a substantial revenue generator, bringing in about $1.5 billion in 2020.
(Market Business News)
9. Hulu's Live TV bundle has four million subscribers.
In addition to TV shows and movies, Hulu also offers a Live TV package, and Hulu stats indicate that Live TV is nearly 5.5 times more profitable per user than streaming-only subscribers. However, between April and June, Hulu lost 100,000 customers, which can be attributed to Hulu + Live TV's price hike in December 2020.
(Fierce Video, Business of Apps)
10. Hulu's advertising revenue hit $2.17 billion in 2020.
Hulu's expected advertising revenue for 2021 is $3.13 billion, marking an increase of 44% from the previous year. According to eMarketer, the drop in the price of the ad-supported bundle ($2 per month) has resulted in an increase in ad income.
(Business Insider, eMarketer)
11. Hulu now holds a 13% share of the subscription video on demand (SVOD) market in the US.
The Hulu market share is about two times smaller compared to Netflix. Hulu statistics show that the platform's market share currently stands at 13%. Netflix, the king of streaming, continues to lead the pack with 27%, followed by Amazon Prime with a 21% market share.
(Cord Cutter News)
12. As of October 2021, Hulu net worth is $16 billion.
The company has a net worth of roughly $16 billion and is expected to grow significantly in the future. And, since Disney acquired a majority stake in the streaming video service in March 2019 after closing a deal with 21st Century Fox, it is expected that Hulu will get a boost from international expansion.
(Wealthy Persons)
13. In 2019, Hulu ranked third on the list of most popular streaming services by mobile reach.
As the most popular video streaming service in the world, YouTube naturally takes the lead with an 88% mobile reach. Netflix ranked second with 25%, followed by Hulu with 14%. Hulu stats further show that 78% of Hulu viewing occurs in the living room on connected TVs, explaining its relatively low mobile reach.
(Statista, Fierce Video)
14. During February and March 2020, Hulu increased its PPC marketing by nearly 28%.
During these two months, Hulu targeted 107,772 keywords for ads, revealing that the company increased their PPC marketing by 27.8%. If we look at the efforts invested in marketing on Hulu, statistics confirm that the service has witnessed exponential growth over the last 16 months and will only grow in popularity.
(ScreenBinge)
15. 33% of US adults believe that Hulu has good content for children.
While Hulu is mostly popular among adults for its quality movies & TV shows that receive good acclamations from critics, the SVoD service also manages to grab the attention of youngsters. Some of the most popular titles include "Abominable," "The Secret Garden," "Wonder Park," Instant Family," and "Dora and the Lost City of Gold."
(Statista, ScreenBinge)
16. With an ad-free subscription, Hulu users can download up to 25 episodes or movies.
A comparison of Hulu vs Netflix statistics reveals that the latter has a considerably superior offer, with customers being able to download up to 100 titles regardless of the plan. Hulu, on the other hand, allows you to split your downloads among five devices and watch them over the course of 30 days or 48 hours once playback begins. On the other hand, Netflix only allows you to download content to one device at a time.
(vpnMentor)
17. Hulu has only 40% of exclusive content.
Disney+ earns the top spot as the most exclusive service, with a whopping 89% of content that can't be seen anywhere else. Netflix is right behind it with 83%, followed by HBO Max with 72% exclusive content. While Hulu doesn't have nearly as many original titles as its competitors, it does offer a lot of quality content, including "The Handmaid's Tale," "Runaways," and "Veronica Mars."
(The Streamable, Android Authority)
18. On IMDB, both Netflix and Hulu titles score an average rating of eight or higher.
Hulu statistics reveal that, when it comes to high-quality TV shows, both Netflix and Hulu come out on top. Almost every Hulu title has an 8-star rating or higher. Similarly, critics on Rotten Tomatoes award their content a higher score than others, with most titles scoring between 80% and 90% on Audience Scores and the "Tomatometer."
(Business Insider, ScreenBinge)
19. "The Handmaid's Tale" has received a total of 15 Primetime Emmys.
The "Handmaid's Tale," arguably the company's most notable original TV show, has turned a Hulu subscription into a necessity rather than a convenience. In 2017, the dystopian series received eight Emmy awards for its first season and three awards in 2018. Aside from Emmy nominations and awards, "The Handmaid's Tale" garnered three Golden Globe nominations in 2018 and won two of them.
(Insider)
20. In 2020, Hulu + Live TV had an average monthly churn rate of 6.9%.
When it comes to churn rates, Hulu stats are comparable to those of other streaming providers. Although MVPDs take a customer-first approach, canceling a monthly plan is still much easier than canceling a regular TV subscription. Philo had the greatest monthly churn rate of 11.4%, while Netflix had the lowest (2.4%). YouTube TV, meanwhile, had a 4.3% monthly churn rate, whereas Disney+ had an 8%.
(Antenna)
21. Hulu had a 67% retention rate in 2020.
It's important to note that this figure excludes Disney+ subscribers who use the platform as part of a Disney+ bundle. This high retention rate places Hulu fourth out of seven big industry players, with Disney leading the pack with 78%. Netflix, its closest competitor, has a retention rate of 74%.
(Bloomberg Second Measure)
The Bottom Line
Hulu remains one of the top-notch streaming services, and it is a strong competitor to Netflix, with a wide selection of familiar shows from ABC, Fox, and NBC that you can watch right after they broadcast. Hulu viewership statistics show that the service has grown a lot in recent years, particularly in light of the COVID-19 lockdowns. It is safe to say that its popularity will only continue to grow, not to mention, as more and more people choose to "work from home," the number of its subscribers will undoubtedly skyrocket.

Hulu FAQ
How many subscribers does Hulu have?
The platform had 43.8 million subscribers in Q4 of 2021, up 1 million from the previous quarter, Hulu stats show. For comparison, it had 36.6 million customers in the fourth quarter of 2020, compared to 30.4 million at the start of the year, with the data underscoring the steady Hulu subscriber growth.
(Statista)
How many viewers can watch Hulu at once?
Hulu can be installed on as many devices as you wish. However, the number of devices on which you can watch it simultaneously depends on your subscription plan. It is possible to watch Hulu and Hulu+Live TV on two devices at the same time. By activating an add-on, Hulu+Live TV users can access the platform from an unlimited number of devices simultaneously.
(Hulu)
When was Hulu founded?
According to Hulu statistics, the platform was founded in 2007, and it was owned by 21st Century Fox, Comcast, and Disney. The Walt Disney Company acquired a 60% share in Hulu in 2019 when it bought 21st Century Fox. Following these developments, AT&T also sold its 10% stake to Disney. Even Comcast eventually caved in and inked a deal to sell its 33% interest in Hulu.
(Hulu, The Verge)