Most customers look for products and services near them in one place — Google. So, to better optimize visibility, local businesses have recognized the importance of SEO. Like its big SEO brother, local search engine optimization includes activities aiming to improve the website's search visibility, however, focused mainly on local customers. To illustrate the volume of local business searches and their impact, we have compiled some essential local SEO stats for you. These could go a long way in helping you formulate your own marketing strategy and give your business a fighting chance.
Local SEO Stats (Editor's Choice)
Approximately 46% of all searches include location.
Roughly 97% of people who use online search, look for local businesses.
40% of small businesses outsource all or some of their local SEO operations.
Reviews signals account for 15% of the local SEO pack rank.
Some 76% of consumers use voice search to look for local businesses at least once weekly.
28% of local searches result in a purchase.
Approximately 78% of mobile local searches prompt an offline purchase.
General Local Search Statistics
1. Approximately 46% of all Google searches have to do with location.
Location searches comprise almost half of all searches on Google. For reference, there are 3.5 billion queries on the search engine each day, and 1.6 billion of those include local elements. This is a big impetus for small and medium-sized businesses to adapt their marketing approach to include basic SEO strategies adopted for the local level.
(Safari Digital)
2. Roughly 97% of people who use online search look for local businesses.
Search engines are the first source users turn to when looking for services and/or products locally. Local search stats indicate that having a solid search engine optimization strategy in place can get you ahead of the competition. Investing more into local Google searches will make you more visible to potential customers.
(Web FX)
3. One in three people uses their smartphone to search for products before looking for a physical store.
People often search for local businesses using their mobile devices, further underscoring the importance of local SEO. To improve the results of smartphone searches in favor of your business, investing in Google local searches is a good idea.
(Web FX)
4. The top Google local search result accounts for nearly a quarter of all clicks.
Local SEO stats show that those companies that outperform their competitors and reach the best ranking are bound to attract 24.4% of all customer clicks for that search. Meaning, it's not enough to just participate in the local SEO race but to stay ahead of rivals as well.
(Safari Digital)
5. Approximately 86% of people search for a location of a business on Google Maps.
Google Business Page plays an important role in controlling your business's online visibility and improving its SEO. Google ranks you based on this page and allows potential customers to look for and actually find you. Based on Google Maps stats, marketers list Maps and local finders as mediums for sources of engagement for their companies with 18% and 26%, respectively.
(Finances Online)
6. 60% of Americans use smartphones and tablets to search for local products.
There are approximately 81.1 billion local search queries from mobile phones annually, based on local SEO statistics. Most people use mobile to browse for products and gather more information before making a purchase. If the local business has a mobile-friendly site, 61% of mobile users searching for products are more likely to contact it.
(Sagapixel)
7. The search for the phrase 'near me' doubled in 2020.
The popularity of this phrase in terms of local search has been on a constant rise. For instance, between 2015 and 2026, the mobile searches for this phrase grew by a massive 136%. If you are available on Google local results when a customer is searching, it's more likely to get them to come into your store.
(Think with Google, Sagapixel)
8. For 18% of marketers, local link building is the most important local SEO strategy they want to invest in.
Local link building is one of the most popular and sought-after marketing tactics. Local SEO statistics show that marketers also want to invest more in:
Content development (15%)
On-site optimization (13%)
Technical analysis of ranking, traffic, and conversions (9%)
Website design (8%)
Review management (7%)
Social media (6%)
Email marketing (5%)
Technical needs (4%)
Schema (4%).
(Search Engine Land)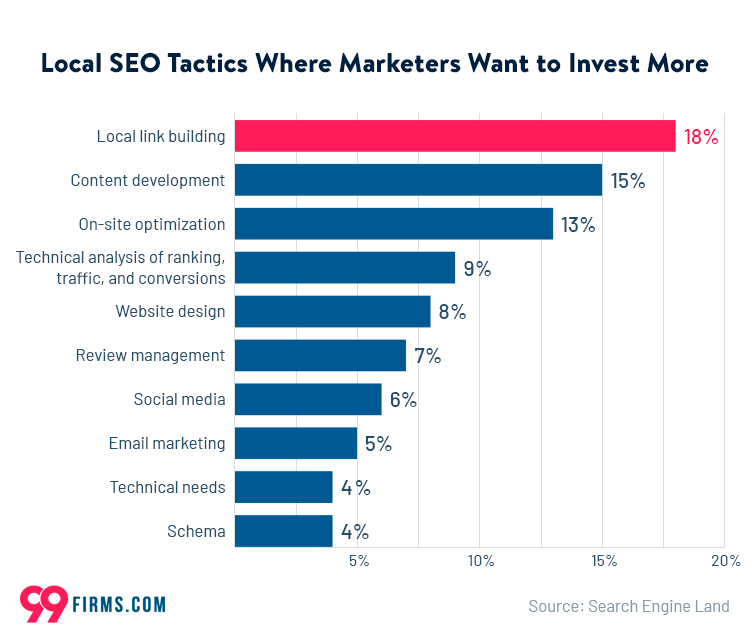 The State of the Local SEO Industry
9. Local queries account for half of Google's two trillion annual searches.
With the proliferation of the competition, many companies realized that driving more traffic is one of the main goals to attract customers and increase sales. Hence, more businesses are hiring dedicated people who will work on their SEO strategies. According to the Google local search statistics, 77% of companies surveyed in 2020 have confirmed they have one or more in-house SEO, up 8% year-on-year.
(Moz)
10. Roughly 56% of local businesses haven't claimed their Google My Business listing.
If the company hasn't claimed its Google My Business listing, chances that a customer's business information search will end up with a purchase are poor. It is, therefore, something worth considering, especially since it's a free tool that allows owners to offer more detailed information to their potential customers.
(Safari Digital)
11. About 40% of small businesses outsource all or some of their local SEO operations.
A third or so of the brands with 25 or fewer locations don't have full-time SEO employees, but rather, seek the help of local SEO experts. While this seems like a good solution for small businesses with limited human resources, mid-sized and larger enterprises might benefit more from recruiting in-house staff.
(Moz)
Local SEO Trends
12. Reviews signals account for 15% of the local SEO pack rank.
Moz, a company dealing with SEO, ranks different signals that influence the ranking of a specific website. Among eight different ranking aspects, reviews are rising the most, having seen an over 40% surge since 2015. Other major ranking factors for local search results include Google My Business signals (25.12%), link signals (16.53%), on-page (13.82%), and citation signals (10.82%).
(Widewail)
13. Roughly 49% of local businesses will have over 1,000 views on their Google My Business listings every month.
Google doubled its efforts to emphasize search intent, and it will use all the data it has about the user, including location, local SEO stats show. For some specific types of companies users search, it will come up with GMB results.
(Linchpin)
14. About 56% of customers expect to find the most accurate information on the company's website.
Naturally, having a website is essential for local search optimization. It's the place where consumers go when looking for business information or details like location, contact, and working hours. A strong user experience in this sense fosters better local search results. Half of the customers are less likely to use the services of a company that doesn't have up-to-date contact information on the website.
(Linchpin)
15. Some 76% of consumers use voice search to look for local businesses weekly.
Voice search has grown rapidly over the last couple of years, but to understand its impact on local business searches, we need to look at these local SEO stats. 46% of smartphone users daily opt for voice searches when looking for local business-related information. Similarly, 43% of tablet and 43% of desktop users do the same on a daily basis. For weekly searches, these figures are 28% for smartphones, 30% for tablets, and 28% for desktops.
(Invoca)
16. Unique meta descriptions increase the organic CTR by 5.8%.
Although the search engines can generate the snippet containing some relevant meta descriptions for your site, it's usually not good enough to communicate the message your business needs. It's much more useful for local product search to write and add your own meta descriptions to have more control. However, Google might not always present your meta, sometimes it may choose something more relevant to the user's search, but generally, it relies on the snipped you have added.
(Kinsta)
Benefits of Local SEO
17. Local SEO stats show that 72% of consumers who search local businesses online end up visiting stores within a five miles radius.
Searching for businesses locally is an everyday activity for many customers. Therefore, it's important to optimize your business to raise the number of people who will come to your shop once they learn it's in their vicinity.
(Forbes)
18. 28% of all local Google searches lead to a purchase.
One of the most important local SEO facts for consideration is that if a user is searching for a product on Google (or elsewhere, for that matter), they have a strong intent to buy it. As a result, nearly one-third of all searches end up with a purchase transaction. The vicinity of the location plays a vital role in this process. Customers will be less likely to care about the location of the product if they don't have the intent to buy.
(Safari Digital)
19. Approximately 78% of mobile local searches prompt an offline purchase.
Despite the COVID-19 impact, brick-and-mortar stores are still thriving. Local search statistics show that mobile users convert much faster than other customers. Some 90% of purchases originating from mobile store searches happen in the physical location. But, local SEO strategy doesn't play a part only for shops with a physical location, but also ecommerce stores.
(Safari Digital)
Wrap-up
Judging by these local SEO stats, this marketing strategy is priceless to drive customers to your business. With the rising expansion of technologies, it will gain even more popularity. In 2021, this is the key to build your presence and increase the visibility of your business. With the global pandemic having fast-tracked online businesses, the best way to target customers is using optimized content, adjusted for local needs.