With the evolution of technology and globalization, the way companies operate has changed. Businesses have turned toward a relatively new trend — workforce outsourcing. The number of organizations worldwide opting for outsourced labor has increased in the last three decades. Based on the outsourcing statistics we have prepared for you, it's obvious that there are many benefits it brings to the table. Read more to learn about this global trend and what the future has in store for it.
Outsourcing Statistics (Editor's Choice)
Cost reduction is the primary objective of outsourcing. (Deloitte)
37% of small businesses outsource some business process at least. (Clutch)
The global outsourcing market amounted to $95.2 billion in 2019. (Statista)
71% of financial service companies outsource some of their processes. (Collective Insights)
The US manufacturers outsource approximately 70-80% of their products. (Orient Software)
Outsourced IT services might surpass $413.72 billion by the end of 2021. (Daxx)
General Statistics on Outsourcing
1. IBM is the largest outsourcing company globally, with a workforce of 383,800.
IBM is one of the largest tech companies that outsource jobs and provide BPO (business process outsourcing) services. This way, it aids organizations in organizing their workflows in a smart way, boosting their capabilities with IoT, automation, and AI-powered practices. The company's revenue is $76.5 billion.
(Insider Monkey)
2. Cost reduction, with 70%, is the primary objective for outsourcing.
For most if not all companies, the main driver behind the decision to outsource is cost reduction, outsourcing cost savings statistics show. However, it's not the only one. In the latest report from Deloitte, other objectives popped up — flexibility (40%), speed to market (20%), access to tools and processes (15%), as well as agility (15%).
(Deloitte)
3. Over one-third of Americans are part of the 'gig economy.'
Some 36% of the total US workforce is participating in the gig economy, a term used to refer to freelancing activities. That translates into a staggering 57 million people. With the rise of the likes of Lyft, Uber, Freelancer, and Upwork, more people are engaging in part-time work, freelance, and outsourcing statistics show. For many, it's a chance to earn some money between the two jobs, but for others, it's a chance for flexibility a traditional job doesn't provide.
(Forbes)
4. The US overseas affiliates hired over 14.4 million workers in 2018 alone.
How many jobs are outsourced out of the US affects the local labor market. Particularly in the four industries: manufacturing, customer service, technology, and human resources. Hiring people overseas helps companies stay competitive in the global market, yet there is a correlation between outsourcing and unemployment, statistics show. By employing overseas, millions of Americans remain unemployed or working part-time.
(The Balance)
5. Outsourcing solves the top five challenges for smaller businesses.
According to the data on small businesses, the top challenges they face are hiring new employees (50%), followed by a desire to increase profit (46%). Next, employee healthcare (44%) and growing revenue (39%) take third and fourth spots on the list. Finally, securing cash flow is the fifth obstacle (34%). With outsourcing, you can go around the issue of hiring new talent, and providing them healthcare benefits. It also helps the remaining three hurdles, small business outsourcing statistics confirm.
(Neil Patel)
6. For 68% of industry leaders, the cloud is the number one enabler for outsourcing.
There are both pros and cons of the use of technology in the outsourcing field. The pros come from the adoption of cloud solutions, while the cons are related to the impact on jobs. Technologies like RPA (robot processes automation) and artificial intelligence are also among the top digital enablers of outsourcing, according to 64% and 55% of industry leaders respectively.
(Microsourcing)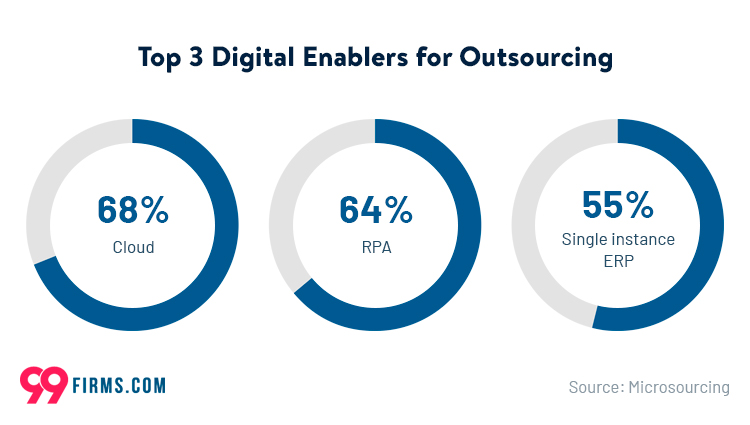 7. Nike outsources 29% of its production in China and 44% in Vietnam.
Corporate outsourcing statistics place Nike at the top of the list of companies that have chosen developing regions to outsource production. Over 1.02 million workers in 42 countries work in their contracted factories. While it offers the company an edge over its competitors, the re-emergence of protectionist policies globally could pose a challenge for the sports goods maker, given that North America accounts for the bulk of its revenue.
(HBS Digital Initiative)
Outsourcing Industry Statistics
8. The global outsourcing market's worth amounted to $95.2 billion in 2019.
Since 2000, the outsourcing industry had been steadily growing up until 2012. In the last few years, however, the market has been fluctuating. In 2013, it dwindled to $82.9 billion (from $99 billion), only to peak to its highest value yet the following year ($104 billion), subsequently slumping to $76.9 in 2016.
(Statista)
9. Business process outsourcing generated $26 billion worldwide in 2019.
This practice includes transferring business processes to providers outside the company. Business process outsourcing statistics suggest that India is the biggest market for offshoring that is often part of this practice. The country offers financial attractiveness, and available skills and talent.
(Statista)
10. IT outsourcing generated $66.5 billion in 2019 globally.
Information technology outsourcing is intertwined with BPO, especially since many business processes are also based on tech. In particular, many companies use various BPM solutions.
(Statista)
11. 65% of CISOs outsourced 21-30% of their cyber operations, outsourcing statistics by industry show.
Many organizations are already eager to turn to third-party providers, such as cybersecurity companies, to help them explore the cyber landscape. As a matter of fact, 14% of organizations confirmed that they outsource over 50% of their current cybersecurity operations.
(The Wall Street Journal)
12. The global managed services market is forecast to reach $309.4 billion by 2025.
These services involve outsourcing multiple functions to third parties, and, based on the latest outsourcing growth statistics, we can expect the size of the MSP market to nearly double by 2025 from the $178.5 billion seen in 2019. The market is expected to grow at a CAGR of 9.6% during this period. Companies wanting to solve problems with the lack of expertise, older tech, or reduction of costs are some of the main drivers of market growth.
(Cision PR Newswire)
Outsourcing Statistics by Country
13. EMEA's contribution to the global outsourcing market is around 35%.
Approximately 22.07% of outsourcing deals in this region come from the UK. Similarly, Asia Pacific added 23% to the global outsourcing market. However, North and South America remain the leaders with 42%.
(Microsourcing)
14. 19.4% of the US marketers saw an increase in outsourced marketing activities in 2020.
In the wake of the COVID-19 pandemic, marketers around the US mainly haven't registered the change in outsourcing activities (58.8%). Yet, under a fifth registered an increase, based on US outsourcing statistics.
(Statista)
15. Israel is facing a 15% software developer shortage.
As one of the top three technology startup countries globally, Israel has a serious problem of needing to outsource offshore due to the lack of available talent. Sweden is in a similar position, expecting to be 70,000 developers short by 2022.
(Daxx)
16. Over 30,172 BPOs operate in Australia.
According to the Australian outsourcing statistics, the number of BPOs in the country increased by 0.7% YoY. The highest costs for the BPO industry Down Under are wages (50.1%), purchases (13.4%), and rent and utilities (2%).
(Ibis World)
17. India ranks second on the Tholons Top 50 Digital Nations list for 2021.
The country, however, lost its top position in 2020 to the US. Still, with strong government support in outsourcing and development of the IT industry services, it's no wonder companies like outsourcing to India. Services are the major boost of economic growth, accounting for two-thirds of the country's output, outsourcing to India statistics show. Yet, this segment employs less than one-third of the nation's workforce.
(Outsource Accelerator)
18. The Philippines hold the title 'The BPO Capital of the World.'
After India, this nation is the most popular outsourcing destination. As a former Spanish colony, it is more compatible with western nations. It specializes in outsourcing customer services. Back in 2015, as much as $22 billion in revenue was credited to the business process outsourcing, Philippines statistics show. That translates into 7.3% of the country's total economy.
(Outsource Accelerator)
19. By joining the WTO, China contributed to the elimination of the 3.2 million US jobs.
China joined the WTO in 2001, inducing the growth of trade between the two countries. It had a negative impact on the US workforce and economy. Specifically, the growth of the US goods trade deficit with China eliminated 2.4 million jobs in manufacturing alone. Many of these jobs were lost due to outsourcing to China, statistics confirm.
(EPI)
20. 30% of the UK companies are predicted to outsource more until 2022.
The prediction represents a 2% decrease compared to the one from 2019, considering that 15% of organizations claim they plan to outsource less. The biggest outsourcers are financial services and manufacturing according to the outsourcing statistics for the UK. In these segments, organizations are planning to outsource 20% above the average for the country.
(Panconsulting)
21. Only 38% of public sector organizations in the UK claim cost reduction is the number one reason for planning to outsource.
On the contrary, in the manufacturing business, 71% of respondents claim cost reduction is the number one reason for outsourcing. The difference potentially lies in the fact that public sector clients think that focusing on costs could affect the service quality.
(Panconsulting)
22. One in 25 Canadian employees lost jobs because of outsourcing.
Outsourcing statistics for Canada show that the country is mainly losing jobs in the accounting sector. One of the reasons is the outsourcing of these positions to Indian workers. CIBC is an example of a big Canadian company that outsources which helped it generate $1.4 billion in a single quarter.
(Pearsoned, CBC)
Outsourcing Statistics by Industry
23. Accounting is the most outsourced job globally with 37%.
Among other most outsourced jobs, particularly by small businesses, IT services come in second on the list with 37% as well. Digital marketing rounds out the top three with 34%.
(Clutch)
24. Only 10% of HR outsourcing firms have over 20,000 worksite employees.
As many as 60% of HROs have less than 30 full-time workers. The number of staff recruited by the HR outsourcing firms is growing which means the industry is set on expanding, HR outsourcing statistics show.
(Extensis HR)
25. The number one service offered by HR outsourcing firms is consulting (45%).
HROs often provide different types of services. Number one is HR consulting with 45%, followed by benefits administration (36%). Other than that, time tracking (24%), insurance services (19%), and performance management (10%) are the top services provided. Some organizations also handle payroll, outsourcing statistics indicate.
(Extensis HR)
26. 83% of IT leaders with in-house cybersecurity teams want to outsource this segment to MSP.
MSP stands for a managed service provider. Recent stats show that 89% of companies report increased digital transformation, resulting in IT security teams stretched to the maximum, unable to prevent increased cyber attacks. In 2020 alone, 77% of IT leaders said they faced more frequent cyberattacks, and their teams weren't equipped to handle them.
(Security Magazine)
27. The call center outsourcing market is set to increase by $14.05 billion between 2021 and 2025.
The rise of RPA in call center software has prompted many companies to outsource this service. Call center outsourcing statistics, meanwhile, show that aside from cost reduction, RPA increases their efficiency and offsets potential workload during busy hours. The market is forecast to grow at a CAGR of 3% between 2021 and 2025.
(Business Wire)
28. As of 2020, 71% of financial service companies outsourced some of their processes.
The majority of organizations decide to outsource their financial services to some extent, sometimes even without a detailed evaluation. On the other hand, this decision makes a significant impact on the company, both positive and negative. Jobs lost to outsourcing statistics show that negative consequences include firing people, and issues with security, while positive mean cost reduction and improved business focus.
(Collective Insights)
29. Manufacturers outsource approximately 70-80% of their products.
Cutting labor costs has affected many companies, making them turn to outsourcing to assemble parts or even the entire product. Most companies outsource to emerging economies. The growth of low cost of labor in China and India, or other regions is driving many companies toward manufacturing outsourcing, statistics show.
(Orient Software)
30. One-third of companies are outsourcing some processes in sales and marketing.
70% of companies outsource important strategic functions. 50% do so with production and delivery, and 33% outsource marketing and sales. Just under a third do so for their R&D activities.
(Neil Patel)
31. 70% of companies are either implementing or planning to implement Robotic Process Automation to foster outsourcing results.
Software development outsourcing statistics show that businesses are planning to reduce costs in IT services and contract experts from the best software developers. RPA is one of the drivers of this process, as well. The number of jobs outsourced by year is constantly expanding.
(Classic Informatics)
32. The US federal government outsources over 300,000 jobs annually.
Even the government opts for outsourcing in some cases, despite the questionable public interest in this case. Government outsourcing statistics show that the reason why the US government outsources these positions is to cut expenses. In particular, this way it cuts costs for benefits and saves up to 50% on labor expenses. Stats further indicate that this approach can save up to 30% on the cost of the work being performed without experiencing a reduction in quality.
(Brandon Gaille)
IT Outsourcing Statistics
33. The value of outsourced IT services might surpass $413.72 billion by the end of 2021.
The number of IT jobs being outsourced has been growing over the years. As a result, projections show that the IT outsourcing market might grow by 5% annually between 2020 and 2024. Especially if the trend of talent shortage in IT continues, outsourcing in IT is on the right track to prolong in the future.
(Daxx)
34. 87% of organizations are experiencing an IT talent shortage.
McKinsey's report indicates that there is a significant gap between the required positions and available IT specialists. Further, stats on outsourcing show a global tech talent gap of 40 million job posts not filled. For 2030, the predictions stand at 85.2 million. As a result, companies worldwide might experience an $8.4 trillion loss in revenue.
(Daxx)
35. India's IT outsourcing market is expected to reach the equivalent of $1.1 billion by 2025.
Judging by the trends in the IT outsourcing industry, India is emerging as the number one market for outsourced IT jobs. The industry is projected to grow at a CAGR of 7.25% by 2025 and reach INR 8.8 billion. Considering the lower cost with an average price for the developer of $25, it comes as no surprise. The majority of Indian outsourcing companies are working on increasing headcount (82%).
(Classic Informatics)
The Bottom Line
Global outsourcing statistics conclusively show that companies will keep on hiring workforce from different parts of the globe. If not to save costs, then to improve their efficiency and faster acquire needed expertise. Hopefully, these insights have helped you learn more about the outsourcing market and the path this industry is taking.
Outsourcing FAQ
How many US jobs have been outsourced?
Over 300,000 jobs have been replaced by offshoring and trade under Donald Trump's presidency, the United States outsourcing statistics confirm. However, this loss is much higher, with The Economic Policy Institute claiming that the nation has managed to lose a total of 700,000 jobs to China in just two years, because of the trade war with Beijing.
(Public Citizen)
How many companies outsource?
Over 68% of big American consumer products companies are at least outsourcing some part of their labor. One of the main drivers of this trend is growing costs of energy and tight margins. These will further push the outsourcing growth rate in this field in the next period.
(Reliable Plant)
What is the top reason for global outsourcing of IT services?
Outsourcing statistics show that some of the most common reasons include budget restrictions since it's much cheaper and lowers the number of employees required in-house. On top of that, you get a diverse palette of specialists. Outsourcing provides flexibility since the company can hire people with the expertise they require anytime, rather than relying on limited specialty in-house employees. The assistance of outsourced teams helps companies build their solutions better, especially in the era of digitalization.
(iTitans)
Why do US companies outsource jobs?
Wanting to stay competitive in global markets, pushes the US companies toward job outsourcing, statistics show. By hiring a foreign workforce, they can sell overseas and expand their reach. In the process, they keep the labor costs low, by hiring workers in emerging markets. In turn, the US shipping prices from these markets are much lower.
(The Balance)
What industry outsources the most?
According to the outsourcing industry statistics, several fields are leaders in pooling their talent from the gig economy. First, it's healthcare, followed by shipping and transportation. Next in line is banking and finances, then retail and manufacturing, and insurance. Finally, even sectors not commonly associated with outsourcing like energy and utilities, and government also belong to the industry that often seeks talents globally.
(Datamark Incorporated)
How many people work in outsourcing?
In 2020, 59 million Americans were freelancing. Compared to 2014, it's increased from 53 million. Ever since 2014, it has been steadily growing, reaching around 57 million in 2017. The trend slightly fell to roughly 56 million in 2018, and then quickly recovered in the next two years, freelancer and outsourcing statistics show.
(Statista)
Which country outsources the most?
With 68% of companies outsourcing some part of their workforce, the US is the number one country in the world based on outsourced activities. Following behind it, the UK is second on the list with 48% of companies outsourcing talent from different countries due to the talent shortage.
(OutsourceAccelerator)
Which jobs are outsourced the most?
There are several most common jobs being outsourced, according to job outsourcing statistics:
Manufacturing — many companies lack the equipment to produce supplies or their products.
Customer Services — having an outsourced customer center 24/7 is much cheaper than hiring employees and establishing one.
IT — many companies turn to external information technology experts due to better monitoring, use of the latest tech, as well as better support, outsourcing statistics indicate.
Marketing — conducting campaigns and running an effective marketing strategy is sometimes better to put in the hands of marketing professionals with the expertise to see the best ROI.
Content Creation — generating quality content is time-consuming and requires skills, that's why it's cheaper and quicker to do it through outsourcing.
HR — many small companies rely on recruiting agencies to perform the main tasks of this department or, alternatively, bet on HR software.
Accounting — Many small business owners outsource accountants to avoid issues with taxes and financial complications, outsourcing statistics indicate. After all, they are better equipped for handling this segment.
(OLM)