When you think of something going viral fast, what is the first thing that comes to your mind? Heads up, it doesn't involve COVID-19. If you ask us, nothing can match the spectacular expansion of TikTok. This video-sharing platform, owned by Chinese tech company ByteDance, found its way out of China as recently as 2017. Since then it has become one of the fastest-growing apps globally, with younger generations first recognizing its appeal.
TikTok statistics are the best proof that this is the place to be if you are a Gen Z kid. In this article, we will focus on showing you where and who is using the app the most, how you can capitalize from it, along with other interesting stats and facts about this global phenomenon.
Tiktok Statistics (Editor's Choice)
TikTok has over two billion downloads.
TikTok boasts approximately one billion active monthly users.
Roughly 90% of users access TikTok every day.
About 62% of all US TikTok users are between 10 and 29 years old.
Females account for over 61% of TikTok's active users in the US.
Roughly 50% of TikTok's best-performing ads play to the emotions of viewers.
Users spend a daily average of 52 minutes on TikTok.
One million videos are viewed on TikTok each day.
General TikTok Stats
1. Users spend an average of 52 minutes on TikTok daily.
Whether creating videos and sharing them, or just watching and browsing existing content, users spend a lot of time on TikTok. While Facebook's daily average (58.5 minutes) is a bit higher, the average time spent on TikTok is almost the same as Instagram's (53 minutes), and higher than time spent on Snapchat (49.5 minutes).
(Oberlo)
2. The most popular categories on TikTok had over two billion views in 2020.
The research has shown that some of the most popular types of videos on this platform fall under the entertainment category. TikTok statistics show that this type of content accumulated 535 billion hashtag views, followed by dance with 181 billion. Other categories interesting to users were pranks (79 billion), fitness and sports (57 billion), DIY and home (39 billion), beauty (33 billion) and fashion (27 billion).
(Statista)
3. ByteDance investors reportedly valued TikTok at around $50 billion.
Investors of TikTok's parent company ByteDance were said to be interested in taking over the platform. The bid investors proposed was 50 times higher than the projected revenue of the company in 2020. For reference, the projected revenue was $1 billion, in line with the TikTok stats. For reference, Snapchat was valued 15 times higher than its projected revenue for 2020 ($33 billion).
(Reuters)
4. TikTok's US influencers have an 18% engagement rate.
Influencer marketing gets a whole new meaning on TikTok, given the social media's demographics. A study has indicated that American influencers on TikTok have a much higher engagement rate than the global average. International influencers meanwhile were estimated to have a nearly 16% engagement rate.
(Influencer Marketing Hub)
5. TikTok has been downloaded over 2 billion times.
TikTok reached its first billion downloads in 2019, and the number has since more than doubled to become one of the most popular apps on both the App Store and Google Play. In Q1 2020 alone, the app registered 315 million downloads worldwide, marking a massive 58% rise from the previous quarter, according to TikTok statistics.
(Oberlo)
6. TikTok was the most downloaded non-game app worldwide in the first half of 2021.
TikTok boasted as many as 383 million first-time installs during the reported period. While this marked a drop from the first half of 2020, the decline has been attributed to TikTok's removal from India's app stores. The app's adoption accelerated in Q2 2021, with first-time downloads having climbed 16% quarter-on-quarter.
(Sensor Tower)
7. Roughly 90% of users access TikTok every day.
TikTok is in the minority when it comes to app usage given that most apps are downloaded, used once, and forgotten. TikTok definitely belongs to that one-quarter of apps whose users are active on a daily basis.
(Oberlo)
TikTok User Stats
8. TikTok has approximately one billion active monthly users.
The number of TikTok users over the course of just a few years has almost doubled. To put this into perspective, at the end of 2018, there were around 680 million active users worldwide. In just three years this number has grown to a billion.
(Wallaroo)
9. In 2020, TikTok's global penetration reached 18% of internet users between 16 and 64 years old.
TikTok experienced a tremendous change in just one year, with the COVID-19 lockdowns prompting people to look for entertainment online. For reference, its global usage penetration in 2019 was 11%, and in 2018, only 5%, according to TikTok stats.
(Global Web Index)
10. Nearly half of all US TikTok users are between 10 and 29 years old.
TikTok is preferred by younger generations, predominantly Gen Z. Despite the majority of younger generation users (10-19 years old — 25%; 20-29 years old — 22.4%), other age groups use it as well. 21.7% of those between 30 and 39 years old use the platform, followed by 20.3% of those aged 40-49 and 11% of people over 50 years, according to TikTok stats.
(Sprout Social, Wallaroo)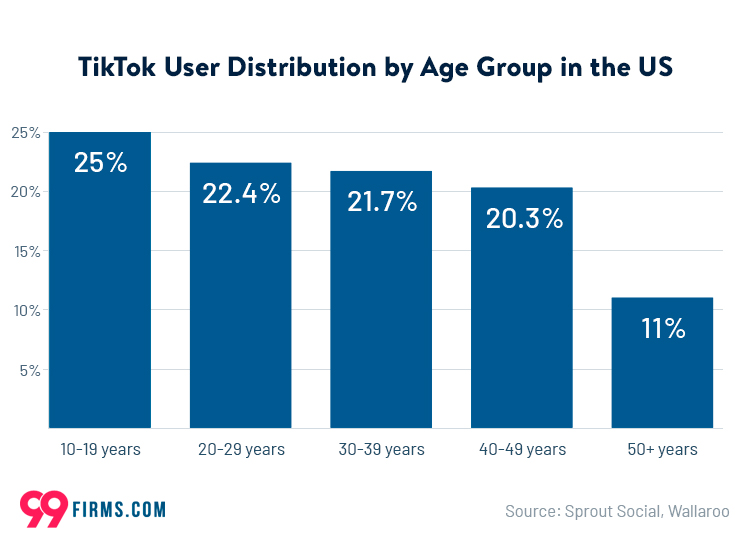 11. Women account for over 61% of TikTok's active users in the US.
Stats on TikTok demographics from March 2021 show that the app is more popular among the US female population, with male users accounting for just under 40%. Note that the data includes only binary genders.
(Statista)
12. Over 90% of TikTok downloads come from Android devices.
Android is the operating system of choice for most TikTok users. The only exception is the US, where we have more iOS than Android users.
(Influencer Marketing Hub)
13. TikTok has outdone Instagram as teenagers' second favorite social media platform.
TikTok user stats show that this app had moved up in ranks. Research conducted on a sample of American teenagers in 2020 demonstrated that 34% of teens consider Snapchat as their favorite social media app. Following Snapchat, TikTok is a favorite to 29% of teens, while Instagram appeals the most to 25%. Usage stats show that Instagram kept first place with 84% engagement. Snapchat was second with 89% and TikTok third with 69%.
(CNBC)
14. In the US, 20% of those with a household income over $75,000 use TikTok.
TikTok statistics in a Pew Research study confirm that the use of TikTok across different income groups is pretty much even. So we have 22% of those earning under $30,000 who use TikTok, and 29% of those whose income stands between $30,000 and $49,999. Next, 20% of higher earners ($50,000 to $74,999) also claimed they used the app, according to statistics on TikTok user demographics.
(Pew Research)
15. About 65.9 million of TikTok's active monthly users come from the US.
The US is shaping up to be the number one market for the app, apart from China. Following the US, Indonesia has emerged as one of the countries with a high number of monthly users (just over 22 million). Then come Russia (16.4 million), Japan (12.6 million), and France (9.3 million), as evidenced by TikTok statistics.
(eMarketer)
TikTok Users by Country
16. TikTok is available in 200 countries.
Due to its tremendous expansion, TikTok has become available almost anywhere in the world. In addition, it's accessible in over 75 languages, covering a lot of the global population. How did this happen so quickly? A large number of TikTok users in the West were part of the Musical.ly community, which merged with TikTok. The Eastern audience meanwhile uses the app's Chinese version Douyin.
(Oberlo, Hootsuite)
17. The Philippines ranks 11th on the list of countries with the most TikTok downloads in 2020, TikTok statistics for the Philippines show.
The Philippines is mainly an English-speaking country, and that makes it a receptive audience for videos from around the globe. In 2020, TikTok was the most downloaded app for entertainment in the country. Netflix and Viu are following it as the other two preferred entertainment apps by local residents.
(One News)
18. Between January and July 2020, TikTok registered 1.04 million new downloads in Singapore.
TikTok statistics for Singapore indicate that similarly to the rest of the world, users in the country surged amid the global pandemic. Despite some concerns about the privacy of its users, Singaporeans still download the app and join. The majority of users come to the platform because of its entertaining character and humor.
(Nomor Siapa)
19. In 2021, the monthly usage of TikTok in Australia jumped to an average of 16.8 hours.
Australians are spending more time on TikTok in 2021, while its closest competitor went down to the second spot (YouTube with 16.3 hours). TikTok statistics for Australia show that in 2019, the app's monthly usage was 7.9 hours. Looking at the number of users of both platforms, we come to some 16 million monthly users for YouTube and 2.5 million TikTok users in the first half of 2020, suggesting that the Chinese app drives a lot more engagement.
(The Music Network)
20. TikTok's usage reach in Canada rests at only 9%.
TikTok still hasn't penetrated this market as much as it has elsewhere. The most recent TikTok statistics for Canada place it as the 10th most popular social media platform in the country. Facebook holds the first spot with the dominant 70% of usage reach. Messenger is second (62%), while YouTube maintains the third spot (55%).
(Statista)
21. There were over six million TikTok users in the UK at the beginning of 2020.
The average penetration rate in the UK, upon the launch of TikTok, was 1.8%. In just a few years it reached 6.9%. Between 2019 and the beginning of 2020, the number of users grew from 4.9 million to six million. TikTok statistics for the UK indicate that this growth is going to continue so by 2022, it's projected to reach 7.6%. The average user in the UK spends about 41 minutes per day on the platform.
(CyberCrew)
22. Before it was banned in India, TikTok had over 200 million users in the country.
In 2020, the Indian government banned the popular app, among other 58 services and apps, over security and privacy concerns. At the same time, all providers started blocking users in India from accessing the app, while the company withdrew its apps from the App Store and Google Play in India. Asia's third-largest economy was one of TikTok's biggest markets, accounting for 611 million of the app's global downloads.
(Tech Crunch)
TikTok Statistics for Business
23. TikTok is the top-grossing non-gaming app with $110 million in user spending.
User spending in 2021 surpassed the reported TikTok revenue by 1.9 times in 2020. Most of its revenue comes from China (79%). Following China, we have the US (8%) and Turkey (3%). YouTube was the runner-up in terms of revenue, with over $82 million. The next platform on the list was Tinder.
(Sensor Tower)
24. About 33% of TikTok videos with the highest view-through rate include people speaking to the audience.
Addressing the community directly is one of the main rules if you want to be a content creator and an influencer on TikTok. Making the video into a sort of conversation and engaging people to react and give feedback is a top strategy for the best view-through rate.
(TikTok)
25. Roughly 50% of the best-performing ads on TikTok play to the emotions of viewers.
TikTok statistics for business show that half of the videos ranking high based on the performance, strive to connect to viewers on the emotional level. Content with emotions tends to perform excellently and invoke astonishing engagement rates.
(Hootsuite)
26. Over 63% of the highest click-through rate videos emphasized their key message within the first three seconds.
The TikTok growth has driven many marketers to learn the best tricks and hints on how to do better product placement. The key ingredient according to TikTok itself is to highlight your key product or slogan in the first three seconds of the video. It's crucial to be direct and make sure your video follows the narrative your audience relates to.
(TikTok)
The Bottom Line
Although many at first thought TikTok was here to replace Vine, the simplicity of becoming a content creator is what gives this app an edge over competitors. TikTok user stats show that it primarily speaks to younger generations, so it represents a perfect channel for brands to address their younger audience with targeted marketing campaigns. In any case, TikTok has found its way to the top and it's here to stay.
TikTok FAQ
How many downloads does TikTok have?
Looking at data from Sensor Tower from 2020, the TikTok app has been downloaded 2.6 billion times globally. In January 2021 alone, the app registered 62 million downloads.
How long has TikTok been around?
The app was launched in China in 2016, under the name of Douyin, with the purpose of creating and sharing short videos, as TikTok statistics show. The next year, ByteDance, the company that owns it, started expanding it out of China. Musical.ly, which merged with TikTok in 2018, was first launched in 2014.
How many people are on TikTok?
TikTok has around one billion monthly active users. This marks massive growth since 2018 when the app had 680 million active monthly users.
How many people use TikTok in the US?
The latest statistics show that the video-sharing app boasts 130 million active users in the US.
Who uses TikTok?
The latest TikTok stats show that Gen Z comprises 60% of all active users on the platform. In the US, this social media has 80 million monthly active users, of which 40% are male, and 60% female. The majority of them are between 16 and 24 years old. Another 26% of users are 25-44 years old. Those between 16 and 34 make up 80% of the American users.
How many views has TikTok reached in its first year?
In its first year since its establishment, the platform has already hit a significant milestone. Namely, by the end of the first year, TikTok had one million views per day.
When did TikTok become popular?
TikTok became viral after merging with Musical.ly At the end of 2017, Byte Dance spent $1 billion to buy Musical.ly and merged it with TikTok the next year.
Which countries have banned TikTok?
Despite the global TikTok popularity, some countries have banned the platform due to different reasons that often have nothing to do with TikTok itself. According to TikTok statistics, these countries are:
India — over a border clash with China, citing security and privacy concerns;
Pakistan — due to the type of content shared, often perceived as indecent.
Bangladesh, Indonesia, and the US meanwhile have attempted to ban the app, resulting only in temporary restrictions.