Most people can't imagine their lives without Google. Its absolute dominance in the global search engine market has made internet users dependent on Google results, trends, and products. We've compiled these Google search statistics to help you understand how to make the best of it. Google's algorithms, ads, keywords, and predictions have both a direct and an indirect impact on our choices and lifestyles, so let's talk about the tech giant and its greatest creation to date.
Google Search Statistics (Editor's Choice)
The overall search engine market share for Google is 91.38%.
In 2020, the Google brand was valued at $323.6 billion.
There are nearly 4 billion users of Google's products and services.
Google takes over 200 factors into account when delivering the best results to its users.
Over 50% of Google searches end without a click.
"Coronavirus" was the most searched word in 2020.
Google Search Index contains over 100,000,000 GB.
96.21% of apps in the Google Play Store are free.
A business spending $1 on ads through Google Search makes $8 on average in profit.
Moving up one spot in the Google Search results can improve a site's CTR by up to 30.8%.
Google Search Stats That Marked 2020
1. "Coronavirus" was the most searched word in 2020.
The year 2020 brought the global pandemic to the world. Lockdowns, isolation, and social distancing resulted in everyone with internet access spending more time online. As the events were unraveling, people tried to find relevant information. Thus, the most searched word on Google was "coronavirus".
(Google Trends)
2. The US elections also impacted the most searched words on Google in 2020.
Google search engine statistics show that after looking for information about COVID-19, the phrase in second place on the list was "election results." Kobe Bryant, Zoom, and IPL were other top Google searches. An analysis of the most frequent searches on Google reveals a lot about the state of the world. The US relevance is often on top of these lists, as it's the country with the most users.
(Google Trends)
3. Google search data reveals that 500 keywords account for 8.4% of all search volume.
An analysis in 2020 of what are people searching for the most reveals that many Google searches are only navigational. Google search term statistics point to the search behavior focusing on dominant internet brands. The top 5 Google search terms including misspellings are:
YouTube (0.546%)
Facebook (0.530%)
Amazon (0.407%)
Gmail (0.296%)
Google (0.271%)
(Backlinko)
4. Google search term trends show 14.1% of all searches in 2020 were questions.
Google search frequency of questions has been on the rise in the past few years, reaching just over 14% of all searches in 2020. The first one is quite simple: people use search engines to find answers on the internet. Then, there is the increased voice command use. By opting for voice search, users are more likely to speak in full sentences.
(Backlinko)
5. The list of top Google searches as questions in 2020 starts with "how to vote India".
Google search facts show a staggering search volume (7.5 million) for the "how to vote India" query in 2020. With 5.17 million searches of the "what to watch" phrase, what's usually the most Googled thing ended up in the third-place—the question "what is my IP address" with 4.83 million searches.
(Semrush)
6. Overall, Chrome's desktop usage grew by a whopping 23% in the first quarter of 2020.
As the global pandemic caused abrupt chaos worldwide, lockdowns influenced people to spend more time at home and online. Internet usage has mirrored that, as life paused being on-the-go during the quarantine. Google search stats point to increased use of home-based devices, with desktop use climbing by nearly a quarter.
(Onely)
7. Global data results for 2020 show 13% of Google searches are translation-related.
We can divide queries into relevant categories according to the latest Google search keyword statistics. Inquiries regarding translation were the top category accounting for 13% of all searches. Social networks were the second most searched category with 11%. Entertainment, shopping, and the weather had a distribution of 10% each in Google search frequency. Other relevant categories with over 5% were news, web services, and gambling.
(Semrush)
8. The most expensive Google Ad keyword with a CPC of $58.64 was "business services."
Targeting commonly used phrases can be quite expensive, as the competition is high. The cost per one advertisement click by a user using "business services" in their query stood at $58.64 for the advertiser. Google search statistics by keyword show "bail bonds," "casino," and "lawyer" are also on the list of the most expensive terms at over $50. Other costly keywords on the 2020 list are "asset management," "insurance," "cash services & payday loans."
(Marwick Marketing)
User Behavior Stats
9. Users choose the autocomplete suggestion 23% of the time.
Autocomplete suggestions Google provides can save users time typing. Google search word statistics show that searchers appreciate and use the option 23% of the time. Another explanation offered was that occasionally, searchers themselves don't exactly know how to Google for what they want to find. With a little nudge from Google, they either find what they were looking for or something that points them in the right direction.
(Backlinko)
10. Google search stats show only 0.44% of users visit the second page of results.
There are usually about 10 results on the first page, including paid ads. That is enough for an average searcher to either find the relevant information or change the query. The vast majority of users don't have a specific complaint about Google's algorithms. The latest Google search numbers reveal only 0.44% visit the second page looking for a particular thing.
(Backlinko)
11. 65% of searches end on the first page of Google.
Optimizing your virtual presence for search engines is crucial for your business to succeed. For the marketers, the first page is the Holy Grail. Most users will use a search engine to find relevant products, services, places nearby them, etc., and trust Google more than friends or family members' recommendations. Google search results statistics show 65% of them will find what they're looking for on the first page.
(Backlinko)
12. The average time for the first click is 14.6 seconds.
The time before a searcher chooses an option varies according to the query. The latest research on the topic shows different average results; from 9.8 seconds ("how to cut your own hair") to 22 seconds ("supplements to treat back pain"). The conclusion from Google search data combined is that, on average, 14.6 seconds is enough for most users to click on one Google result.
(Backlinko)
13. 85% of Google searchers find what they want without modifying the initial term.
Google's algorithm is advancing at lightning speed. But that's not the only reason for only 15% of initial search terms not leading to desired results. According to the latest Google keyword search trends, 85% of searchers do not edit the original query. Besides the algorithm advancements combined with the autosuggest option, user behavior is also an essential factor. With Google having been a part of our lives for over two decades, users have a better understanding of searching as well.
(Backlinko)
14. Over 50% of Google searches end without a click.
Since Google added the featured snippets, CTR rates have been decreasing. Does that mean that users are not finding the relevant or desired information? The latest Google search statistics reveal the truth is just the opposite. Concise summaries in the answer boxes actually mean users are finding their answer without clicking to another webpage. Zero-click searches where the user is not looking for in-depth information comprise over 50% of searches.
(SingleGrain)
15. 48% of searchers were already using voice for web search in 2019.
Since 2019, voice input is the second preferred input method with 48%, right after the mobile browser. 85% use voice commands on their smartphones, while 39% opt for smart speakers. Google voice search statistics confirm 36% of users have their Google Assistant tied with Apple's Siri. Amazon's Alexa is next with 25%, and Microsoft's Cortana follows with 19% of users.
(Search Engine Land)
16. 55% of teens in the US use Google Assistant daily.
Teens all over the world, as digital natives, use the voice command option in their searches. This is especially present in the US, where over half the teen population use voice search daily. The latest Google trends by age also reveal that 56% of adults who use the voice command feel more tech-savvy. Used in 52% of cases, getting directions while driving is the principal reason for voice search. Making a phone call and sending a text follow with 51% and 50% of cases.
(Marketing Dive, Search Engine Land)
Google Brand Statistics
17. Google celebrates its birthday on September 27.
Google was incorporated on September 4, 1998. The history of Google shows that before 2006, Google celebrated its birthday on two other dates in September, neither of those two being the 4th. The most widely cited reason for choosing the 27th is the publication of the first birthday Doodle.
(Econsultancy, Telegraph)
18. The latest estimated value of Alphabet, Google's parent company, is a stunning $1.19 trillion.
Tech industry giant Alphabet, Google's parent company, was the fourth company in the world to reach $1 trillion in market worth. Facts about Google show the company comprises Android, Search, and YouTube. The other three organizations in this exclusive club were Apple, Amazon, and Microsoft. The first one to hit the significant mark was Apple in 2018. CNBC predicts Facebook will be the next one to pass the $1 trillion threshold.
(AA, CNBC)
19. In 2020, the Google brand was valued at $323.6 billion.
This tech giant's value is continuously on the rise, and the company ranked fourth on the top 10 most valuable global brands. Amazon was first with $415.5 billion, Apple second $352.2 billion, and Microsoft with $326.5 billion. One of the previous facts about Google showed that the number was $309 billion a year before. Google was then third on the list, with Amazon and Apple being leaders. Microsoft and Google switched places, as Microsoft's value increased 30%, while Google's only 5%.
(Statista, PR Newswire)
20. Google Sites was the most popular multi-platform web property in 2020 in the US, boasting 267 million visitors.
Across all its properties, including Google Search, YouTube, Gmail, and Hangouts, Google Sites topped the most popular multi-platform web properties in the US. Google search statistics for the US area reveal the total number of unique visitors was 267 million in 2020. The other top-five properties are Facebook, Microsoft Sites, Amazon Sites, and Verizon Media.
(Statista)
21. Google has made more than 200 acquisitions in its history.
Tech companies regularly take the inorganic path to rapid growth, and Google trends show that the company has been particularly noteworthy in this area. In fact, around 2010, the group averaged two acquisitions per month. Some of Google's most impressive and expensive additions include Android ($50 million, 2005), YouTube ($1.65 billion, 2006), DoubleClick ($3.1 billion, 2007), Waze ($1.1 billion, 2013), and Nest ($3.2 billion, 2014).
(CNBC)
22. Google recorded the highest revenue in 2020.
The year 2020 brought the highest recorded revenue for the brand. At close to $184 billion, it was a whopping jump from $160 billion in 2019. To provide some perspective, even with such Google popularity the company had never reached $100 billion in revenue until 2017. In 2016, it was $89.98 billion, and $74.54 billion a year before that.
(Statista)
23. Google takes over 200 factors into account when delivering the best results to users.
Despite how quickly Google can provide results for a search query, google search stats show it takes over 200 factors into account before presenting the millions of results. We can divide those factors into several major categories: the domain, page-level, site-level, backlinking, user interaction, webspam, etc.
(Backlinko)
24. Google Search Index contains over 100,000,000 GB.
The search index operates through the crawling system that has indexed billions of web pages. Every time a user enters a search query, Google doesn't go through the entire internet, but searches its index of the internet. One of the facts about Google's search engine is that it can deliver millions of results in a fraction of a second. That is possible because of numerous data centers located across the world, in which hundreds of computers are working simultaneously.
(Google)
25. There are nearly 4 billion users of Google's products and services.
We can't answer how many people use Google with an exact number, but there is a way to calculate an approximate one. There were 4.66 billion active internet users as of October 2020. If we consider the company's market share, we can safely conclude there are nearly 4 billion Google users.
(Statista)
26. Google search statistics point to over 2.8 trillion searches per year.
Google doesn't freely share information related to its total search queries. The next best option is to look at live stats and extrapolate the data. According to the latest Internet Live Stats, the search engine handles 89,016 queries per second, which translates to about 2.8 trillion searches a year.
(Internet Live Stats)
27. The most-searched book of all time on Google is the Bible.
The Qur'an is the second most-searched book and has been in that position since 2005. From 1992 to 2002, however, the most-searched book on Google was Lolita, Vladimir Nabokov's controversial novel, which is still in the top 10. Because the Bible has been the most-searched book on Google since 2003, it's also among the top Google searches of all time.
(Econsultancy)
Google Market Share Statistics
28. Google's overall search engine market share is 91.38%.
A search engine market analysis from December 2020 shows the absolute dominance of Google once again. Google search engine facts show the company holds a 91.38% share of the global market. Next on the list is Bing with only 2.69%. Yahoo! comes in third with 1.46%, followed by Baidu with 1.36. Yandex holds a 1% share, which completes the top 5 players' list.
(StatsCounter)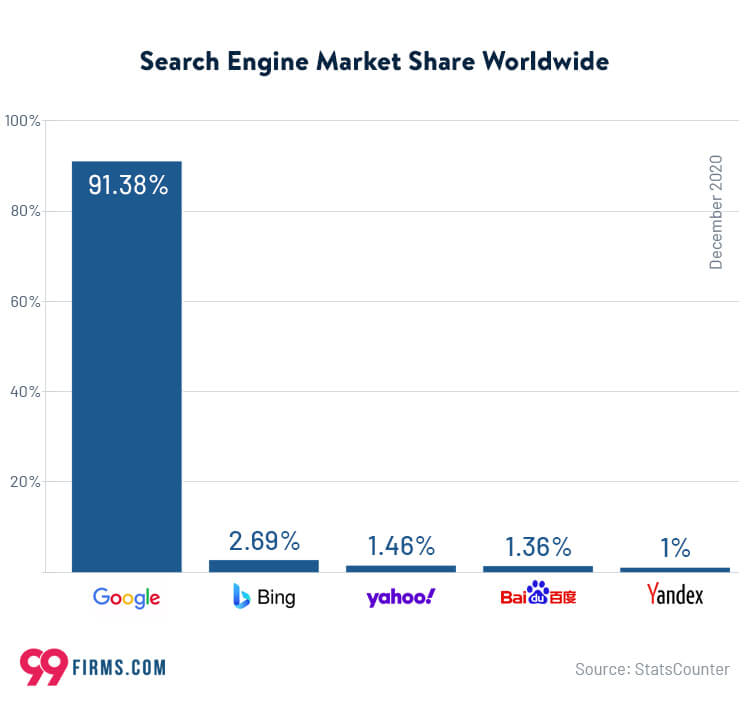 29. Google's market share of desktop search engines was 88.14%
Google was still the leader in the vast majority of stunning 88.14% as of October 2020. The research shows the second on the list was Bing with 6.18%. Yahoo! accounted for 2.51% of the global search engines' desktop market share. Baidu and Yandex RU complete the top 5 list with less than 1% each.
(Statista)
30. Google's popularity is the highest with mobile users.
Google developers understand the importance of mobile user experience for the optimization of search engines. That's why facts about Google's search engine reveal the company held 94.55% of the mobile market share as of December 2020. Baidu had the second spot with 1.81%, and Yandex followed with a 1.16% share. Yahoo!, DuckDuckGo, and Bing were also on the list with less than 1% each.
(StatCounter)
31. Google has a 95.47% market share in India.
Google is a truly global service, enjoying the top position in multiple countries outside the US, where its share is 87.81%. Google search popularity is notably high in India, where it has enjoyed a 95% share or higher for quite some time. In Brazil, it holds 92.58% of the search engine market. For Italy and Spain, it is above 90% as well. Even in Russia, where Google has to compete with Yandex, a prominent local player, its market share is 66.16%. In China, however, its share is 10.06%.
(Statista, StatsCounter)
32. The mobile usage share of Google Chrome accounted for 84% in Africa.
The latest Google search statistics show that only 9% of countries had a mobile Chrome usage share under 50%. In Africa, the percentage was the biggest across the continents, and mobile users accounted for 84% of total Chrome traffic. Asia was next with 76.4%, then North and South America with 74.5% and 73%. Oceania had 67.1%, and Europe was last on the list with 65.3%.
(Onely)
33. The number of apps and games in the Google Play Store was 2.96 million in 2020.
Over the past several years, Google has removed many apps for two principal reasons. First, the company got rid of those that were not compatible with the Google brand standards. Second on the list was cleaning up the Play Store of all low-quality apps. Google trends continue to follow the 'quality before quantity' rule.
(Business of Apps)
34. 96.21% of all apps in the Google Play Store are free.
Only 3.79% of the 2.5 million apps Google offers in the Play Store have charges. When we consider free apps will usually have built-in ads, the number makes sense. In comparison, Apple Store had 3.4 million apps in 2020, and 92.3% of them are free. App developers explain this fact with the overall price of Apple products — they consider Apple users as willing to spend more money not just on devices, but on the content on them as well.
(Business of Apps)
Google Search Statistics for Businesses
35. The total search volume grows by roughly 10%–15% per year.
While this may sound quite substantial for a search engine that already handles trillions of searches in a year, this growth rate is nothing compared to the rates experienced by Google in 1998 and the years immediately following. Google search volume increased by 17,000% between 1998 and 1999; 1,000% between 1999 and 2000; 200% between 2000 and 2001, and continued to increase by 40% to 60% until around 2010.
(Internet Live Stats)
36. Google's search and advertising tools helped create $385 billion in economic activity in the US in a single year.
Ads and searches lead to clicks, and some clicks lead to business. This fundamental model has helped Google benefit all kinds of profit and nonprofit organizations. According to Google search facts from its annual Economic Impact reports, the company contributed $165 billion of economic activity to millions of organizations in the US in 2015, up from $131 billion in 2014. This value had more than doubled in 4 years, totaling $385 billion in 2019.
(Google)
37. Moving up one spot in the Google Search results can improve a site's CTR by up to 30.8%.
Of course, it depends where this movement occurs. Moving to the second from the third spot produces a massive boost in CTR, but upward movement in the lower levels doesn't improve the chances of being clicked on as much. In fact, research into the top Google searches shows that the organic CTR for positions 7–10 is virtually the same.
(Backlinko)
38. Google keyword trends show 91.8% of search queries are long-tail keywords.
Choosing the right keywords is crucial for your website's SEO. Google search traffic shows the better job you do, the higher your site will rank. The latest internet user behavior trends show 91.8% of searchers use more natural language and broader terms, and ranking for them will bring your website more organic traffic. As many of these searchers are further into the buying cycle, long-tail keywords have higher conversion rates.
(Backlinko)
39.The number of mobile searches checking for local businesses grew by over 250% between 2017 and 2019.
Google keywords search statistics show that the use of queries like "____ store open near me" and "____ on sale near me" has increased significantly in the last several years. As Google is used increasingly to search for local businesses, investing in local SEO specialists is a must. The increase between 2017 and 2019, for example, was a whopping 250%.
(Google)
40. 42% of users click on the Google map nearby results for local queries.
One of the most important local SEO factors is adding your company to Google Maps and providing relevant contact information. Google map results are practical for users and will be shown on the very top of a SERP. Analysis of local Google search trends points to 42% of users finding what they need and clicking on a Google map suggested result.
(Backlinko)
41. In 62.78% of cases, Google will edit your submitted meta description.
The result is a projection of a study of almost 200,000 top 10 ranking pages. The conclusion was that Google would rewrite the meta description in 62.78% of cases, so most search results. There is a slight difference between descriptions targeting long-tail and fat-head keywords. The percentages are 65.62% and 59.65%, and the first number would be average. Google search statistics by word show for the rest of the cases (37.22%) Google used the hard-coded description.
(Ahrefs)
42. Over 35% of clicks for US business ads on Google come from outside the US.
Google doesn't just drive over a billion connections for businesses within the US; it also connects businesses to overseas customers. It's believed that digitization will boost the US's GDP by up to $2.2 trillion by 2025, and the cross-border connectivity provided by Google will have an important role to play in that, according to little known facts about Google.
(Google)
43. A business spending $1 on Google Ads makes $8 on average in profit.
The actual figures can vary over a fairly vast range. According to calculations shared by Google, careful investment in SEO and PPC can earn businesses substantial profit. They estimated an average ROI for $1 to be $8. These calculations are based on the evidence that companies receive an average of five clicks on their search results for every one click on their ads.
(Google)
Google Employees Stats
44. The latest data shows Alphabet has 132,121 employees.
The latest statistics show that Google's parent company had 132,121 employees as of September 2020. Google employee facts meanwhile indicate that the company has seen an almost consistent rise in its full-time employees in the last decade. Alphabet's employees work not only for Google but also for other group entities like Calico, X, CapitalG, and Sidewalk Labs. These employees are based out of over 70 offices spread across 50 countries around the globe. In 2005, the total number was 5,680, and a steep increase followed since.
(Google Annual Report)
45. 67.5% of Google's new hires in 2020 were men (the US).
The company's 2020 annual report shows the percentage of male employees is double that of females. With 67.5% compared to 32.5%, the ratio is quite similar to the year before when men accounted for 66.8% of Google's new employees.
(Google Diversity Annual Report)
46. In terms of ethnicity from the 2020 report, 48.5% of new hires were Asian.
Google employee facts for new hires show 2020 was the first year that the majority of the group's employees were not white. White employees accounted for 43.1% of new hires, as opposed to 48.5% a year earlier. Latin employees came in third place with 6.6%, followed by Black employees with a 5.5% share and Native Americans with 0.8%.
(Google Diversity Annual Report)
47. Google's rate for white employees continues to be above 50% in the US.
Despite a stated commitment to ethnic diversity, only 3.7% of Google's employees in the US are Black, 5.9% are Latin, and 0.8% are Native American. After 51.7% of white employees, the second largest ethnic group is Asian, at 41.9% of the overall employee base.
(Statista)
Conclusion
We've provided a detailed journey showing how Google dominates the way billions of people use the internet. While we tried to touch upon every single important aspect with these Google search statistics, if there's any bit that you're still curious about, you know what to do. Yes, just Google it!