As search engines and social media are fighting for their share of the pie, pay-per-click advertising is becoming more competitive by the day. A growing number of users rely on paid ads when shopping online while staying on top of SERPs is more demanding than ever. As a result, keeping up with trends in a dynamic industry like paid advertising is a challenge of its own. A solid understanding of it, however, is far from impossible to obtain. From ROI and CTR to budget allocation and conversion rates, the paragraphs below elaborate on the latest PPC stats that shape the industry as we know it today.
Pay Per Click Statistics (Editor's Choice)
Businesses typically earn $2 for every $1 spent on Google Ads.
62% of marketers plan to increase their PPC budgets.
45% of small businesses use PPC advertising.
PPC is a huge business driver for 74% of brands.
Google Ads with high commercial intent gets 65% of all clicks.
The average CPC in Google Ads is $2.69 on the search network
Instagram CTR rate in the feed is 0.22%.
The average CPC on Facebook is $1.86 across all industries.
General PPC Statistics
1. Businesses typically earn $2 for every $1 spent on Google Ads.
Based on the numbers above, Google Ads have an ROI of 200%. Note that this is the average as several factors impact the ROI in Google Ads. However, it seems to be a good enough reason for small businesses to continue investing in paid advertising. Based upon research results published on Wordstream, the average small business invests between $9,000 and $10,000 per month in Google Ads campaigns.
(Google Economic Impact, Wordstream)
2. Companies worldwide spent $104.8 billion on search advertising in 2019.
Advertising specialists invest heavily in PPC. These numbers are probably much higher today, as Facebook alone is home to more than 9 million advertisers, and together with Google Ads, they are the market leaders in pay-per-click advertising.
(Statista)
3. 62% of marketers plan to increase their PPC budgets.
According to nearly two-thirds of marketers, PPC budgets will continue to increase. In contrast, only 35% of marketers won't make any changes in their PPC spending. As far as ad formats go, PPC advertising stats indicate that 49% of marketers plan to invest more in social ads, while the percentage of those who will increase investments in text ads sits at 60%.
(Acquisio)
4. Search advertising spending is projected to exceed $137 million by 2022.
The amount advertising specialists are investing in PPC has been steadily growing every year since 2009. In 2019, it reached nearly $105 million in the US. Display advertising spending was estimated at over $160 million and accounted for the largest ad spend share in 2019.
(Statista)
5. Google and Facebook currently account for over 60% of all ad spend.
The tech giant and Facebook hold a 60.7% share of total ad spending. Amazon is trailing behind the duopoly with an estimated 8.6% of the market. However, Amazon PPC stats hint that the ecommerce giant is likely to see an increase in online ad revenue share considering that its digital ad revenue went up by 51% in Q3 2020 as a result of the coronavirus outbreak.
(Emarketer, WSJ)
6. 45% of small businesses use PPC advertising.
A study from Clutch revealed that 45% of small business owners rely on PPC advertising even though their investments in PPC account for only 30% of their marketing budgets.
(Clutch)
7. Paid search accounts for 39% of marketers' budgets.
PPC advertising statistics from a recent study indicate that paid search is one of the top digital marketing channels. Paid search accounts for almost 40% of marketers' total budgets, followed by paid social which accounts for 18% of marketers' budgets, and display advertising at 16%.
(Marin Software)
8. PPC is a huge business driver for 74% of brands.
Businesses that are already running PPC ads know how important they are in terms of revenue. 74% of them stated that PPC is a huge driver of business and accounts for a significant sales number.
(Brainlabs Digital)
9. 52% of PPC clicks come from mobile.
Mobile is responsible for 52% of PPC clicks. Additionally, 70% of paid search impressions come from mobile too. If you already haven't, now is the high time to capitalize on mobile.
(Marketing Dive, BizTraffic)
10. 17% of marketers use PPC ads for lead generation.
A recent study from Formstack showed that PPC ads are among the top three lead generation tools. The primary tools for capturing leads preceding PPC were on-page website conversion (23.9%) and email marketing (18%).
(Formstack)
User Engagement Statistics
11. 49% of people are most likely to click on a text ad.
Text ads are the most popular ad format according to PPC stats from a study by Clutch. Product listing ads and shopping ads take second place (31%), while video ads rank third with 16% of users favoring this ad format.
However, the source also pointed out that ad format preferences depend on the websites people use. So, 55% of those who use Google prefer text ads. 50% of people who use Amazon prefer PLAs and shopping lists, and 36% of YouTube users favor video ads.
(Clutch)
12. Over half of the shoppers that view/click on a paid advertisement call the business right after.
Consumers that engage with pay-per-click ads are usually ready or close-to-ready to purchase. 52% of the potential shoppers that see or click on a PPC ad are highly likely to call a business.
(Lyfe Marketing)
13. 75% of users click on ads as they help them find the information they need more easily.
Some of the most interesting pay-per-click advertising statistics relate to the reason why people click on search ads. A study from Clutch showed that the vast majority of users clicked on an ad because it helped them discover the information they were looking for more easily. Roughly one-third of the study participants said that ads gave them a direct answer to their search query.
(Clutch)
14. 77% of users are confident they can recognize paid search ads.
The majority of users believe they can readily make a distinction between PPC and organic results on the SERPs. 36% of users say this isn't easy for them if there isn't a right column.
(PR Newswire, RankBoss)
15. People are 4x more likely to click on a Google paid search ad than any on any other search engine.
63% of people would click a paid search ad on Google. 15% would click a paid search ad on Amazon, 9% on YouTube, and only 5% on Bing.
(Clutch)
Google AdWords Industry Benchmarks
16. Google Ads with high commercial intent get 65% of all clicks.
The percentage of clicks that PPC ads get depends on the audience too. The average click-through rates for PPC ads are significantly lower for informational keywords searched by searchers who want to learn something rather than buy. On the other hand, AdWords statistics imply that the channel's effectiveness is best seen when it comes to commercial keywords. As a Wordstream study reveals, nearly two-thirds of people who are searching for something with a purchasing intent will click on a paid ad. The remaining 35% of clicks are reserved for organic results.
(Wordstream)
17. The average CTR on Google is 3.17% on the search network and 0.46% on the display network.
According to pay-per-click ads statistics, the industries with the highest CTR on the search network are Dating and Personal Services (6%), Advocacy (4.41%), Auto (4%), and Travel (4.68%). The Real Estate industry has the highest CTR in the display network at 1.08%, which is more than double the average rate. On Bing, which is also one of the best PPC platforms, the average CTR across all industries is 2.83%.
(Wordstream)
18. A paid ad on the first position on the first page of Google has a CTR of 7.11%.
Paid ads that rank first on the first page of Google have the highest CTR at 7.11%. This might not seem like a big number; however, it is more than 50% bigger than the one of the ads in the second position. More precisely, ads in the second position have a click-through rate of 3.01%. The click-through rates for the third and fourth positions are very similar, at 2.19% and 2.15%, respectively, while the CTR rate for a PPC ad ranking ninth sits at 0.55%.
(AccuraCast)
19. The average CPC in Google Ads is $2.69 on the search network and $0.63 on the display network.
To determine the cost per click trends across different ad platforms, we took a look at the average cost per click (CPC) across three of the most prominent ad networks; Google, Bing, and Facebook. The average CPC in Google Ads—which is also the highest among the three—is $2.69 on the search network and $0.63 on the display network. Next in line in descending order is the average CPC of a Facebook Ad, at $1.72. Even though close to Facebook's, Bing ads' average CPC is the lowest of the three, at $1.54.
(Wordstream)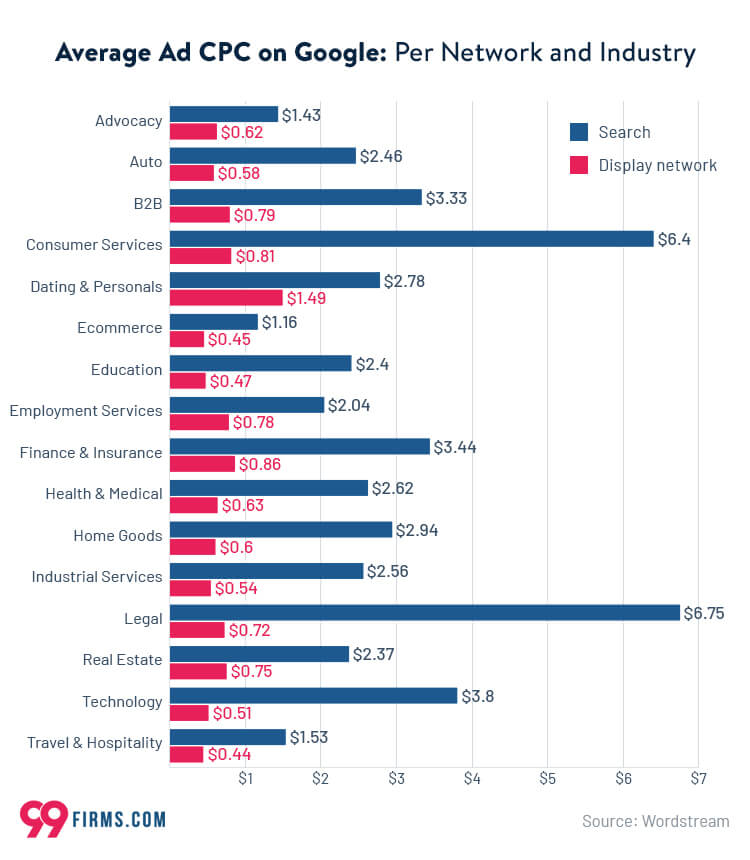 20. Financial services and insurance CPC ranges between $0.86 and $3.77.
The average cost per click by industry greatly differs both within a single platform, as well as across different ad platforms. In relation to the case in point, the average CPC for a keyword from the Financial Services and Insurance vertical on Facebook is $3.77. The CPC of a keyword in the same category on Google Ads is slightly lower at $3.44 for search advertising, and the lowest for their display network, at $0.86. Finally, the CPC for a keyword of the like on Bing is the lowest at $1.82.
(Wordstream)
21. The most expensive word on Google Ads is 'insurance'.
'Insurance' ranks as the keyword with the highest CPC, at $54.91, while the 'gas/electricity' keyword costs $54.62. The keyword 'loans' is somewhat more affordable with a CPC of $44.28. Other expensive keywords are 'mortgage' and 'attorney'. Bidders can expect to pay $47.12 and $47.07 for a click on these two keywords respectively.
(Wordstream)
22. Industries have an average conversion rate of 3.75%.
Dating and Personals is an unprecedented champion when it comes to conversion rates. The industry has an average conversion rate of 9.64% for search.
(Wordstream)
23. The average cost-per-action across industries is $75.51 for display ads and $48.96 for search ads.
The Auto industry ($33) has the lowest CPA in AdWords. B2B, Real Estate, and Technology are on the higher end with a CPA of over $100.
(Wordstream)
Google Ads Stats
24. There are over 3.5 billion daily Google searches.
Google is the world's most popular search engine handling around over 40,000 search queries per second. This number amounts to 3.5 billion searches a day or 1.2 trillion searches per year.
(Internet Live Stats)
25. 62% of core searches are happening on Google in the US.
Google dominates the US search market with nearly 62% of all desktop searches. Bing, as the second most popular search engine, is responsible for roughly one-quarter of all desktop searches in the US.
(Statista)
26. Before visiting a store, consumers who clicked on a Google search ad spend 10% more on average.
Google advertising statistics talk volumes about shoppers' behavior. Those that click on a Google ad tend to spend up to 10%.
(Think With Google)
27. 64% of potential shoppers click a Google ad.
When searching for products online, 23% of US consumers are turning to Google, presenting great opportunities if you want to attract qualified leads. Including Google Ads in your marketing strategy will yield faster results considering that the majority of consumers with purchase intent will click on a Google ad.
(Emarketer, Lyfe Marketing)
28. 96% of brands are running PPC ads on Google.
The vast majority of digital marketing specialists are capitalizing on paid advertising on Google. Google ads statistics are further showing that marketers allocate on average 42% of their budget to search marketing.
(Emarketer, Swydo)
Display Ads Statistics
29. Google's display campaigns reach more than 80% of the global internet audience.
Google owns the largest display advertising network in the world with more than 2 million sites. In previous years, this network reached over 80% of the global internet audience. That number currently sits at 90%, according to the latest Google AdWords statistics.
(Site Pro News, Google Ads)
30. 33% of users consider display ads to be intolerable.
Over a third of consumers don't want to see display ads. Further statistics show that over 25% of consumers are using an ad blocker.
(Einstein Marketer, Statista)
31. 42% of PPC advertisers think display ads are the least effective channel.
Marketers deem display as the least effective PPC channel. This might have to do with the consumers' intolerance toward this ad type. Interestingly enough, 79% of them are still investing in it, which indicates that, if used properly, display ads can be quite effective after all.
(Brainlabs Digital)
32. Native ads get 53% more views compared to traditional display ads.
When considering what type of display ads to go for, you should take into consideration the latest PPC trends. For example, native ads not only attract more views but can also boost purchase intent by up to 18%.
(NT Technology)
33. In 2020, an estimated 85% of total digital display ad spending went to programmatic advertising.
The larger portion of the total display ad spent goes to programmatic marketing. Half of programmatic display ad spending goes to video, banners, and other types of display ads across social networks. Estimations are that US advertisers are spending $68 billion on programmatic display ads.
(Emarketer)
SEO vs PPC Statistics
34. When paused, 89% of search ads are not replaced with organic clicks.
In Search Ads Pause Studies, Google's team revealed that search ads don't stand in the way of organic traffic. It's quite the opposite. They discovered that when search ads were put on pause, organic clicks failed to replace 89% of the traffic generated through them.
(Google Research)
35. The top three Google pay-per-click ads get 41% of clicks.
As the case is with traditional advertising, location seems to play a significant role in digital advertising as well. If we consider the fact that PPC ads are placed above organic search results, it is no wonder that paid ads get this big of a share of the clicks. Organic vs paid search statistics indicate that this top organic result gets a little under 9% of clicks.
(Wordstream)
36. PPC visitors are 50% more likely to purchase something than organic visitors.
Conversion rates relating to pay-per-click leads are 50% higher compared to ones funneled through organic search. This stat tells us that PPC advertising is not only effective in increasing website traffic but that it is also a powerful tool for converting visitors into customers.
(WordLead)
Paid Advertising on Social Media
37. 27% of internet users say they find new products through paid social ads.
Nearly a third of internet users are discovering new products thanks to paid ads. This figure proves that you can effectively run paid ads on social media to reach and engage the right audience.
(Hootsuite)
38. According to 37% of users, the sponsored ads they see on Instagram match their interests most of the time.
In a recent survey on whether sponsored ads on Instagram match consumers' interests, respondents said they do always (10%), most of the time (37%), or partly (35%). 12% of respondents say sponsored ads are mostly not matching their interests, and 5% said that is never the case.
(Statista)
39. The average CPC for Instagram ads is between $0.20 to $2.
As PPC stats show, the average Instagram ads cost per click rate hovers around $0.20 and $2. However, the cost can reach up to $3 per click in more competitive industries. If we consider the CPM rate, Instagram marketers can pay $6.70 per 1000 impressions.
(WebFX)
40. Instagram's CTR is 0.22% in the feed and 0.33% in stories.
These rates are still lower than Facebook which notes a CTR of 1.11% in the newsfeed and 0.79% for stories.
(AdStage)
41. 55% of users hide sponsored ads on Instagram due to the irrelevant content.
According to PPC stats, the second-most-common reason to hide a sponsored ad on Instagram was seeing it too often (43%). Being generally annoyed by sponsored ads (25%) and inappropriate ad content (24%) followed, while 11% of Instagram users have never hidden a sponsored ad on the platform.
(Statista)
42. 28% of Instagram users click to see more than 10% of the ads they see.
Instagram marketing statistics prove that adding a "Shop Now" or "Learn More" button on your ads can boost CTR, and you'll see more users entering your funnel.
(Statista)
43. 71% of social media advertisers opted for Facebook.
With these numbers in mind, it's not a surprise many businesses hire a Facebook advertising expert to generate pay-per-click revenue, as the platform is second only to Google in terms of popularity.
(SocialMediaToday)
44. The average CPC for a Facebook ad is $1.72.
Financial marketers see the highest CPC for Facebook ads ($3.77). Apparel ($0.45), Travel and Hospitality ($0.63), and Retail ($0.70) are the industries with the cheapest clicks—all below $1.
(Wordstream)
45. The average CPC on Facebook is $1.86 across all industries.
As PPC stats show, some industries see even lower CPC rates. For example, the Food and Drink industry sees an average CPC of $0.42, Pets and Animals $0.6, and Hobbies and Leisure $0.68. On the other hand, Finance is the industry with the highest CPC at $3.89, followed by Internet and Telecom ($3.07), and Home and Garden ($2.78).
(FitSmallBusiness)
46. Facebook ads have an average CTR of 0.9%.
The average click-through rate of Facebook ads is 0.9% but varies depending on the industry. At 1.61%, Legal ads see the highest average CTR. Other industries with high CTR are Retail (1.59%) and Beauty (1.16%). Ads for employment and job training services note a low average CTR at 0.47%.
(Wordstream)
47. 26% of the clicks on Facebook ads result in a purchase.
Most of the people who click on ads are already ready to purchase. Facebook advertising stats show that nearly 30% of the ad clicks end with a purchase. You need to make sure that your ad copy is engaging and relevant to your target audience.
(Cyber Click)
The COVID-19 Impact on the PPC Industry
48. Business management searches have grown by 23% since February 2020.
Upon the COVID-19 outbreak, many businesses turned to Google to learn how to deal with the situation, set their employees to work remotely, and create long-term plans. As a result, business management searches have surged, noting a 23% growth since February 2020.
(Wordstream)
49. Searches for office supplies have increased by 90%.
People started preparing to work remotely, so searches for office supplies saw a 90% boost. The paid search ad click for the industry increased by 35% and the CTRs increased by 41%.
(Wordstream)
50. Ads in the non-profit industry saw a 23% boost in PPC conversion rates.
As a direct result of the coronavirus crisis that impacted the world, non-profit advertisers saw a 23% increase in PPC conversions and 20% in search ad conversion rate. Additionally, pay-per-click statistics reveal that the non-profit industry ads saw a 10% increase in impressions.
(Wordstream)
51. Search ads for medical supplies have seen a 5% increase in clicks and 24% in PPC conversion.
People increasingly started to search for medical information upon the coronavirus outbreak. But they also started going online to buy medical supplies needed for protection against the deadly virus which brought about an increase in clicks and conversions.
(Wordstream)
52. Skincare PPC ads saw a 21% boost in search CVR.
Beauty was another industry that experienced a boost in PPC ads metrics. People were mostly searching for hand sanitizers and soaps but also turned to skincare while staying at home. Besides skincare, which saw a 21% boost in search CVR and a 3% increase in CPC, spa care PPC ads have seen a 20% boost in search CPC and a 41% boost in search CVR.
(Wordstream)
52. The travel and tourism sector faced a 50% decrease in vacation packages conversion rates.
The travel and tourism sector was harshly impacted by the coronavirus situation. As the world entered a lockdown, the average PPC conversion rates across industries dropped. PPC statistics indicate that conversion rates of travel booking decreased by 49%, those in the cruise industry noted a 44% decrease, and air travel experienced a 41% drop.
(Digital Third Coast)
54. Search ad impressions for bars decreased by 26%, whereas the CVR has decreased by 57%.
With many countries closing down bars and restaurants upon the coronavirus outbreak, the industry saw a change in search ad impressions and CVR. Similarly to bars, restaurants saw a significant drop in ad impressions (18%) and CVR (59%).
(Wordstream)
PPC FAQ
What is a good conversion rate for PPC?
Generally speaking, a good conversion rate is 10% or higher. If we're to go into specifics, for Google Ads campaigns, a good conversion rate is considered to be 5.31% or higher, while for Amazon ads, the figure stands at 9.47%. Experimenting with ad targeting, landing pages, ad copy, and offers can help you find out what works best and improve your PPC conversion rate.
What is ROI in Google Ads?
The simplest way to calculate your ROI in AdWords campaigns is to compare the money you invested in ads to the money you earned from them. The formula for calculating ROI in Google Ads is Revenue - Cost of goods sold) / Cost of goods sold = ROI. The latest PPC stats reveal that the average ROI in Google Ads is $2 for every $1 spent.
Which is better - SEO or PPC?
How do you decide on whether to opt for PPC or SEO services? Look at the pros and cons of each of them. SEO takes time to show results, while PPC ads offer instant results. On the other hand, if you're familiar with the best SEO practices and implementation techniques, this marketing strategy can be quite affordable as opposed to PPC advertising which depends on your budget.
Is pay-per-click worth it?
As the above PPC stats prove, running pay-per-click ads can be worthwhile because, usually, the searcher that clicks on the ad is ready to buy so the visit will generate more money than the click is worth. Hiring a PPC expert can help you greatly in making the most out of your campaign and generate the results your company needs without breaking the bank.