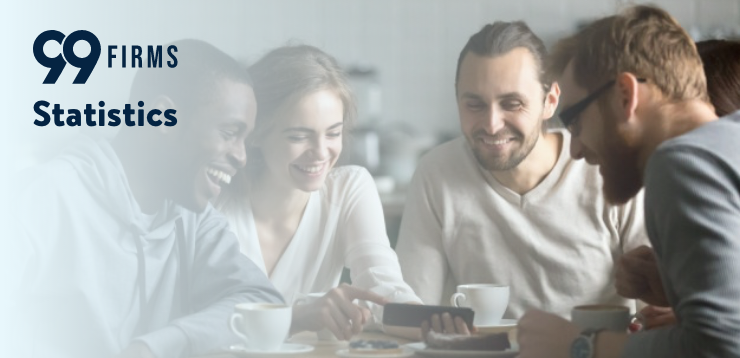 By definition, millennials are the people born between the early 1980s and the mid-1990s. Known as the first digitally native generation, millennials, now aged 25-39, have puzzled marketers for years with their brand loyalty shifts and valuing experiences higher than status. As their buying power continues to grow, they shop and spend differently than the generations that preceded them. What follows is some essential millennial marketing statistics that will transform your marketing as you look to target the world's most powerful demographic.
Millennial Marketing Statistics (Editor's Choice)
The millennial population in the US has surpassed 70 million.
More than half of millennials prefer branded content to be brief.
93% of millennials have smartphones.
47% of millennials use social media to learn about new trends.
One-third of millennials make a purchase after seeing a social media ad.
84% of millennials can be found on Facebook.
Millennials pay attention to digital content for about 12 seconds on average.
Millennial Spending Stats
1. There are about 72 million millennials in the US.
According to the latest available Census data for the US, the number of millennials exceeds 70 million, accounting for about a fifth of the nation's population. They are one of the biggest generations in the country's workforce, making millennial customers very valuable on account of their purchasing power and spending habits.
(Pew Research, Brookings)
2. Stock investment among millennials rose by 36% in a single year in North America.
Though often deemed as a financially challenged and disadvantaged generation, millennial spending trends reveal the group as the most likely among other age cohorts to have some kind of savings or investment (87%). Millennial buying power is grouped pretty evenly among three income brackets, low (33%), medium (33%), and high (29%).
(Global Web Index)
3. 60% of Millennials don't spend money on gyms or exercise gear every month.
Millennial market research further shows that among those who do, the average monthly spending is $23. 11% of this generation, however, spends more money on gym and exercise than they set aside for retirement.
(LendEdu)
4. 86% of millennials overspend on holiday gifts.
Millennials shopping statistics from 2020 further show that over a fifth of those who went overboard on holiday spending did so by more than $500. Selling to millennials isn't hard during the holidays and while this is admirable, overspending can result in taking money out of savings and the mounting debt becomes evident once the holiday season ends.
(CNBC)
5. 64% of millennials make impulse purchases.
According to the 2020 Consumer Culture Report, millennials are the generation that is the most prone to impulse shopping. That being said, millennial spending statistics further reveal that millennials are also more likely to watch carefully for sales before purchasing an item they want (90%) in comparison to Gen-Xers (85%) or baby boomers (36%).
(Chain Storage)
6. Millennials made up the largest share of homebuyers at 38%.
Home-ownership numbers are growing among millennials as they now span prime home-buying age categories. Though a generational comparison reveals that they are lagging behind older generations: 42% of millennials own a house at the age of 30, compared to 48% of Gen X and 51% of baby boomers at the same age.
(National Association of Realtors, GlobeSt)
7. 49% of millennials spend more on restaurant food than they save for the future.
Millennial lifestyle trends have made restaurant spending quite common for this busy generation that doesn't have the habit or time to cook. On average, millennials spend $163 a month on restaurants or other dining-out options, while just 6% don't have a monthly restaurant expense. 27% of millennials are spending more money on coffee, while 32% spend more on clothes than on their future retirement. Despite this, millennial consumer behavior data shows that 59% of millennials feel financially secure.
(LendEdu)
8. Millennials spend an average of $281 per month on groceries.
Millennial buying trends show that 3% of millennials don't buy groceries every month at all. They evidently prefer eating out to cooking, but most, nevertheless, spend more money on groceries than on dining out.
(LendEdu)
9. 80% of millennials want brands to entertain them.
Digital marketing agencies are expected to be storytellers; they need to design meaningful and fun interactions that will not disrupt a user's experience online, rather subtly comply with it. Millennial marketing trends also show that the age group is vocal about what they expect, as 70% feel the responsibility to provide feedback, and 40% want to participate in the creation of brands/products.
(Millennial Marketing)
10. Brief branded content works the best for millennials at 54%.
Advertising to millennials is synonymous with the ever-changing digital marketing trends as they are the first generation that enjoyed engaging with and sharing brand content rather than just receiving it. Yet statistics on millennials and social media reveal that 45% don't find branded content compelling enough to share it.
(Sprinklr)
Millennials and Social Media Statistics
11. 93% of millennials own smartphones.
Millennials rely, to some degree, on a smartphone for a gateway to online services and information, and therefore, smartphones serve as one of the best systems for marketers to gain audiences. Theavy use of smartphones by millennial consumers is exceptional — four out of 10 millennials engage with their smartphones more than they do with actual humans, and over three-quarters spend over two hours a day on their smartphones on average.
(Pew Research)
12. 68% of millennials require an integrated, seamless experience regardless of the platform.
One of the best-known millennial marketing facts is that this generation doesn't tolerate inconvenience. This means they like to be able to transition smoothly from a smartphone to a computer, and even to a physical store in their quest for the best services and products. Reaching millennials is achieved by providing a customer-centric shopping experience and treating them like respected clients. They also value 'old school' shopping experiences with face-to-face communication.
(Chain Storage)
13. 47% of millennials use social media to learn about new trends.
Millennial social media statistics identify a few reasons why the demographic checks their social platforms. Besides catching up with the latest trends, social platforms are used for communicating with friends and family (61%), killing time (51%), and getting breaking news (43%).
Popular uses of social media suggest that millennials look for brands with an attention-grabbing and informative online presence. More often than not, brands seek out social media marketing agencies to identify ultimate points of discussion to create the best-performing content.
(Sprout Social)
14. 70% of millennials trust brands with product videos more than the ones that don't.
Video triumphs as the best-performing type of content year after year, and millennials are enjoying it the most. Millennials and technology statistics reveal that the age group stands out in thinking video posts suggest credibility, followed by Gen Z and Gen X (both at 52%), and baby boomers (38%).
(Social Media Today)
15. 84% of millennials can be found on Facebook.
The percentage of millennials on social media is already quite high, and Facebook is densely populated. Facebook is a vast market for millennial advertising and a platform with an enormous amount of personal data for each user. It has our educational backgrounds, past and current occupations, life events, geographic location, and much more. Millennials and social media stats related to this generation indicate that these consumers are more comfortable with their data being online and want ads that cater to their needs and passions.
(Likeable)
16. 48% of millennials find influencer marketing more authentic than traditional marketing channels.
Influencer marketing is a significant part of any millennial marketing strategy, as almost half of them (49%) states that they value recommendations from influencers more than brand recommendations. Millennials and social media statistics further reveal that 44% of consumers feel more positive about a brand that uses influencers.
(Cure Media)
17. Snapchat is the most popular platform among millennials and Gen Z to connect with others.
Despite Instagram's significant rise in popularity, Snapchat reigns supreme among young generations in terms of communicating with friends and family. In fact, Instagram doesn't even make the top three: millennials and Gen-Z cite TikTok (91%) and YouTube (87%) after Snapchat, with Instagram taking fourth place (83%). Twitter and Facebook round up the top five with 71% each, millennials and social media statistics show.
(Statista)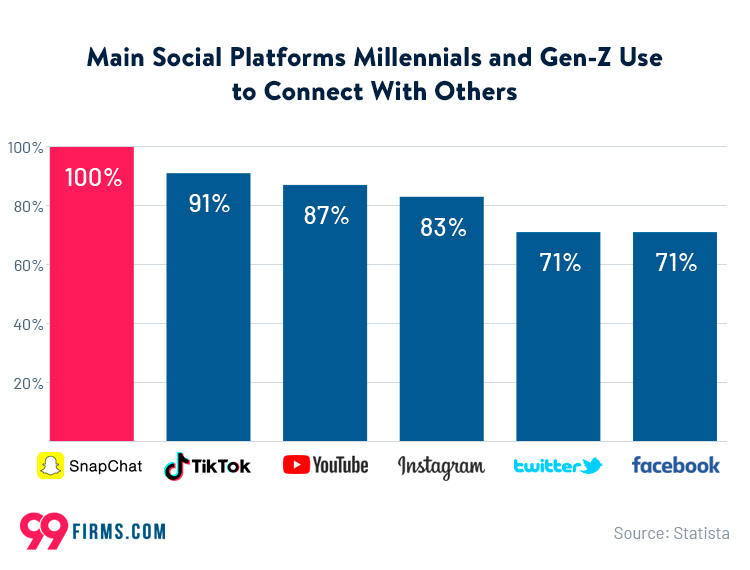 18. 72% of millennials would rather see personalized ads than generic ones.
Despite the ongoing discussions questioning data privacy and personalized ads, 60% of digitally savvy millennials are willing to make the trade-off. One particular issue is the ad replacement—brands usually experience a backlash when their ads are positioned near posts, including unacceptable content. 54% of millennials agreed that they would associate the ads with a post that included hate speech.
(Deloitte)
More Interesting Millennial Marketing Statistics
19. 80% of millennials plan to shop more from smaller and local businesses.
After the pandemic broke out, the market witnessed the vulnerability of small and local businesses compared to household names and big corporations one more time. Marketing insights into this generation further suggest that they are now more inclined to shop from small businesses to help them survive both after the crisis and in the long run.
(Deloitte)
20. 73% of millennials use their phones to shop online.
Running mobile-optimized advertising that appeals to millennials is crucial for brands given the latest consumer trends among the demographic. Millennials online shopping statistics further reveal that 48% of millennial users prefer online shopping to in-store, as they find it easier (58%), faster (58%), and more efficient (57%).
(AdWeek)
21. 33% of millennials use ad blockers.
A third of millennials have at least one ad blocker on mobile or desktop, while 14% have an ad blocker on both. While millennials may not dislike advertisements per se, they value authenticity. One of the main millennial marketing tips is that extremely aggressive advertising approaches are off-putting for this age group and can sabotage brands in the long run, as evidenced by millennial spending statistics.
(Statista)
22. Millennials pay attention to content for about 12 seconds on average.
It doesn't sound like much, but it's still longer than Gen Z's eight-second attention span on digital content. Naturally, marketing to millennials is different from marketing to Gen Z, while the latter prefers short-form video content, millennials prefer long-form content, like detailed videos or podcasts.
(Hubspot)
23. 38% of millennials favor businesses whose products or services are environmentally friendly.
Millennial marketing stats suggest more than one-third of millennials initiated or deepened their relationships with businesses that have some sort of a positive impact on the environment. A third did the same for businesses that found a balance between profits and doing good, while around the same amount favored brands that are transparent and trustworthy about personal data.
(Deloitte)
24. Over half of the millennials use search engines to discover products.
Mastering the latest search engine trends is among the essential millennial marketing tips as 51% of millennials search on the internet to find a product, while 33% discover brands this way. Millennial consumer trends further reveal that 48% use social media to find new products, followed by consumer reviews (39%), brand websites (36%), and mobile apps (31%).
(Global Web Index)
25. 48% of millennials cite free delivery as the top purchasing driver.
Though 33% prefer ordering online and picking up in-store, free delivery compels almost half of the millennial online shoppers. They also favor coupons, customer reviews, easy returning, and quick check-out processes.
(Global Web Index)
26. 73% of millennials believe the internet to be a positive thing.
Millennial entertainment trends show how much their lives are intertwined with the web; almost all of them are on social media, shop online more than any other generation, seek meaningful interactions, and are largely willing to provide feedback on their preferences. These insights show that millennials do enjoy the benefits of the internet and actively try to make it a better place for themselves.
(Cure Media)
Millennial Marketing FAQ
How do millennials shop?
Research and surveys continuously underscore the rising popularity of online shopping among millennials. Though preferences on delivery or pick-up vary, most millennials see online shopping as faster, easier, and more effective.
How to reach millennials?
Millennials are known for their rapid adaptation of technology and digital media. They use social media and search engines to discover excessively new products and brands and shop online more than any other generation. Millennial marketing statistics suggest that creating original and engaging content that taps into what the demographic cares about, delivering an effective and seamless experience, and having a solid visibility strategy are the ultimate steps to reach millennials.
What is the best way to market to millennials?
Proven tactics for millennial marketing include showing brand identity, engaging with the customers, supporting a good cause, and personalizing the user experience.
Conclusion
As our list of millennial marketing statistics shows, this demographic is growing and evolving each day. The technological marvels of our age have turned them into savvy buyers, and while they might be a little difficult to please, they are faithful, generous consumers. So, if you're wondering how to market to millennials, change and adapt your strategy to make them believe in your corporation and its mission, and you'll earn the loyalty of the biggest living generation of our age.