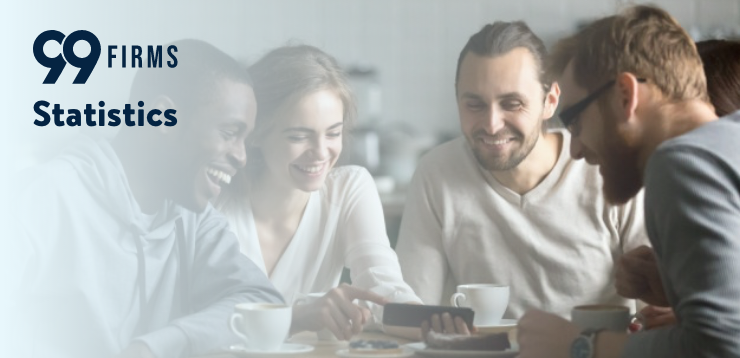 By definition, millennials are the people born between the early 1980s and the mid-1990s. Known as the first digitally native generation, millennials, now aged 25-39 years, have puzzled marketers with their lack of brand loyalty and valuing experiences higher than status. As their buying power continues to grow, they shop and spend differently than the generations that preceded them.
What follows is 27 millennial marketing statistics that will transform your marketing as you look to target the world's most powerful demographic.
Millennial Marketing Statistics (Editor's Choice)
Millennial spending in the US will reach $1.4 trillion in 2020.
92% of millennials own smartphones.
44% of millennials are more likely to trust experts (who are strangers), and are 247% more likely to be influenced by blogs or social networking sites.
79% of millennials realize that ads serve a purpose for brands.
40% of millennials state that their favorite online influencer understands them better than their real-life friends.
97% of millennials look at reviews before making a purchase, and 89% trust what they have read.
50% of millennials are more willing to purchase from a company if that brand contributes to a good cause.
Millennial Marketing Stats
1. There are 83 million millennials on the planet.
According to 2019 data, the number of millennials exceeds 80 million. They are one of the biggest generations in the US workforce and will soon overtake baby boomers, making millennial customers very valuable and significant on account of their purchasing power and spending habits.
(Source: Pew Research)
2. Millennial spending in the US will reach $1.4 trillion in 2020.
This means that around 30% of the retail market's sales will come out of millennial pockets. Millennial consumer trends indicate that the generation has more cash at their disposal and the eagerness to spend it, so the retail industry can look forward to better profits, given the millennial buying power.
(Source: Accenture)
3. Millennials' lack of loyalty worries 40% of retail industry leaders.
What is the best way to market to millennials? With the aid of social media, millennial consumers spread the news about specific brands or services they prefer. Digital marketing agencies need to be aware that this generation can be remarkably loyal if you are willing to give them what they need — 80% of millennials report that when they locate a brand they like, they keep coming back to it.

Millennial marketing trends indicate that one way to invoke this generation's loyalty is by letting them see user impressions on your corporation's site. 51% of millennials report that being able to look at user impressions has a higher impact on making a purchase choice.
(Source: Accenture)
4. 86% of millennials overspend on holiday gifts.
32.6% of millennials take money out of their savings to purchase holiday presents, according to millennials shopping statistics from last year. Selling to millennials isn't hard during the holidays; they spend $576.39 on average to please friends and family during the season. While this is surely admirable, millennial holiday spending sometimes gets out of hand. Drawing money out of savings usually leads to overspending, and the mounting debt becomes evident once the holiday season ends.
(Source: CNBC)
5. Over 96% of millennials have made an impulse purchase.
The average sum spent per impulse purchase is $71 online and $82 in-store. Millennial spending statistics show that 81% indulge in at least one impulsive purchase per month when shopping in person, while 69% make at least one unplanned buy when shopping online.
(Source: Finder)
6. 48% of millennials regret giving in to a hasty purchase.
We are living in a consumerist society, so purchasing something impulsively is nothing unusual. This generation seems notably vulnerable to it. That said, 46% of them felt content even after purchasing something without forethought.
(Source: Finder)
7. 49% of millennials spend more on restaurant food than they save for the future.
Millennial lifestyle trends have made restaurant spending quite common for this busy generation that doesn't have the habit or time to cook. On average, millennials spend $163 a month on restaurants or other dining-out options, while just 6% don't have a monthly restaurant expense. 27% of millennials are spending more money on coffee, while 32% spend more on clothes than on retirement savings. Despite this, millennial consumer behavior data shows that 59% of millennials feel financially secure.
(Source: CNBC)
8. Millennials spend an average of $281 per month on groceries.
Millennial buying trends show that 3% of millennials don't buy groceries every month at all. They evidently prefer eating out to cooking, but most, nevertheless, spend more money on groceries than on dining out.
(Source: LendEdu)
9. 60% of Millennials don't spend money on gyms or exercise gear.
Millennial market research finds that fitness is not among this generation's priorities; 42% of millennials took part in high-calorie-burning exercises in 2017, while 23.4% lacked any sort of physical activity. That compares to 33.7% of boomers who reported being inactive, while generation Z is the only generation that records a lower inactivity level than millennials at 17.9%.
(Source: LendEdu)
10. 1 in 3 Millennials are willing to spend more than $5,000 per year on travel.
Popular theories and stereotypes on millennials and social media in the US have led some hotels and travel brands to expect that millennial travelers are just looking for places to take a perfect Instagram photo. While many millennial travelers look for photo-valuable locations, business professionals agree that advertising to millennials should be based on offering unique experiences.
(Source: Travel Agent Central)
Millennials and Social Media Statistics
11. 92% of millennials own smartphones.
Millennial consumers rely, to some degree, on a smartphone for a gateway to online services and information, and therefore, smartphones serve as one of the best systems for marketers to gain audiences. Millennial engagement on smartphones is exceptional to marketers: 4 out of 10 millennials engage with their smartphones more than they do with actual humans, and over three-quarters spend over two hours a day on their smartphones on average.
(Source: Pew Research)
12. 68% of millennials require an integrated, seamless experience regardless of the platform.
One of the best-known millennial marketing facts is that this generation doesn't tolerate inconvenience. This means they like to be able to transition smoothly from a smartphone to a computer, and even to a physical store in their quest for the best services and products. Reaching millennials is achieved by providing a customer-centric shopping experience and treating them like respected clients. They also value 'old school' shopping experiences where seller-buyer communication is face-to-face.
(Source: Accenture)
13. 90% of millennials aged 18-29 are social media users.
Social media plays a major part in how millennials connect with others and deal with information. Millennial social media statistics find that they spend an average of 15 minutes editing a single piece of content posted on social media, and 42% of them will double-check information placed on social media to determine if it's correct and original.
How to reach millennials? To reach this demographic, brands are required to be present on social media, as well as to produce content interesting enough to capture their attention. More often than not, brands will need the help of professional social media marketing agencies.
(Source: Pew Research)
14. Millennials account for more than 7 out of every 10 Snapchat users.
Given its attribution challenges and small market breakthrough, Snapchat is something that many marketers seek to avoid. However, if you're searching for other ideas to associate with the millennial society, millennials and technology statistics suggest that Snapchat might be a place worth examining.
(Source: eMarketer)
15. 90% of millennials can be found on Facebook.
Facebook is a vast market for millennial marketing, with only 27% of millennials use the platform less than once a week and just 11% don't have an account at all. The majority of millennials log into their Facebook account for over two hours a day.
Facebook is a platform with an enormous amount of personal data for each user. It has our educational backgrounds, past and current occupations, life events, geographic location, and much more. Millennials and social media stats related to this generation indicate that these consumers are more comfortable with their data being online, and want ads that cater to their needs and passions.
(Source: Hubspot)
16. Millennials are 247% more likely to be influenced by blogs or social networking sites than other generations.
A blog is a significant part of any millennial marketing strategy because it lets consumers from this generation get to know the people behind the business. It's also an opportunity to present a brand's values and goals, which this demographic appreciates.
Millennial marketing stats suggest that consumers look for blog content that offers advice, reviews or a credible assessment of trends, and prefer it over a basic advertisement.
To find out how reviews affect sales, check out our online reviews statistics.
(Source: Hubspot)
17. 66% of millennials follow a company or a brand on Twitter and 64% like a company or brand on Facebook with the sole purpose of getting a coupon or discount.
Most millennials say they would share their location on their mobile devices to get coupons from businesses located close by. Chances are, if a brand advertises a sale or offers free shipping or coupons, the audience will follow. This gives some insight into how millennials shop.
(Source: Leadscon)
18. 57% of millennials make unplanned purchases based on social media ads.
Millennial marketing statistics reveal that social networking is a powerful factor for online purchasing decisions since social networks serve as one of the main sources of info. 88% of millennials receive their news from Facebook, 67% think they can learn everything from YouTube, while 33% would most likely purchase a product viewed in a YouTube how-to video. Obviously, things millennials buy are heavily influenced by social media.
(Source: American Press Institute)
19. 35% of millennials prefer consuming video on YouTube.
While more than a third of this generation choose YouTube as their preferred video content viewing method, 19% of millennials prefer to watch on traditional television. YouTube statistics show that millennials aged 18-34 love every form of content better than adults over 35. If a corporation or a brand doesn't have a YouTube account, they are missing out on the opportunity to involve themselves with millennials.
Learn more about YouTube demographics.
(Source: Comscore)
More Interesting Millennial Marketing Statistics
20. 53% of millennials buy mostly from brick and mortar stores.
Fewer than a third (31%) of millennials do most of their shopping online via desktop, and just 16% make the bulk of their purchases via mobile. Selling to millennials online is not easy; just 76% of millennials search through the internet before purchasing anything, online or off, with 67% purchasing from a brick and mortar store after performing research, and 33% purchasing online. While millennials appreciate the luxury of purchasing something and having it brought to their home, brick-and-mortar stores are still a significant part of their shopping experience.
(Source: Coupon Follow)
21. 79% of millennials realize that ads serve a purpose for brands.
Millennials online shopping statistics indicate that most people from this generation have no issue with advertisements. Approximately 80% of millennials think advertisements are crucial for brands to inform the audience and 46% are not troubled by advertisements at all. Millennial insights show that 39% of audiences aged 35+ are not upset by advertisements, while 75% are not bothered by advertisements if the content they are viewing is free.
Millennials don't mind watching sponsored videos provided they are credible, enjoyable and helpful.
(Source: Nielsen)
22. 33% of millennials use ad blockers.
Millennials aged 26-35 have at least one ad blocker on mobile or desktop while 14% have an ad blocker on both mobile and desktop. While Millennials may not dislike advertisements, they value authenticity. One of the main millennial marketing tips might be that extremely aggressive advertising approaches are off-putting for millennials and can sabotage brands in the long run.
(Source: Statista)
23. 3 out of 4 millennials are more attracted to experiences than to physical products.
Whether it's through product recommendations or feedback, millennials wish to be connected with the brand beyond the transaction. Reminding millennial consumers that the product can offer more than plain material benefits is what can spark an interest in a product or brand.
(Source: Eventbrite)
24. When a part of a loyalty program, 66.3% of millennials are more likely to make purchases.
Millennial marketing facts suggest that millennials are not only more prone to making repeat visits to the company to build up their rewards portfolio, but that they would buy even more. One-third of millennials report purchasing something they didn't need just to get points or advance their membership status.
(Source: Access Development)
25. 50% of millennials always respond to limited-time offers.
Minimal-time offers are an excellent way to create a sense of urgency and make people click on the purchase button. Millennial marketing tips further include events like countdown times, flash sales, and reduced-time coupons which are demonstrated to be the most efficient approaches.
(Source: Access Development)
26. Prices would have to be at least 10% lower to get millennials to switch from one major retailer to a competitor.
Millennials are heavily guided by price when shopping. They value price over their friends' judgments, the brand's reputation, and even product quality.
(Source: Access Development)
27. 40% of millennials think their favorite online influencer understands them better than their real-life friends.
The percentage of millennials on social media is significant. The growth of social media meanwhile has resulted in a surge in social media celebrities. In the world of YouTube, for example, 70% of subscribers say they relate to YouTube creators more than traditional celebrities, while 40% of millennial subscribers report that their favorite YouTube creator understands them more than their friends.
(Source: Digital Marketing Institute)
Conclusion
As our list of millennial marketing statistics shows, this demographic is growing and evolving each day. The technological marvels of our age have turned them into savvy buyers, and while they might be a little problematic to please, they are faithful, generous consumers.
Change and adapt your marketing efforts to make millennials believe in your corporation and its mission, and you'll earn the loyalty of the biggest living generation of our age.