Did you know that George Michaelis founded the first public relations agency, called The Publicity Bureau, in the early 1900s? Ever since, PR professionals have been working to connect organizations to target audiences. While the tools of the trade might have changed, the goal remains the same — conveying the image a company wants to present to the wider public. With the industry being more relevant than ever, we're prepared a list of the most interesting PR statistics for this year and beyond.
PR Statistics (Editor's Choice)
Press releases are ranked as the most trustworthy channel for media.
Thursday is the best day to submit a press release.
In 2019, there were 274,600 PR specialists in the US alone.
In 2019, the public relations industry generated $14.07 billion in the US.
In 2020, the global PR market size was worth around $50.1 billion.
Over 73% of journalists look for press releases online.
About 88% of PR professionals believe the future of the field lies in digital storytelling.
In 2020, PR budgets for the top 100 communicating corporations dwindled by 13%.
General Public Relations Statistics
1. Press releases are ranked as the most trustworthy channel for media.
People have low trust in news sources in general, and media professionals are no exception. Traditional forms of PR like press releases, however, still stand strong, and with 42%, are ranked as the most trustworthy source by media in the US. They outrank company websites (21%), blogs (4%), social media (4%), and spokespeople (29%).
(Cision)
2. The majority of PR specialists (41%) report to the CMO.
Likewise, a large number of them report directly to the CEO (33%). Public relations jobs statistics further show that the remainder answer to the COO (7%), strategy (5%), human resources (5%), and legal (3%). In reality, the situation should be different. When polled about whom they should report to, the majority of 71% stated CEO. Alternatively, only 24% chose CMO and 4% COO.
(Sword and the Script)
3. Nine out of 10 in-house public relations leaders face issues with content creation.
Lack of skills, tight schedules, and resources comprise most challenges for communication leaders, public relations industry analysis confirms. That said, 33% of leaders indicate that poor analytics and measurement present a bigger concern. Random content, resulting from the lack of prioritization and deadline pressures, also takes a toll on PR leaders. Public relations stats further show that content developed by other departments and unshared troubles 29% of communications chiefs.
(PRovoke Media)
4. In 2020, about 63% of PRs found communications with journalists to be their biggest challenge.
The number of journalists who see the relationship between them and PRs as mutually beneficial meanwhile decreased from 64% in 2020 to 59% in 2021. As little as 6% consider it a partnership. This is particularly alarming, with journalists receiving 20-30 cold pitches per day on average from public relations specialists, according to PR statistics.
(Muck Rack)
5. In 2019, PR was eighth out of the 10 most stressful jobs in the US.
The public relations industry could be quite stressful to work in. Stats show that the stress score of PR executives in the US was 49.48 on a scale of 100. The most stressful was the score for enlisted military personnel (72.58), followed by firefighters (72.38). Other jobs, more stressful than PR, include airline pilot (61.20), police officers (51.94), broadcaster (51.27), event coordinator (51.19), and newspaper reporter (49.96).
(CareerCast)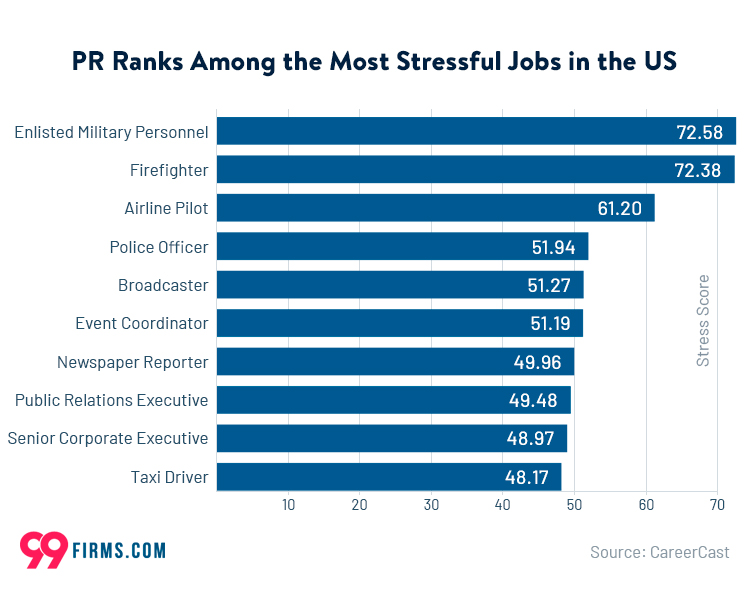 6. In 2020, around 72% of communication pros indicated that partisan politics complicate their job.
Public relations stats further show that many industry professionals consider that the political landscape dictates the perception of their brands, regardless of whether they have political relevance. In line with this, 38% of respondents said brands should say no to politics. On the other hand, 29% thought they should say yes, and 33% were unsure about their stance.
(Sword and the Script)
7. The US newspaper advertising space has stagnated at around $15 billion since 2015.
For reference, even the major houses have experienced stagnation in revenues in this part. Take, for example, the New York Times. Its print circulations had dwindled to little under 400 thousand. The reasons for this could be in the majority of consumers diverting their attention toward the digital issue. This is affecting the public relations strategy of many organizations.
(Statista)
8. In 2020, 77% of marcomm experts considered content marketing to be in their domain.
Public relations job statistics show that today, PR specialists have a wider range of tasks than ever. It's not only pitching to journalists anymore — it's content marketing, SEO link building, and influence marketing. Around 56% of marcomms professionals thought the first one is in their range of duties, while 67% said the same for influencer marketing. This also emphasizes the importance of public relations in marketing. For instance, 77% of respondents pointed out that social media campaigns are part of PR activities.
(Marketing Charts)
9. PR stats show Thursday is the best day to submit a press release when the average open rates jump to 26%.
Sounds strange? Well, the analysis from Prowly of over 55,470 press releases sent determined this is the most effective day to send it, with the average open rates jumping to 26%. Wednesday and Friday, meanwhile, are the worst weekdays with 15.33% and 14.81% open rates, respectively. Of course, if we don't count weekends when it's pointless to even try. If you still have doubts, open rates for Saturday are 2.07%, while Sunday is only slightly higher, 2.55%.
(Prowly)
Public Relations Industry Statistics
10. In 2019, there were 274,600 PR specialists in the US.
If the current trends in public relations continue, the employment of professionals in this field will grow by 7%. Translated into jobs, we can expect 19,700 new PR positions by 2029, amounting to 294,300 in the US alone.
(BLS)
11. There are around 12,000 PR firms in the US.
While LinkedIn has that many PR firms in its database, many other firms handle PR as well. Then, there are over 500,000 ad agencies, research companies, and design studios worldwide that do the same, public relations facts show.
(Forbes)
12. In 2019, the PR sector generated $14.07 billion in the US.
Despite the continuous revenue growth over the years, the recent impact of the coronavirus crisis has hit the industry hard. Even though the forecasts showed that the branch would surpass $15 billion in revenue, this didn't happen. The public relations industry, however, has played an important part during the crisis and is likely to bounce back quickly.
(Statista)
13. In 2020, the global PR market size was about $50.1 billion.
This translates into 6.3% year-on-year growth. Namely, Europe had the largest market value of approximately $17-18 billion. It's not strange, since regions like Western Europe, North America, Australia, Japan, or Singapore have strong, entrenched PR markets. Public relations revenue statistics meanwhile show that the top 250 PR agencies in the world increased their value from $15.5 billion in 2019 to $16.5 billion in 2020.
(Beroe)
14. In the US, 87.9% of PR professionals are white.
The stats from the Bureau of Labor Statistics show that the composition of the PR industry in the country is mostly white. For reference, only 8.3% of the people in this line of work are African Americans, while Hispanic Americans comprise 5.7%. Finally, only 2.6% belong to the Asian American ethnic groups. Women meanwhile make up 70% of the industry, but only 30% are in executive positions, public relations industry statistics confirm.
(Harvard Business Review)
15. Lobbying is one of the main activities for PRs in the US, with spending of around $3.5 billion per year.
This is a particularly important part of the jobs for PR professionals in the US. Some of the largest segments with the biggest lobby spending include finance, insurance, health, real estate. In addition to that, communications and electronics see a lot of lobby spending per year.
(Statista)
Digital PR Statistics
16. In 2020, people sent over 306.4 billion emails each day on average.
Internet expansion has enabled the mass use of email. The number of emails exchanged every day is projected to increase even further to over 376.4 billion daily by 2025. Email marketing opens up new possibilities for PR as well. Nowadays, it's hardly possible to find a good public relations strategy that doesn't involve email marketing, given that email users exceed 4 billion. Plus, email boasts higher click-through rates than social media.
(Statista)
17. Over 73% of journalists look for press releases online.
This and other similar PR facts stress the importance of digital PR and online outreach. While this doesn't mean we should forget about the traditional form of the press release, more focus needs to go elsewhere. Among other things, online press releases drive organic traffic toward your website, particularly if it relies on keyword optimization.
(Isynergy)
18. Influencer marketing is an essential PR and marketing tool for 93% of marketers.
Influencer marketing is one of the new PR strategies. It consists of a product or service promotion by an influencer who has a significant impact on the decision-making of your target audience. With the rise of digital channels, particularly the importance of social media, this form of marketing has bloomed. Aside from the obvious benefit of reaching your target audience, influencer marketing has excellent ROI.
(Marketing Dive)
19. Investments in social media communication have resulted in effects on revenue for 90% of social marketers.
Social media outreach has a tremendous PR value, statistics confirm. However, few companies realize the significance of this channel in their PR strategy and communication. So, 53% of C-level marketers face challenges when presenting the value social media brings, and 31% can't secure a budget for it. From those that use social media for brand promotion, Facebook is most commonly used (89%), followed by Instagram (65%). Next come Twitter and YouTube with 50% and 49%, respectively.
(Social Media Today)
Public Relations Trends
20. Public relations statistics show about 88% of PR professionals believe the future of the field lies in digital storytelling.
Similarly, 80% of marketing experts agree with this statement. Second on the list with the majority of votes was social listening, with 82% of public relations specialists concluding it's the future of their work. Alternatively, more marketers agree with this (88%). Many also expect that AI and VR will impact the industry.
(Annenberg)
21. Big data analytics will play a crucial part in the future for 65% of PR professionals.
Similar to other professions, PRs will need to adapt to new technologies, which will fuel public relations industry growth going forward. Public relations facts and trends indicate that machine learning and advanced analytics will help PR experts to translate data into valuable insights. Other skills useful to someone in the field will be video production, according to the 59% PRs. For 59% PRs, SEO will also be a relevant skill.
(PRTech)
22. About 44% of communication leaders said their clients are likely to ask for media clippings.
When it came to other client requests for measurement of PR value, statistics show 22% want engagement metrics, usually from social media. Another 12% stated clients request awareness metrics. On top of that, 4% said clients want sales numbers, while the clients of 3% need advocacy metrics, like promoter score.
(PRovoke Media)
23. In 2019, 83% of journalists used Twitter but preferred email pictures.
Over 60% of reporters turn to digital newspapers for the source, while 22% check Twitter. While using Twitter for deploying information is one of the newest public relations industry trends, 93% of reporters still like to be emailed.
(PR Daily)
24. In 2019, around 93% of PR experts followed journalists on social media.
And it's not uncalled for, especially since 80% of journalists confirmed they like it when a PR follows them online. Public relations statistics further show that 71% of journalists follow how much their stories are shared. This opens up a great possibility for PRs. That said, it's not a done deal. You need to make sure your organization is present on social media as well. In fact, most of the journalists (61%) always and typically check out brand social media for reporting on them.
(PR Daily)
25. In 2020, PR budgets for the top 100 communicating corporations dwindled by 13%.
PR statistics show that individuals in the top 100 communications spend over $4.2 billion. This is no doubt much less than the year before when the spending was $4.8 billion.
Similarly, this research of the PR industry shows that the number of CMOs and CCOs with budgets for PR over $100 million has decreased to 24%. It's a 7% fall year-on-year. The number of those with $75-100 million budgets rose from 6% to 7%. The biggest number, about 55%, handled a budget of less than $25 million.
(PRovoke Media)
Wrap-Up
PR professionals nowadays don't just deal with traditional media — they have become experts in content marketing, SEO, influencing, and creating engaging social media campaigns. PR statistics, therefore, indicate that the industry has successfully adapted to new technologies and is only likely to expand going forward.
FAQs
How old is the public relations industry?
Public relations originate back in ancient times. Scientists have found clay tablets in ancient Iraq that promoted more advanced agricultural methods, which is considered one of the oldest cases of PR. Similarly, people in ancient times used claims that someone possesses magic or religious authority given by a deity to convince the public of someone's right to absolute rule. PR facts meanwhile show that the first modern PR agency traces back to Boston. The Publicity Bureau, founded in 1900, was the first public relations firm in the US.
How much do companies spend on public relations?
IDC estimations suggest that we can predict PR budgets. For instance, if an organization has $100 million in annual revenue, it would probably spend around $2.4-9.7 million on marketing annually. Out of this amount, $79,200-$320,000 would go to public relations.
How much do PR firms charge per hour?
All PR firms have different pricing, which usually depends on the type of engagement of the agency. First, you may look for a long-term relationship that would involve PR, reputation management, outreach, content, and similar. In that case, PR stats show that the average monthly retainer fee for PR varies from $2,000 to $25,000, based on the scope of activities and the firm's reputation.
Alternatively, if your company only requires temporary services for an upcoming promotion or event, you can sign a contract with an agency for a specific project. Likewise, they receive remuneration per project. Finally, some PR outfits charge by the hour. According to PR statistics, the average hourly rate goes from $125 to $500.