Rental industry trends have been shifting in the past few years. So, it's pretty hard to understand the rules of the game today. Vacation rentals combined with large platforms that act as aggregators are a major part of these changes. Airbnb, Booking, and Vrbo are just some of the giants allowing people to rent out their homes or quickly find a suitable rental. These vacation rental statistics might help you better understand some basic concepts of this industry and the current situation in this market.
Vacation Rental Statistics (Editor's Choice)
In 2022, vacation rentals are expected to reach $81.14 billion globally. (Statista)
US contribution to the global vacation rental market in 2022 is projected to be the largest, with $17.66 billion. (Statista)
In March 2020, global bookings dwindled by 42%. (iGMS)
There are 6 million active rental listings on Airbnb. (Airbnb, HotelTechReport)
The online channel is the most prominent for booking vacation rentals in the US, with 76%. (Statista)
With 50.6%, men use vacation rentals more often than women. (Statista)
Only 29% of rental guests claimed to have a negative experience during their stay. (ValuePenguin)
Vacation Rental Industry Statistics
1. This year, vacation rentals are expected to reach $81.143 billion globally.
The vacation rental industry should grow at a CAGR of 7.29% between 2022 and 2026 and reach a market volume of $107.5 billion. Based on projections, the average revenue per user will amount to $116.40. The US will be the highest revenue contributor on a global level. Further, the number of users is set to reach 893.7 million by 2026, with a user penetration rate of 9.2% in 2022 and 11.3% by 2026.
(Statista)
2. With 24%, Spain is the number one country by user penetration rates in vacation rentals.
Vacation rental statistics by location reveal that Spain is the leader in vacation rental user penetration. Two Middle East countries, Qatar with 22.4% and Kuwait with 21.7%, follow closely. Finally, two European countries, Italy and France, come next with a 21.6% user penetration rate each.
(Stayfi)
3. US contribution to the global vacation rental market in 2022 is projected to be the largest, with $17.66 million.
Looking at the vacation rental market data, we notice that five countries stand out. According to vacation rental statistics, the leader in the market is the US, with the highest revenue expectations for 2022. Following the US, China has the most significant revenue addition of $9.71 million projected for 2022. Next are the UK ($4.37 million), Japan ($4.30 million), and Germany ($4.08 million).
(Statista)
4. In March 2020, global bookings dwindled by 42%.
The pandemics dropped the booking volumes everywhere around the globe. After March, it became even worse when the bookings reached the lowest number in April, falling by 72%. That said, June brought some better stats, but still much lower than 2019, as vacation rental statistics suggest.
(iGMS)
5. Towards the end of 2020, customers canceled every two out of 10 bookings.
The drop in bookings followed a sudden surge in cancelations. So, the cancelation rate in April increased by 70% compared to Q4 of 2019. In March and April, the number of new bookings was constantly lower than the number of cancelations. The situation slightly improved as the year went on.
(iGMS)
6. Vrbo witnessed a 25% increase in demand for cabins in 2020.
Vrbo is one of the oldest booking platforms for vacation rentals, up and running for 25 years now. Despite the effects of COVID-19, Vrbo statistics show that they registered an uptick in bookings for destinations near lakes and rivers, such as chalets and cabins. So, the demand for cabins rose 25%, while it was 20% for chalets.
(Vrbo)
7. There are 6 million active rental listings on Airbnb.
One of the giants in the world of vacation rentals, Airbnb, went public in 2020 with a value of $100 billion. At the end of the following year, it had 6 million listings across 100,000 cities globally, vacation rental statistics show. Short-term rental market data suggests that, besides 24,000 tiny homes, these include 3,500 castles, 2,600 treehouses, and 140 igloos. Today, the platform gathers over four million hosts.
(Airbnb, HotelTechReport)
8. Airbnb's market share increased, accounting for around 20% of the total rentals industry in the US.
Comparing Airbnb's vs. Vrbo's market share reveals Airbnb's remarkable growth over the last 10 years. The total revenue of this company hit around $20 billion. Although both platforms allow listing different properties, the main difference lies in availability, as indicated in vacation property rental market statistics. As opposed to Vrbo, Airbnb allows customers to list shared spaces. Moreover, compared to Airbnb's 6 million listings, VRBO holds a portfolio of over 2 million.
(Hospitable, Airbnb, Travel With a Plan)
9. 91% of property managers are interested in listing on several OTAs.
Aside from using different vacation rental software, many property managers tend to extend their offers across several channels. Diversification in a competitive market can only add value to the company and maximize its revenue. According to short-term vacation rental statistics, 52% of managers diversified their offers and revenue channels last year.
(BuildUp Bookings)
10. In 2021, Vrbo spent over ten times more on advertising in the US than Airbnb.
Vrbo's market share seems to be skyrocketing, thanks to its aggressive approach to advertising in 2021. It has spent ten times more on the US market in the first two months of 2021 than its strong opponent Airbnb, vacation rental statistics have demonstrated. The US online vacation marketplace has spent 53% of its Q1 revenue on marketing and sales. In Airbnb's case, it was less than 26%.
(The Wall Street Journal)
11. 38% of rental property owners planned to grow in 2021 and 2022.
A survey of hundreds of small property owners indicated a growing number of those who plan to expand their portfolio in 2021-2022. Meanwhile, another 49% plan to remain the same, controlling their current properties, vacation rental investment statistics confirm.
(Buildium)
12. Automation of operations is a priority for 85.9% of hospitality professionals in the years to come.
Like many other fields, the vacation rental industry is going through technological shifts. So, implementing automation is the next step for most experts in the field. Besides many new property management solutions, rental sites, and tools, 82.4% claim that implementing keyless technology is the top goal, vacation rental industry statistics show. Keyless tech could replace front desks, enabling guests to have a seamless experience. In addition, this will remove the need for any kind of assistance that requires physical presence.
(Operto)
13. Over 600,000 Americans use online platforms to rent out their apartments, homes, or rooms to guests.
Over 23,000 vacation rental companies operate in the US, while globally, this number is around 115,000. Vacation rental companies list 31.3% of all privately owned accommodation properties in the US. Yet, most people use websites like Airbnb and book a vacation rental online, statistics reveal.
(iPropertyManagement)
14. 70% of vacation rental companies would classify as small.
Considering vacation rental market size, the US, as the largest market, comprises diverse companies operating in the field. However, the majority are small and manage around 1-19 units. Some 20% are medium-size and manage between 20 and 99 units. Finally, 10% classify as large and handle over 100 units.
(iPropertyManagement)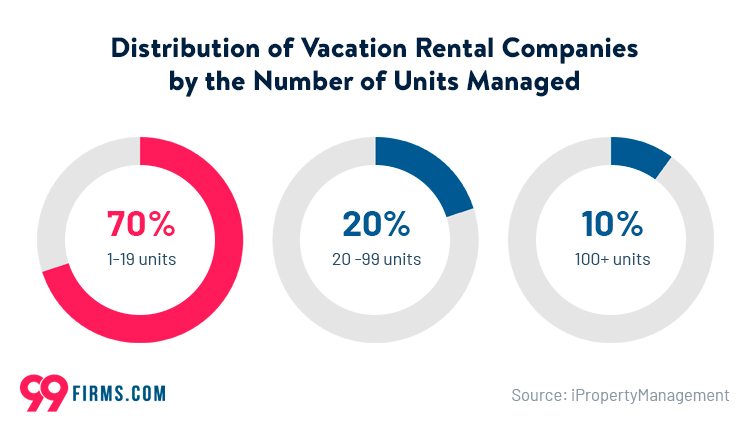 15. Domestic travel spending between 2019 and 2020 declined by 36%.
The reduction in domestic travel spending was followed in the same period by the shrinking of the domestic vacation rental industry, statistics confirm. But international travel spending suffered even more, with 79%. As a result, the total economic output from the travel reductions was 42% or $1.1 trillion.
(iPropertyManagement)
16. As of May 2021, 52,000 new rental units have been added to Airbnb and Vrbo.
The vacation rental demand came back strong in 2021. Although still not at the full capacity as before the pandemic, it was only 10% lower than a typical year during the same period. But the companies claimed they needed many more hosts to keep up with the demand, vacation rental growth statistics indicate.
(The New York Times)
17. In April 2020, the vacation rental industry experienced an almost 50% unemployment rate.
Covid-19 hit the vacation rental industry hard, especially since 65% of the jobs lost in 2020 were supported by the travel industry. The sector employs 731,720 people and almost 1.8 million work in the accommodation subsector. The average accommodation worker earns around $20.51 per hour for 30.7 hours weekly. In the first three quarters of 2021, the employees' hourly wage rose by 8.3%. In the same period, working hours also increased by 5.5%.
(iPropertyManagement)
Vacation Rental Trends
18. The online channel is the most prominent for booking vacation rentals in the US, with 76%.
Vacation rental data suggests that online channel sales will grow even more in the next several years. For instance, by the end of 2026, it will rise to 80%. Alternatively, the current rate for offline channels (24%) will further decrease to 20%.
(Statista)
19. At the pandemic's start, the hotel occupancy rates dropped to 17.5%.
According to vacation rental statistics, hotels suffered far more than vacation rentals during the initial wave of the pandemic. Namely, their 77% high occupancy rate dwindled to only 17.5% YoY. On the other hand, vacation rental occupancy rates managed to endure the blow much better, with studio and one-bedroom rentals registering 36.4% occupancy, compared to 66.3% in the previous year. Further, vacation rentals with two or more bedrooms had a low 32.6% occupancy rate compared to 60.6% in 2019.
(HotelTechReport)
20. In 2020, urban property demand plummeted by 38%, due to the pandemic.
Short-term rental statistics show that urban and suburban properties suffered during the initial pandemic wave, unlike the rural areas. However, trends indicate that by the end of 2022, the demand will grow back by 33%. This will land the demand 17% below the end of 2019. Most of the growth will be concentrated around larger cities.
(Rental Scale-Up)
21. Demand for summer 2022 travel is up 25% relative to 2019.
Travel plans are again soaring. So the demand for travel during summer months in 2022, is up 20-25% relative to 2019. Particularly, some destination resorts are reaching 40% higher demand over 2019. One of the most interesting destinations in line with the vacation rental industry statistics, is Mexico (for travelers from the US). The number of Americans traveling to Mexico in March 2022 has increased 20% compared to 2019.
(ABC News)
22. Booking's gross reservations grew 160% in 2022, to $19 billion.
Despite the expectations and a strong growth after a calmer situation with the pandemic, Booking failed to reach the forecasted number of bookings. Vacation rental property statistics point out that its revenue did double to $2.98 billion, but these numbers still lag behind the pre-pandemic levels. In Q4 of 2019, for instance, the gross bookings hit $21 billion. Compared to analysts' predictions of 165.9 million rooms booked, the actual number in the period ending December 31st was 151 million. For reference, in Q4 2019, it was 191 million.
(Yahoo Finance)
23. 38% of property managers reported more family bookings lately.
Isolation took its toll, and many people, being in isolation for quite some time, craved reunions with loved ones. Vacation rental data indicates that the primary motivation for 31% of travelers was spending quality time with their immediate family. Since 42% planned to travel in family groups, more suitable larger homes registered better results on the rental market, as evident from vacation rental statistics.
(Avantio)
24. 57% of property managers cited an increase in bookings by guests planning to work while renting.
Since the introduction of flexible hours and remote work, many have had the freedom to combine work with travel. Namely, one in three people has had the opportunity to travel thanks to remote work. So over half of the surveyed managers have noticed more bookings by people who planned to stay longer and work. Thus, 38% had booked 'flexcations' to offer a different experience to their family and children. What is more, vacation rental industry statistics reveal that 67% of the people said they would do it again.
(Avantio)
25. Although 91% of vacation rental managers emphasized COVID-19 cleaning measures, 81% did not reflect them in their prices.
Vacation rentals had to adapt to the new traveling measures more than ever. Among other things, travelers prioritized safety and cleanliness. Airbnb and Vrbo occupancy rates were directly associated with high cleanliness since both companies had the proper protocols in place. However, not many vacation rental managers factored these measures into their prices.
(AirDNA, Avantio)
26. Over 75% of travelers prefer vacation rentals with flexible cancelation policies.
Flexibility increases bookings — true before the pandemic and even more true now. Recent vacation rental industry statistics show that 77% of travelers would book a rental with this policy in place, while 49% of them consider it essential. Moreover, travelers search for 'free cancelation' more often when browsing.
(Expedia Group)
27. In 2020, the average nightly rate for bookings in the US reached its highest at $202.5.
Despite the expectations that the drop in bookings would force hosts to lower their rates, these jumped much higher as the initial wave passed. Namely, the hosts decreased their rates by 60% at the pandemic's beginning, but, as vacation rental statistics demonstrate, June came, and the prices went up.
(iGMS)
28. Low commission structures are the most significant contributor (35%) to property owners deciding to use OTA.
OTAs are online travel agencies like Booking.com that rental property owners often use to expand their offers. One of the top deciding factors is low commission and the adoption of their booking rules (29%). Guest brand strength is also important with 19%, and the ease of integrating and updating the listing (17%).
(Rentivo)
General Vacation Rental Statistics
29. 33% are willing to spend more than they usually would once the travel returns to normal.
The pandemic has severely disrupted the rental world. However, families didn't give up entirely on their canceled vacations in 2020. After things get back to normal, they plan to travel more frequently. 65% of people plan to travel more than before, while 54% claim they are more likely to take their bucket list trips.
(Vrbo)
30. In 2021, 88% of people in the US planned to travel, despite the restrictions.
Namely, travel restrictions have crippled the world tourism industry and vacation property rental market, statistics indicate. Yet, in 2021, most people in the US planned to travel despite them. In other words, the restrictions didn't stop them from dreaming about traveling. So, many property managers are now trying to 'lure' guests into advanced bookings to luxurious destinations; guests are increasingly asking for them too.
(Avantio)
31. With 50.6%, men use vacation rentals more often than women.
Although vacation rental demand is higher among men, women aren't falling much behind. Statistics show that the rate of women using rentals is 49.4%.
(Statista)
32. In the US, the 25-34 age group is the largest one using rental services.
In accordance with vacation rental guest statistics, Millennials are one of the most common users of these services. Following them, the age group 35 to 44 is the next large user of rentals, with 25.5%. The age group 45 to 54 follows on the list, with 17%, and 18-24-year-olds, with 16.3%. Finally, the group using vacation rentals the least is 55 to 64 years, with 10.4%.
(Statista)
33. Only 29% of rental guests claimed to have a negative experience.
Although hotels are more popular than rentals in the US, a much higher percentage of guests (44%) claimed they experienced a bad situation than the percentage of rental guests (29%).
(ValuePenguin)
34. Every two minutes, around 400 guests check in to Airbnb.
In its first year, only around 400 guests used the services of this platform, Airbnb statistics show. Yet, ten years later, that is the number of check-ins every two minutes. The company has come a long way in a short period, especially since it's an increase of 26,280,000%. Plus, the platform is available in almost every country globally (97.95%). The only exceptions are Syria, North Korea, Sudan, and Iran.
(Guesty)
35. Booking.com and Homeaway group lead by the average length of stay, with 6.7 and 7.5 nights respectively.
Vacation rental occupancy rates by the city indicate that the average length of stay for all vacation rental channels is 5.6 nights. Booking.com and Homeaway group are leaders by the length of stay metric.
(Hosthub)
36. Millennials were expected to spend $1.4 trillion on travel by 2020.
In line with Millennial vacation rental statistics, this age group is more likely to rent out short-term vacation properties than book a hotel room. Moreover, they have expensive tastes, so 12% planned to stay in estates and villas, compared to only 6% of Boomers and 9% of Gen X. In fact, this group makes up 40% of those who travel for leisure and book online.
(Mendbnb)
37. 81% of Gen Z travelers have stayed in vacation homes, condos, or cabins.
Despite being too young to travel alone and use short-term rental services, some of the older members in this age group have significantly impacted the travel and rental industry. First, 35% are most likely to travel with friends rather than close family or alone, based on vacation rental statistics. Second, this age group prefers to spend more time in cities and urban centers (over 60%) than rural and suburban destinations. Finally, most of them have already stayed in short-term rentals, and as this generation grows, so will the industry.
(Mendbnb)
38. Vacation rental managers earn $44 for every $1 spent on email marketing.
Many marketing channels, like social media, content marketing, and paid search, could be beneficial and have some buzz moments. However, according to email marketing experts, email has proved the best conversion instrument. That's why it's essential to keep growing the email marketing list to drive further bookings, vacation rental marketing statistics confirm. Another plus is that it drives these bookings directly to one's site, decreasing dependency on OTAs and commission costs.
(Rented)
39. 43% of hosts who rent out their primary residence manage it themselves.
Apart from a larger number of people who handle leasing out their homes by themselves, there is still a percentage who prefer professionals. Out of those who rent out their secondary residence, 38% handle it themselves. Vacation rental market data suggests that 25% of second homes are used as rental properties and managed by professionals. For reference, it translates into 2.25 million homes.
(iPropertyManagement)
The Conclusion
The pandemic has brought new uncertainty to the industry. Many complexities surround the rental business now, and this situation will remain for a while, in line with recent vacation rental statistics. However, the recovery of the vacation industry is imminent, and these statistics show a glimmer of hope. With the help of various technology solutions, property managers and hosts could try to beat their competition and improve their operations in the years to come.