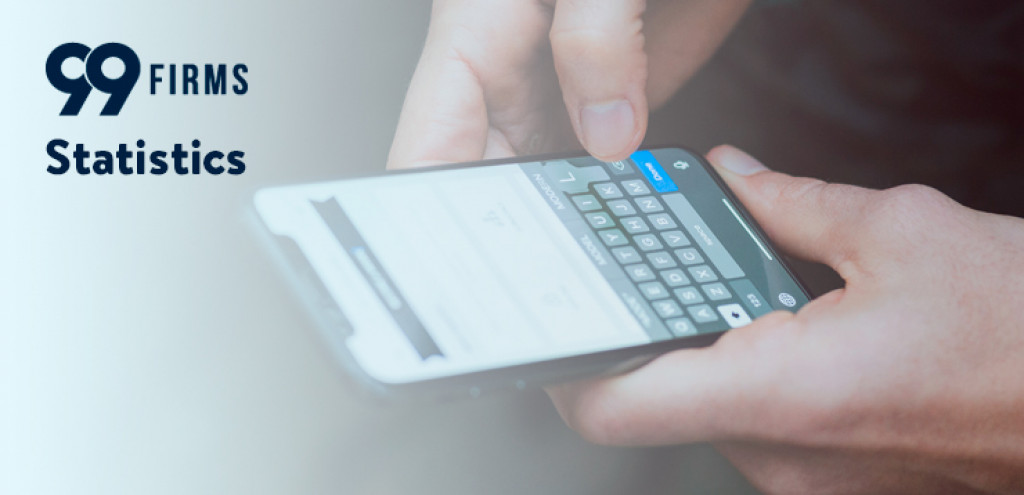 Today, in the ever-so-interconnected world, communication is exploding. As a result, mobile usage is evolving and becoming a powerful tool for users and marketers. Because, let's be honest, anyone around the age of 20-40 knows what it's like to have tons of online accounts for different texting and communication apps. Recent reports indicate that many businesses have started relying on texting, especially since the pandemic began. Most chose texting for support, appointments, promotions, curbside pick-ups, and many other activities during this period. The texting statistics we prepared will demonstrate to you just how strong the power of the written, or in this case, texted word is. Enjoy reading our overview.
Texting Statistics (Editor's Choice)
61% of consumers have been texting significantly more since the pandemic started. (Hubspot)
The average text message open rate stands at 99%. (RedEye)
SMS has a response rate of 45%. (Kenect)
The average US smartphone user spends around 26 minutes per day texting. (Cision PR Newswire)
Three out of ten people would give up calls in favor of texting. (Globe Newswire)
78% of consumers wish they could text a business. (Intelligent Contacts)
Over 50% of consumers want companies to text them back. (ZDNet)
One out of four car accidents in the US results from texting and driving. (Edgar Snyder)
Some Essential Texting Facts and Statistics
1. 61% of consumers have been texting significantly more since the pandemic started.
The average number of texts per day sent by consumers has started growing rapidly since the pandemic. In fact, for 75% of people, the average personal screen time has skyrocketed. For instance, the screen time per day increased 49.4% for an average American consumer between 2019 and 2021.
(Hubspot)
2. Those between 35 and 44 years send the most texts per day, or around 52.
According to texting statistics, the frequency of text messages varies among different age groups. So the average number of texts per day by age is highest among those between 35 and 44 years old. However, although those under 40 send more texts in general, the age group over 40 also sends or receives a significant number of texts. For instance, those between 45 and 54 years old send 33 texts per day, while those in the group over 55 send 16.
(Intelligent Contacts)
3. The average text message open rate stands at a staggering 99%.
Unlike emails, SMS is much more beneficial for companies. Comparing texting vs email statistics, it is evident that customers open almost all SMS, while the average email open rate ranges between 28% and 33%. What is more, receivers approximately read 97% of the messages in the first 15 minutes.
(RedEye)
4. SMS has a 36% click-through rate.
Similar to open rates, SMS also has much higher click-through rates. For reference, email marketing generates some 6-7% rates typically. On the other hand, SMS has almost six times that. Hence, SMS plays a vital role in mobile marketing, texting statistics indicate.
(RedEye)
Learn more: Mobile Marketing Stats
5. SMS has a response rate of 45%.
Text messaging is registering an astounding response rate of 45%. At the same time, the response rate in the case of emails is 6%. Further, it takes up to 90 minutes for an average person to respond to an email, while in the case of SMS, it's only 90 seconds.
(Kenect)
6. Three billion people used the messaging apps in 2021.
One of the interesting facts about text messaging is that users mostly turn to message apps instead of SMS nowadays. In fact, nearly half of the world's population is using some of the most popular messaging apps. For most people, it's WhatsApp and Facebook. Namely, over 2.5 billion people have used at least one of these, and in some countries, they hold 90% of the market. However, some newer apps, like Telegram and Signal, are currently gaining popularity to compete with these two giants.
(Business of Apps)
7. With 23 million cellular phone subscribers, the Philippines has been dubbed the 'text capital of the world'.
The Philippines is the country with the highest text message volume in the world. Thanks to the ever-growing number of mobile phone users, Filipinos are on the way to keeping this title for the foreseeable future.
(15th Congress of the Republic of the Philippines)
Texting vs Calling Statistics
8. The US smartphone users send and receive five times more texts than the number of calls per day.
According to a recent report, most Americans would rather send a text than make a call. The particular report used the data from tracking cell phone activities in 12 countries and measured users' engagement in chatting, texting, and calling.
(Chicago Tribune)
9. 75% of Millennial and Gen Z Americans prefer to text rather than call.
A study conducted on a sample of 4,000 people, confirmed that Millennials and Gen Z are more into texting daily than calling people. It should not come as a surprise since texting statistics show that two-thirds of those between 18 and 34 take their phones even when to the bathroom. Almost half claimed they regularly text while walking in crowds. In addition, 70% of Gen Z sleeps with their phones nearby.
(Inc.)
10. The average US smartphone user spends around 26 minutes per day texting.
Unlike the US, users in 75% of other countries, part of this particular research, spend less than five minutes texting. Texting vs phone calls statistics suggest that an average person in the US completes six phone calls per day and sends or receives 32 texts. Additionally, they spend 14 minutes on chat. In nine out of 12 countries, the situation is different since users spend the most time on chat and less on texting.
(Cision PR Newswire)
11. Three out of 10 people would give up calls in favor of texting.
Messaging tends to be quite addictive. In fact, consumers would give up phone calls in favor of texting only. Millennials, in particular, prefer messaging eight times more than face-to-face communication. Across all generations, people prefer texting three times more than face-to-face interactions.
(Globe Newswire)
12. 68% of consumers text more than they talk on their smartphones.
Texting vs talking statistics suggest that a large group of consumers and an even larger number of people from the Millennial segment text rather than talk. Most of them confirm they would miss this feature if their phones didn't have it.
(GFK)
13. Avoiding long hold times is the most significant advantage of texting for 39% of surveyed respondents.
According to a recent study that compared the benefits of voice vs texting for customer support purposes, the latter's biggest advantage is shorter waiting time. Consumers also believe they could resolve issues faster via voice. However, long hold times are a serious downside.
(Interactions)
Text Messaging Usage Statistics
14. 81% of Americans use text messaging.
According to the latest research, texting rates among Americans are soaring. In fact, over 259 million people in the US are texting. As a matter of fact, over 97% of surveyed smartphone users said they had texted in the previous week.
(Intelligent Contacts)
15. Students spend 94.6 minutes on average texting daily.
Recent texting in school statistics revealed interesting information. 60% of college students claim they may be addicted to their cell phones. They mostly spend time texting 94.6 minutes on average, followed by sending emails (48.5 minutes). Next is checking Facebook (38.6 minutes), then surfing the web (34.4 minutes), and listening to music (26.9 minutes).
(PsychCentral)
16. A shocking 66% of teens said they received texts from their parents while in class.
Texting is becoming a serious distraction for kids in classes. Teachers' job has become extremely difficult keeping up with kids who disobey phone rules in class. What is more, 74% of students don't believe this is wrong. Besides, they have started using the texting language in their school tasks and homework, texting statistics reveal.
(Fast Company)
17. 33% of adult Americans prefer texting to other means of communication.
Judging by the average number of texts per month, Americans under 50 are rather keen on texting in comparison to other communication forms. In fact, 91% of people who text like it more than voicemail.
(Intelligent Contacts, CloudHQ)
18. Users send over 100 billion messages on WhatsApp each day.
Based on recent rankings, WhatsApp is the most used mobile messaging app globally. For reference, it has over two billion active users all over the world. In fact, the average user of Android devices spends approximately 38 minutes on the app daily, sending text messages, statistics confirm.
(Backlinko)
19. Around 50% of WhatsApp users in the US access it daily.
Only 28% of WhatsApp users access the app weekly, bringing the total to 78% of all users utilizing the app weekly.
(Backlinko)
20. Viber has over 1.17 billion registered users around the world.
Viber statistics indicate that as of 2011 the company has been constantly expanding its user base. In 2014, the Japanese e-commerce giant Rakuten acquired this chat app. They purchased the company for $900 million, ranking it as the second most expensive e-commerce acquisition so far.
(Statista)
21. In 2021, WeChat reached over 1.2 billion users.
According to some texting facts, the messaging app released by the Chinese giant Tencent has been growing even beyond the Chinese borders lately. Currently, it's the third most-used app worldwide, in line with WeChat stats. Namely, it has almost 900 million active users daily. FB Messenger holds second place since it recently hit the 1 billion mark. The number one spot is reserved for WhatsApp as the most popular app globally, with 1.5 billion active users daily.
(Messenger People)
22. 35% of surveyed 13-17-year-olds said they prefer texting with friends over other forms of communication.
Teen texting statistics and a new report based on a sample of over 1,000 youngsters, revealed some interesting facts. Among teenagers in the US, texting is the favorite way to chat with friends. In 32% of the cases, in-person communication still stands higher than virtual.
(Statista)
Business Texting Statistics
23. With 46%, messaging is the preferred customer support channel in South Korea.
In some countries, messaging is one of the most common means of customer support. Besides South Korea, texting is consumers' primary choice in India (34%), Singapore (34%), and the US (33%), business texting statistics confirm. Other channels popular in South Korea are email (11%), telephone (34%), face-to-face (2%), and live chat (1%). In India, 23% of customers prefer email, 26% telephone, 6% face-to-face, and 3% live chat. In Singapore, the preference is 27% for email, 25% for calling, 5% for face-to-face, and 3% for live chat. Finally, 24% want to email, 27% telephone, 7% face-to-face, and 6% live chat in the US.
(Twillio)
24. 78% of consumers wish they could text a business.
While businesses often don't offer texting to their clients, it's what they want in most cases. Consumer texting statistics reveal that only 48% of companies have the capability to handle messaging. Texting used to be something consumers did with relatives and friends. However, text message marketing statistics show that now most company leaders approve of its use in business (79%).
(Intelligent Contacts)
25. Over 50% of consumers want companies to text them back.
A large number of businesses and consumers want to text each other more often. Namely, 53% of small businesses and 56% of consumers want to text each other more frequently. Over 71% of those between 30 to 44 years old agree with this statement, along with 65% of those between 18 to 29 years old. According to texting statistics, many companies utilize text message marketing software to fulfill these needs and get closer to the consumers.
(ZDNet)
26. 66% of consumers feel more confident buying things from a brand active on messaging apps.
The presence of texting apps is a strong differentiator for brands. This fact especially comes to light when we consider that 55% of people feel more connected and confident to purchase from this kind of brand. Namely, in 2019, 63% of people said they'd been messaging brands more often than in previous years.
(Hubspot)
Texting Accidents Statistics
27. At any given time, around 660,000 drivers use their phones while driving.
Cell phones have become a distraction that causes an alarming number of deaths and accidents each year and each day. While smartphones enable us to stay connected all the time, they pose a serious safety risk. In particular, they are dangerous when driving while texting.
(Edgar Snyder)
28. One out of four car accidents in the US results from texting and driving.
Cell phones cause around 1.6 million car crashes annually. Almost, 390,000 injuries happen because of texting and driving, statistics confirm. That's one in four accidents out of the total number.
(Edgar Snyder)
29. Drivers who are texting while driving are 20 times more likely to crash than those that aren't.
The odds that drivers who use smartphones and text will crash are very high. This is because texting affects the driving reflexes as consuming four beers in just an hour does. It distracts drivers as long as traveling the entire length of a football field with eyes off the road.
(Bankrate)
30. 94% of teenagers understand the danger of texting while driving.
However, according to texting death statistics, approximately 35% of them still do it. As a matter of fact, the number of teen drivers who get into car accidents by using phones while driving is four times higher than that of adults. In fact, it's the highest among the 16 to 24-year-olds. Ultimately, nearly 11 teenagers die daily due to texting while driving.
(Arrive Alive Tour)
31. 94% of drivers support the ban on texting while behind the wheel.
Thanks to the staggering texting car accident statistics, most drivers support the ban on texting while driving. Moreover, 74% support the complete ban on cell phones while driving. After all, it's one of the most dangerous activities involving the use of cell phones on the road, causing drivers to spend 400% of their time with their eyes off the road.
(Edgar Snyder)
32. Fines for texting and driving across the US vary between $20 and $500.
Many states in the US, if not most, have turned to financial fines against texting and driving. These can go up to $500, or in some cases even up to $1,000, like in Iowa and Alaska. Further, in some states, penalties include:
suspending the driver's license;
revoking the driving privileges;
mandatory safety courses;
impounding the vehicle;
points on the driving record.
(Bankrate)
33. Over the last decade, texting while walking caused over 11,100 injuries in the US.
So many people have reported being a part of texting while walking accidents, statistics confirm. In fact, 78% of American adults think that distracted walking is an issue. Only 29% admit they have done it themselves. However, in line with the info by the National Highway Traffic Safety Administration (NHTSA), over 5,376 pedestrians have died due to texting and walking.
(Reader's Digest)
34. 70% of millennials believe distracted walking is a serious issue.
Also, 81% of those above the 35 age group share the same sentiment. Despite the fact that such a large percentage of millennials think the same, recent research indicates that those between 18 and 34 are most likely to get injured during distracted walking. Like millennials, women over 55 are in the same category, texting and walking statistics show.
(AWP)
35. One in three pedestrians uses a phone and texts while crossing busy streets.
Like driving and texting or using a phone, distracted walking is a serious issue that leads to accidents and even deaths. Crossing busy streets and texting increase the chances of getting hit by a car. Among the most distracting things, researchers emphasized, in particular.
(MedicineNet)
Conclusion
After 2020, businesses are quickly catching up with the new trends and ways of communicating with customers. Texting is definitely one of them. However, despite the growth of SMS lately and the fact that it's the cheapest marketing channel, it's still highly underused. It's a serious mistake because although billions of mobile devices are out there, not all of them are 'smart'. Texting stats indicate that utilizing SMS more would open doors to a broader and overlooked audience.
FAQ
How many texts are sent per day?
Typically, each day people send 18.7 billion texts to each other globally. This doesn't include app-to-app messaging. In total, over 560 billion texts go out worldwide each month.
(SHSO Vermont)
How many people text?
Based on recent studies, SMS is one of the most popular data services in the world. In line with that, 4.2 billion globally use texting options. A recent survey by Pew Research Center revealed that 81% of Americans use it regularly, while 97% of adults text weekly.
(SMSEagle)
How many texts does the average person send a day?
According to text messaging statistics, adults under 45 years send and receive approximately more than 85 texts each day. Further, an average consumer sends three messages per hour, and it comes to a total of 72 messages per day.
(SHSO Vermont)
How many texts does an average teenager send a day?
Of all age groups, teens are communicating via text messages most. It's the top means of communication, with 63% sending messages every day. On average, a teen sends 60 messages per day. Yet, female teenagers are more common texters than boys. For instance, girls text on average 100 text messages per day, while boys text 50, text messages statistics indicate.
(CBS News)
What is the most common text message sent?
A recent survey of the communication habits among parents and children up to 25 years revealed some interesting facts. For instance, the most common text sent by a parent to a child is 'I love you' (with an average of 1,186 times per year). Next is 'When will you be home', texted approximately 1,018 times per year. Finally, the third one is 'Where are you', with an average of 989 times.
(Forever State College)
What is the texting capital of the world?
Although the Philippines are probably more known for its beautiful landscapes and delicious fruit, it has another peculiarity. Text messaging statistics worldwide show that the Philippines carries the nickname of 'the texting capital of the world' due to the large number of messages its population exchanges.
(US & World Report News)
How long is the average text message?
Technically, the SMS can stretch out to 160 characters. Still, modern phones support connecting messages — they split large messages into individual 160-character SMSs, but re-patch them as one large message for receivers.
(Twillio)
How many texts are sent a second?
Each second, users send over 200,000 text messages. For comparison purposes, in 2007, users sent only around 56,000 messages per second.
(Statista, The Atlantic)
How fast are text messages read?
One of the most interesting facts about texting is its 99% open rate. Furthermore, Forbes' study discovered that 95% of texts are read in the first three minutes. That is why businesses take advantage of these channels for marketing and sales purposes. Even more so since another study has shown that 45% of texts receive a response.
(Intelligent Contacts)
How many texts do Millennials send a day?
Adults between 18 and 34 years old are pretty fond of texting. So those between 18 and 24 years send and receive more than 128 texts per day and over 3,853 texts per month. The number drops for those between 25 and 34 years old, although it's still high. Based on text messages statistics, this group sends and receives 75 texts on average per day and up to 2,240 texts per month.
(The Local Project)
What percentage of texts are lost?
Besides many benefits, there are some limitations to SMS services. Namely, 1-5% of all SMS end up lost even when it seems there's nothing wrong technically. Moreover, some SMS implementations don't have the notification feature whether a text message is read or delivered.
(Lifewire)
What percentage of texts are read?
Texting statistics show that messages are the best way to reach someone, primarily since not all phones work well with the internet. For reference, more than 90% of people actually read text messages fast. Alternatively, emails are not that reliable since they depend on smartphones or computers.
(VentureBeat)