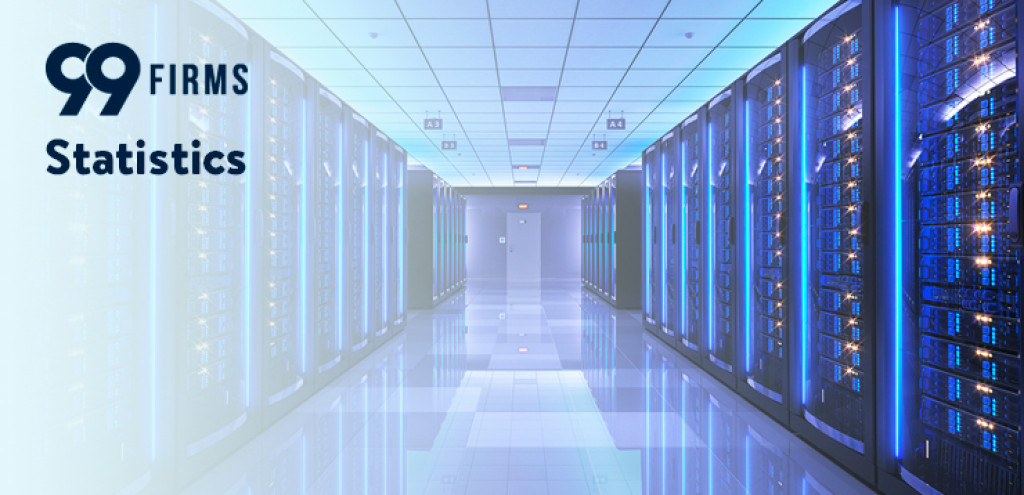 Do you remember the time when we didn't use the internet for, well, everything? Rarely anybody does anymore. But have you ever wondered what lies behind all the websites and pages we endlessly scroll? That would be hosting — the backbone of any website. Regardless of whether you are an expert or don't know much about it, we've compiled a fascinating list of website hosting statistics to give you an overview of the industry and where it is headed. Sit back and enjoy.
Website Hosting Statistics (Editor's Choice)
There are over 1.8 billion websites around the world.
WordPress accounts for 65% of all CMS systems hosted.
In 2020, the global web hosting market amounted to $75.03 billion.
The US holds the largest share of hosting providers.
Squarespace Online Stores control the global ecommerce marketplace with a 23.51% share.
IT services will designate 32% of their tech spending toward the cloud.
Essential Internet & Web Hosting Statistics
1. The first-ever website, info.cern.ch, has been online for 30 years.
And it's still active too. Back in 1989, British scientist Tim Berners-Lee invented the World Wide Web while working at CERN. Originally, the website's purpose was to enable automated information-sharing between scientists and research posts worldwide. Berners-Lee hosted this website on his NeXT computer, website hosting statistics and facts show. In 2013, CERN launched an initiative to restore the website.
(CERN)
2. It took 7 years for the internet to reach 50 million users.
This compares to 50 years it took telephones to reach the same user count. Before the internet and digital channels, companies had physical limitations, such as manufacture, workforce, inventory, and distribution, not to mention time-consuming advertising. Cars took 62 years to reach 50 million users, while computers achieved this in 14 years. Facebook meanwhile took 3 years.
(Visual Capitalist)
3. In 2021, Nginx's hosting servers gained the most websites, increasing to nearly 441 million.
May saw a rise of 6.28 million sites, boosting Ngnix's market share to 36.19%. Hosting providers statistics show this equals an increase of 0.54 percentage points. At the same time, Microsoft lost its spot to OpenResty and plunged 0.60pp. Its current market share is 4.95%. OpenResty lost 8.1 million websites and decreased by 0.7pp. A former market leader, Apache, gained 825,751 websites and lost 0.07pp. It currently hosts 314.7 million websites and owns a 25.83% market share.
(Netcraft)
4. There are more or less 312 different ccTLDs.
This is short for top-level domains representing specific countries. Typically, specific criteria to purchase one apply. Others, however, are public, and people can obtain them irrelevant of the location. Therefore, we have a .io domain often used by startups and tech companies. But it's actually a country domain for British Indian Ocean Territory. According to the web hosting statistics, some more popular are .us, .uk. .eu, .de, .the the .cn, .ru, etc.
(Kinsta)
5. In 2021, over 4.7 billion people actively use the internet.
This translates into a fascinating 60% of the total global population. The number is constantly growing, too, with 900,000 new users each day, or an annual rate of 7.6%. 92.8% of the internet population goes online via their mobile devices for some of their online activities. Just imagine what this number of users means for the website market, and the web hosting market size.
(DataReportal)
6. There are over 1.8 billion websites around the world.
This number, however, is not fixed, with multiple websites going down or getting launched. Web hosting statistics show that 576,000 new websites pop up daily, while the annual global IP traffic on the net is projected to rise to 4,800 zettabytes per year through 2022.
(Internet Live Stats, Website Setup, GlobeNewswire)
7. Fewer than 200 million websites are actually active.
This equals less than 15%. Some go inactive for technical challenges, problems with a server, lack of funds for maintenance. Based on the web hosting industry data, the first quarter of 2021 saw 362.5 million registered domain names. One of the most popular domains was for sure .com. Aside from this one, GreenGeeks reports that 1,500 domain extensions are in use.
(Internet Live Stats, Verisign, GreenGeeks)
8. Around 49.74% of domains are registered in unknown countries.
This translates into over 252 million domains registered without information about the country. Out of this number, 4 million domains carry the DNSSEC signature, short for domain name system security extensions. This protocol aims to stop hackers from breaking into systems and stealing valuable info. Web hosting statistics further show that there are 1,280 top-level domains in this group.
(Domain Name Stat)
9. The most expensive domain name ever was cars.com, which sold for $872 million.
The owner of USA Today, Gannett Co., bought out the other companies' share of the ownership, resulting in one of the most expensive deals in the domain and web hosting industry. The entire deal behind Cars.com was worth $2.5 billion and referenced "intangible assets." The previous leader for the priciest domain name was 360.com, bought for $17 million.
(Domain Gang)
10. On average, 40% of consumers don't wait longer than three seconds for a website to load.
There is one crucial factor in swaying customers to stay on your website — load speed. The key factor involves web hosting uptime, statistics show. One analysis confirms that the average loading time of one page for mobiles is 27.3 seconds, compared to 10.3 seconds for desktop. To give you some perspective, the BBC loses around 10% of readers for every second extra it takes for the page to load. Alternatively, Yahoo's traffic went through a 9% uptick due to a 0.4 seconds increase in page load.
(Website Builder Expert)
11. Around 91 companies globally are producing website builder technologies.
The global market size stands at 2.5 million sites. Website builder companies meanwhile rely on 104 different technologies. Some of them are also the biggest web hosts, like Wix. As a matter of fact, Wix has the biggest share in this market at 32%. Its rival and once number one on the list, Squarespace, is down to 21.51%. Other notable companies in this market are GoCentral (14%), Weebly (9.79%), and Duda (2.74%).
(Datanyze)
12. Shared hosting ranges from $3 to $7 per month.
Website hosting statistics point to this as the cheapest way to host your website. VPS hosting prices meanwhile range from $20 to $30 a month. Typically, many people and firms choose shared hosting due to its cost. It literally means that you share resources for hosting with other people who use the same server.
(Web Hosting Secrets Revealed)
13. As many as 30,000 websites are hacked every day.
Hackers develop 300,000 new pieces of malware daily. And this practice is not showing any signs of slowing down. Instead of targeting randomly, hackers use software to detect vulnerable sites. That is why it's important to choose your hosting wisely to better protect yourself. Other than that, some simple techniques could protect your website, like SSL certificate, good password management, using security plugins, keeping software up to date, etc.
(Yell Business)
Web Hosting Industry Statistics
14. WordPress accounts for 65% of all CMS systems hosted.
CMS is a content management system that allows you to create a website without the need to code. Among many options for this, WordPress.org is the number one choice globally. To paint you a picture, it powers around 42% of websites on the internet. However, it's essential to differentiate between WordPress.org and WordPress.com. The first one is an open-source CMS, and to get the most out of the platform, non-tech users might need to hire an experienced WordPress developer. The second is one of the biggest web hosts for blogs.
(W3Techs)
15. With 10.49%, GoDaddy has the biggest share of users worldwide.
According to website hosting statistics, GoDaddy is the world's biggest hosting company. The list of the largest web hosting companies continues with Google Cloud Platform with 6.10% of users. Third, we have 1&1 with a 4.38% share of users. Further down the list is AWS (4.11%), followed by OVH.com with 2.77% and Wix Hosting with 2.55%.
(HostAdvice)
16. In 2020, the global web hosting market amounted to $75.03 billion.
However, the COVID-19 pandemic has hit many industries, and web hosting is no exception. In line with the website hosting demand statistics, slower growth of around 11% in 2021 is a direct result of stagnation in 2020. Nevertheless, the market will bounce back if we are to trust estimations. For example, in 2021, it is projected to generate $83.99 billion. Further, by 2028, it will grow to $267.10 billion at a CAGR of 18% per year.
(Fortune Business Insights)
17. The US has the largest share of hosting providers, around 51.14%.
Web hosting statistics show Germany comes in next with an 11.65% web hosting market share, followed by the UK with 4.19%. Fourth on the list is Japan with 3.33%. Next, we have France and the Netherlands with 3.31% and 3.07%, respectively.
(Finances Online)
18. Squarespace Online Stores control the global ecommerce marketplace with a 23.51% share.
The value of the ecommerce software market in the US will reach $6.3 billion by 2023, with US consumers spending $861.12 billion online. At the same time, it's driving the web hosting industry, statistics show. Second on the list is WooCommerce, with a 23.43% market share, followed by 100sklepow with 15.13%. The countries with the highest penetration rates of online shopping are South Korea and China, with 83% of consumers each.
(Statista)
19. In 2020, the average server downtime cost per hour worldwide was between $301,000 and $400,000.
Approximately 25% of those surveyed indicated this was the cost. In many cases, however, these costs went much higher — around 17% of respondents said it cost over $5 million. As little as 1% reported minimal costs (if we can say that) of $10,000-50,000.
(Statista)
The Future: Hosting Trends
20. Ten out of 10 hosting leading firms in the Czech Republic's market are local.
This underscores the ongoing hosting industry shift toward domestic players. In many countries, the major providers are typically from that country. Similarly, in Italy, 8 out of 10 providers with the highest web hosting market share are domestic. Likewise, in France and Germany, seven out of the best 10 hosting companies are local, web hosting industry statistics show.
(Finances Online)
21. By 2025, the global data sphere will reach 175 zettabytes.
For reference, one ZB is equal to one trillion gigabytes. Another estimation puts mobile data traffic at 77.49 exabytes per month. To put it in perspective, one EB equals one billion GB. This means that the need for infrastructure will soar going forward, especially given that by 2030, 7.5 billion people will be online.
(Forbes)
22. IT services will designate 32% of their tech spending toward the cloud.
Namely, this is higher than the average of 24% allocated by other industries. Similarly, the IT sector will set aside 11% of the cloud budget toward IaaS. According to the website hosting statistics, spending for hosting, storage and hardware will also account for the largest part of spending in 2021.
(SWZD)
23. The average website is down for three hours each month because of the web host downtime.
Despite the typical uptime of 99.9%, just this 0.1% downtime could cost someone's business to lose tons of traffic. When translated into money, it is approximately a loss of $10.6 million a year. It's also proportional to the size of the business, meaning smaller outfits don't lose as much as their larger counterparts. On the flip side, big companies have the resources to recover more quickly. Nevertheless, investing in a reliable web hosting provider is well worth the investment.
(Small Business Trends)
Closing Thoughts
In the years to come, many companies will invest more money to meet the website hosting demand, statistics confirm. In most cases, they will achieve it through some of the modern trends, like cloud hosting. It already has the highest growth rate, and it provides companies with a lot of practical benefits and is cost-effective. Hopefully, the stats above have shown you the significance of the hosting industry as a whole.
FAQs
What is a web hosting company?
A web hosting company is a type of service enabling people and organizations to make their websites accessible on the internet. When someone needs space on a server and internet connectivity, they look for hosting providers. From shared and VPS hosting to managed hosting and the newest trends like cloud hosting, hosting providers statistics show that these companies are a necessary step if you want your business on the internet.
How does web hosting work?
Web hosts offer their technology to host websites on the internet. Users type in your dedicated web address, also known as a domain name. The computer then communicates with the server your website is hosted on. Afterward, the server sends files stored to display.
Where to purchase web hosting?
There are many hosting providers out there, website hosting statistics show. Choosing the best hosting provider for you, however, depends on many factors - in the first line, from your business demands. In many countries, the trend of hiring domestic hosting providers is gaining momentum considering cost efficiency and quality standards. But some of the largest global companies where most firms purchase hosting services are GoDaddy, Google Cloud Platform, 1&1, and AWS.
Can I transfer web hosting?
If you realize your web host is not good enough, there is always the possibility of switching to another one. Website hosting statistics indicate it's pretty straightforward. First, you need to purchase and activate the new account (from another host). Next, move your files and email accounts. Following this, install the application of the new host, and perform the check on a temporary URL to fine-tune all the problems. Finally, point your domain DNS data to the new host.