California-based video sharing platform YouTube has become one of the most popular online services since its launch in 2005. This list of comprehensive YouTube stats below will help you understand how the platform develops and the latest trends. We'll also share relevant facts and figures about its features, services, channels, and users. Let's dive into the world of the biggest online video platform.
YouTube Stats (Editor's Choice)
YouTube has over 2 billion logged-in monthly users.
Over 90,000 YouTube videos are viewed in a second.
YouTube is available in 80 languages.
90% of YouTube's revenue comes from ad sales.
89% of video marketers use YouTube as the leading platform for video marketing.
Approximately 22,000 YouTube channels have above 1 million subscribers.
The longest video on YouTube lasts 596 hours.
60% of Gen Z visit YouTube daily.
AI-based algorithms account for 70% of YouTube views.
Essential YouTube Statistics
1. YouTube is the second largest search engine worldwide.
Google is the most popular search engine in the world. The name itself has become a synonym for the term search. We've Googled which one comes after, and the answer is YouTube. Some popular video categories include entertainment, food, gaming, beauty, fashion, music, sports, science, technology, and travel.
(Global Reach)
2. Every minute, over 500 hours of content is uploaded on YouTube.
At this rate, it would take a person 82 years to watch the total content uploaded to YouTube in a single day. The platform has positioned itself as essential for many industries, the entertainment sector being the largest, according to YouTube statistics.
(YouTube Blog)
3. YouTube has over 2 billion logged-in monthly users.
According to the platform's creators, as of 2021, there are over 2 billion YouTube monthly active users. The number refers only to users logged into their accounts. We must consider that many users don't have an account, so the total number is even higher. While there is no way to calculate it, a general estimate is 3 billion. YouTube usage statistics show it is also the second most used social media platform, beaten only by Facebook and its 2.7 billion monthly users.
(YouTube Blog, Statista)
4. Google acquired YouTube in 2006 for $1.65 billion in Google stock.
Three former employees of PayPal, Steve Chen, Chad Hurley, and Jawed Karim, came to the idea that people will love sharing their home videos. They registered the company in February 2005, and YouTube was officially launched in December. YouTube growth statistics show only 18 months later, over 100,000 videos were uploaded. Google had previously tried to launch its video service, but failed to generate much traffic, and moved to purchase YouTube in 2006.
(The Guardian, Britannica)
5. Over 90,000 YouTube videos are viewed per second.
With such an extensive database of content and given the massive number of YouTube users, it shouldn't be a surprise that over 90,000 videos are watched per second. Still, the number seems surreal. The latest YouTube viewer statistics point to exactly 90,842 YouTube videos in a second. The number of YouTube views per day totals over a billion hours of video.
(Internet Live Stats)
6. YouTube is available in 80 languages.
The company's global popularity is on the rise for many reasons, one of them being localized versions of the platform. YouTube growth so far results in the platform currently being available in over 100 countries worldwide, where localized versions exist. Even though English is the most popular language choice, YouTube is available in 80. YouTube video stats show that some other popular options are Spanish, Hindi, and Portuguese.
(YouTube Blog)
7. Wikipedia is the most visited website worldwide.
The list of most visited domains starts with Wikipedia and its 1+ billion visits. YouTube traffic statistics rank this platform second, with over 900 million visits. Showing a substantial difference in visits, Amazon ranks third with its nearly 600 million, followed by Facebook at over 450 million visits. At 200 million visits less, Twitter rounds the list of the top five most visited websites in the US.
(Ahrefs)
8. Jawed Karim, YouTube's co-founder, posted the first video on April 23, 2005.
The first video uploaded on YouTube is 18 seconds long and was published by the platform's co-founder Jawed Karim. The video's title is "Me at the zoo," and the location is the San Diego Zoo. YouTube viewership of the first video has exceeded 159 million views. In the video, Jawed stands in front of the elephants and states that elephants' trunks are "cool".
(YouTube)
Interesting YouTube Video Statistics
9. The first video to reach a million views was Ronaldinho's Nike advertisement in November 2005.
As YouTube slowly became popular, Nike's ad in November 2005 marked a massive success for the platform. One of the biggest sports stars at the time was Brazilian footballer Ronaldinho, so the company cleverly used him as their brand's face. The "Touch of Gold'' ad was the first video to reach a million views, becoming viral. Even though the original version isn't available anymore, Nike released a remastered version on the 10th anniversary, which now has 4.2 million views.
(Kuulpeeps, YouTube)
10. The first video to reach a billion views was PSY's "Gangnam Style," according to YouTube traffic statistics.
An unprecedented milestone happened in December 2012, when the global mega-hit "Gangnam Style" video hit a billion views. Twenty-seven days prior, Justin Bieber's song "Baby" was the top watched with 803 million. As PSY's hit took over, it continued to keep the rate of over 6.5 million views daily. With such a volume of YouTube daily traffic, not only the artist gained worldwide popularity but quite a significant revenue as well. An estimation was $2 per 1,000 views.
(Billboard, YouTube)
11. The T-Series channel has the most subscribers in the world, 187 million.
As of July 2021, YouTube channel statistics show that T-Series was still dominant with 187 million subscribers. The channel is India's largest music label and movie studio and was created in March 2006. Currently, the number of total views as stated on the channel is over 160 billion. YouTube Movies follows with 138 million subscribers. Other channels with over 100 million subscribers as of July 2021 are YouTube Music (115), Cocomelon - Nursery Rhymes (115) and PewDiePie (110).
(Statista, YouTube)
12. T-Series is the most viewed YouTube channel worldwide.
T-Series, India's largest music label and movie studio, is YouTube's top viewed channel as of June 2021, boasting more than 155 billion views. The most popular channel with a single owner as of 2021 meanwhile is Like Nastya, with 76 million subscribers, and 58 billion views. Nastya has just turned 7 in February. YouTube creator stats show Kids Diana Show is the second most popular channel with a single owner, with just under nearly 57 billion views but has more subscribers — 81.8 million.
(Statista, YouTube, YouTube)
13. Latin song "Despacito" broke most of YouTube's records of views.
The popular Latin song "Despacito" was number one on the list of the most viewed YouTube videos. The two Puerto Rican artists released the song in January 2017. Statistics on YouTube show it has become the most popular video ever, surpassing 3 billion views only 203 days after its release. One of the biggest hits in Latin music history broke several YouTube records and eventually reached 7 billion views. Until 2020, it stayed the first on the list.
(Forbes, Forbes)
14. South Korean children's rhyme "Baby Shark" is the most viewed song with over 9 billion views.
The children's rhyme of the South Korean Pinkfong production "Baby Shark" dethroned the song "Despacito" in 2020. The latest data on YouTube shows a stunning 9 billion views. The song lasts only 2 minutes and 16 seconds. "Despacito" is now second with over 7.4 billion, and "Shape of You" third with 5.4 billion.
(YouTube, YouTube, YouTube)
15. The longest video on YouTube lasts 596 hours.
YouTube has a policy regarding the limit of uploads. Until 2010, users who didn't verify their Google accounts could upload 10 minutes of content. The company lifted it to 15 minutes since and changed the rules for verified users. Nowadays, it's either up to 128GB in size, or 12 hours in length, whichever is smaller. YouTube video statistics show it would take almost 25 days to watch the longest one. It was uploaded in 2012 by Jonatan Harchik, a member of Moldy Toaster Media. It is a slideshow of poor-quality pictures, so only 549MB in size.
(Fresco News)
16. Three out of 10 fastest viral videos on YouTube are by the South Korean group BTS.
Reflecting the immense popularity of K-pop worldwide, the South Korean group BTS leads the list of the fastest viral videos on YouTube, based on the number of views within 24 hours of upload. BTS's song "Butter" got 108.2 million views in that period, "Dynamite" 101.1 million, and "Boy with Luv" 74.6 million.
(Statista)
17. As the COVID-19 pandemic hit, videos for "beginners" got over 9 billion views in 2020, YouTube search statistics show.
With the lockdowns and isolation, people needed hobbies and started looking for various tutorials and DIY videos on YouTube. People were interested in learning guitar, foreign languages, home repairs, etc. So videos including variations of the word "beginners" in titles got over 9 billion views. Self-care videos and beauty tutorials also had a significant increase in both uploads and views.
(Hootsuite)
18. In March 2020 alone, home workout videos had a 515% increase.
The explanation for these YouTube channels statistics is simple — gyms were closed, and people needed guidance while working out without their standard equipment or a trainer. As most of us were stuck between our four walls, exercise helped in stress release, and the number of users on YouTube increased. Home workout channels saw a whopping 515% increase in traffic.
(Hootsuite)
19. 2020 was the defining year for YouTube Gaming, with over 100 billion hours of watch time.
Another consequence of the pandemic was a notable increase in gaming viewership during 2020. YouTube genre statistics from the platform's official blog reveal that users worldwide watched over 100 billion hours of gaming content in 2020. Minecraft was the most-watched game with stunning 201 billion views. Over 40 million active gaming channels were reported, over 1,000 creators exceeded 5 million subscribers, and over 350 creators hit 10 million.
(YouTube Blog)
20. PewDiePie was the most popular gaming channel, with 109 million subscribers.
Data from March 2021 lists YouTube gaming channels ranked by the number of subscribers. YouTube subscriber statistics show the overwhelmingly leading channel was still PewDiePie, with 109 million subscribers. Next on the list is JuegaGerman with 43.2 million, followed by Fernanfloo with 40.7 million.
(Statista)
21. Five out of the top 10 YouTube channels in 2020 show gaming-related content.
YouTube has released a list of the 2020s top 10 stars, and MrBeast was the first on it. Dream, ZHC, SSSniperwolf, and Tiko make the top five. Gaming-related content was the most prominent, as it was in the focus of half. Games that have received the most attention were Fortnite, Minecraft, and Among Us.
(Social Media Today)
Relevant YouTube User Statistics
22. The average daily time spent on YouTube for adults is 41.9 minutes.
The latest research of consumer habits of people over the age of 18 reveals the average time spent on YouTube is 41.9 minutes per day. All devices are included — mobile, desktop, laptop, and CTV. This figure has been increasing over the years, mainly because the platform's recommendation system has been getting better at suggesting new content to viewers.
(eMarketer)
23. 74% of US adults use YouTube regularly.
YouTube user statistics show the number is higher than Facebook use. So even though Facebook leads as the most popular social network, 74% of adults in the US opt for YouTube more often. For Facebook, the number is at 66%.
(Comparitech)
24. 26% of US adults get news from YouTube, and half seek opinions.
Just over a quarter of US adults get news on YouTube. 66% of them admit news videos help them grasp the current events better. When the motivation was questioned, the distribution of opinion vs. fact seekers was almost equal. YouTube video stats show 51% said they seek opinions and social commentary on YouTube. 48% of respondents said they only look for facts and information.
(Pew Research Center)
25. 90% of consumers discover new brands and products on YouTube.
YouTube has also emerged as an essential platform for product discovery, helping marketers introduce consumers to new offerings. The platform is a prime vehicle to help brands target new markets as 90% of consumers use YouTube videos to discover new brands and products. YouTube statistics reveal that 34% of YouTube creators are promoting brands and products.
(Social Media Today)
26. 70% of YouTube watch time is from mobile devices.
Reflecting the growing use of mobile devices, especially smartphones, data from YouTube shows that 70% of viewing on the platform is mobile. Therefore, brands and video production companies targeting YouTube users need to make sure their content is mobile-friendly.
(Social Media Today)
27. Approximately 22,000 YouTube channels have more than 1 million subscribers as of November 2020.
There are over 37 million channels on the platform. The latest YouTube subscriber stats from November 2020 point to approximately 22,000 channels having over 1 million subscribers. Since 2016, on every fourth day, one channel reaches 1 million subscribers. During 2019, the number increased by 65%. Nowadays, about 700 of these channels have over 10 million subscribers. Close to half are the US channels.
(Tubics)
28. YouTube is the most popular video platform in the US, with over 126 million monthly viewers.
The penetration rate for US internet users aged 15-35 is 77%. Overall, when we analyze YouTube user demographics by age, the average for all groups comes down to a 72.8% penetration rate. YouTube user stats translate to over 126 million unique viewers in the US alone, as of Q3 2020. YouTube is thus ranked the most popular online video platform in the US.
(Statista)
29. 80% of parents in the US admit their children watch YouTube videos.
The latest research of YouTube habits of US parents whose children are 11 or younger shows that an overwhelming majority, or 80%, lets their children watch videos on YouTube. 53% say their children are YouTube daily users, with 35% spending time on the platform several times a day.
(Pew Research Center)
30. Nearly half of parents with children aged 11 or younger say their child has encountered inappropriate content on YouTube.
Most parents who let their children watch YouTube videos believe the content is primarily educational and entertaining. There are still some issues about the type of content, as YouTube stats show 46% of parents with children aged 11 or younger have also reported their child has been exposed to videos inappropriate for their age. The number is higher for children aged 5-11, 56%. 28% cite the same concern for children age 4 or younger.
(Pew Research Center)
31. 60% of Gen Z visit YouTube daily.
Gen Z is the new kids on the block who already have a large purchasing power which is only to increase. That's why marketers have to pay special attention to their habits and expectations. YouTube usage statistics show 60% of Gen Z visits the platform every day. Further insights into their behavior reveal that Gen Z stream 23 hours of video weekly, on average.
(Forbes)
YouTube Revenue & Advertising Stats
32. Alphabet revealed YouTube advertising revenues for the first time in 2019.
Before 2019, information about YouTube's advertising revenue was unavailable to the general public. After that, Alphabet revealed that YouTube's total ad revenue for the year was $15.15 billion. Out of Alphabet's total revenue of $46 billion, YouTube advertisements accounted for over 32%. The company CEO also revealed that in only one month in 2019, advertising revenue exceeded one billion dollars. YouTube revenue stats for 2020 point to a further increase, to a total of $19.77 billion.
(The Guardian, Statista)
33. Nearly 90% of video marketers use YouTube as the leading platform for video marketing.
The number has increased since the global pandemic impacted people to spend more time online, and YouTube is now 19% ahead of Facebook in this race. The two are most popular for video marketers due to the highest number of users, YouTube currently leading with 89% using it, while 70% use Facebook.
(Hubspot)
34. 90% of YouTube's revenue comes from ad sales.
There are two main streams in the revenue model of the company. YouTube subscribers statistics reveal only 10% of total revenue comes from users who pay for Premium membership. YouTube's paid subscription model provides an ad-free experience on the platform, and the latest reported number of Premium subscribers is 20 million. The dominating source, accounting for 90%, comes from targeted advertising to billions of YouTube active users. Revenue from ads, further driven by impressions, is split between the content publishers who take 55%, while the company takes 45%.
(Manhowie)
35. There are 4 basic types of YouTube ad formats.
Understanding the nature of different types of YouTube ads can help you create a perfect video marketing strategy, and YouTube ad statistics point to 4 basic formats with distinctive features. Said types are:
Overlay ads
Skippable video ads
Non-skippable video ads
Bumper ads
Some of the main differences are platforms where an ad can be seen, size, positioning, and video length.
(Google)
36. YouTube ARPU is estimated to almost triple in the next decade.
An analysis of the average revenue per user (ARPU) shows Facebook and Instagram rank the highest with an estimate of $20. YouTube monetization stats currently point to $8-$9 revenue gained per user, but it is estimated to reach $23 within 10 years. The company's business model relies on stable user growth and an increase in Premium and Music subscriptions, so profitability is guaranteed.
(Manhowie)
37. There are over 3 million YouTube TV paid subscribers.
Google introduced its OTT service in February 2017 and is expanding the services, as well as the locations since. It is operated separately from YouTube and offers over 85 live channels for $65 a month. The latest stats about YouTube TV reveal that, as of October 2020, there were over 3 million paid subscribers in the US.
(9to5Google,YouTube)
38. Ads on YouTube TV account for 36% of all CTV ad revenue in the US.
Total ad revenue for CTV was estimated at $8.1 billion in 2020, and CTV advertising is a rising star of many marketers. YouTube TV accounts for a large portion of 36%, which translates to $2.9 billion. The number of people watching YouTube TV is continuously increasing, and predictions for 2021 point to $4.3 billion in revenue.
(N Screen Media)
39. In 2020, Ryan Kaji from Ryan's World was the highest-paid YouTube star, earning $29.5 million.
Ryan Kaji is only 9 years old and is one of the biggest YouTube stars who earn the most on the platform. YouTuber stats on income reveal this child has made a staggering $29.5 million in 2020. Mr. Beast was second on the list, earning $24 million, and the group of 5 starring in the Dude Perfect channel videos third, with $23 million.
(Forbes)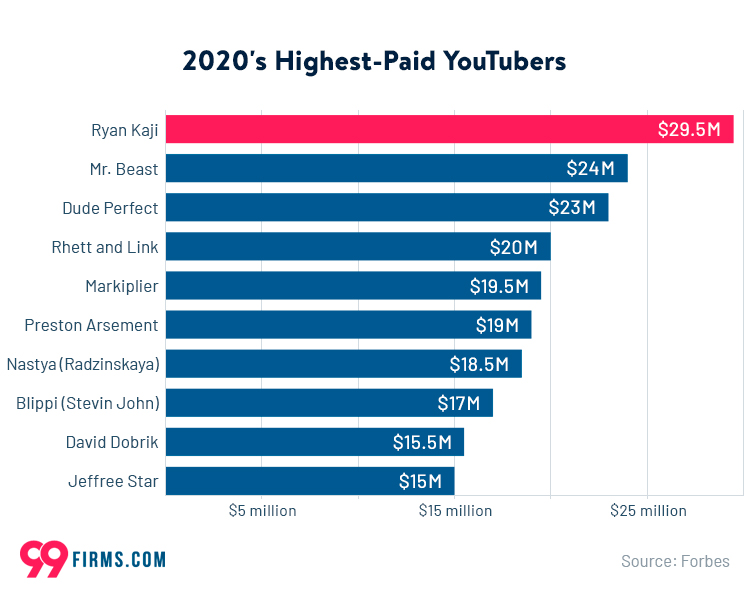 Little-Know Facts About YouTube
40. YouTube is blocked in nine countries.
Some countries have partial restrictions on YouTube services, meaning specific channels are banned or videos removed. YouTube statistics by country show that for residents of China, Iran, Turkmenistan, South Sudan, Sudan, Tajikistan, Syria, North Korea, and Eritrea, YouTube is completely blocked. The reasons vary, but it's usually about censorship. Government officials in those countries, however, have free access to YouTube.
(YouTube Fandom)
41.YouTube was charged $170 million for violating the Children's Online Privacy Protection Act in 2019.
In September 2019, YouTube was involved in a scandal regarding children under the age of 13. The company was charged with illegally harvesting data of children to place the personalized advertisements. That was a direct failure of complying with the Children's Online Privacy Protection Act from 1998. Little-known YouTube stats reveal the company paid $170 million to settle the charges.
(Vox)
42. YouTube Music's catalog has over 70 million official tracks.
There are over 2 billion monthly YouTube active users who consume music content. As the number largely matches the total monthly users, it seems almost everyone uses the platform to experience music. Perhaps as a response, the company launched its own music streaming service in 2015 — YouTube Music. The service's catalog now includes over 70 million official tracks, and music streaming is at its all-time high. The research shows over 50% of logged-in users consume it for over 10 minutes.
(Musically, Google)
43. The most popular playlist on YouTube Music has 1.6 billion total views.
YouTube playlist stats reveal there were two playlists with a billion or more views. The top one had 1.6 billion views called "Top 50 this week & Top 100 Song 2021 (Best New Music Hits Playlist)". "Popular Music Videos" followed with 1 billion, and "Pop Music Playlist — Timeless Pop Songs" is close, with 997 million total views.
(RouteNote)
44. The average YouTube employee salary is $141,246.
YouTube has many departments, and annual compensation significantly varies accordingly. The lowest reported salary was for the position of an Admin Assistant and totaled $57,538 annually, according to YouTube stats. The highest paying job was a Director of Engineering with $239,219. So the average annual compensation for YouTube employees is estimated at $141,246.
It's a different story for the executive roles within the company, whose annual compensation can go up to $427,000. The lowest reported for an executive role across the departments is $65,000, but the average is $215,136.
(Comparably, Comparably)
45. AI-based algorithms account for 70% of YouTube views.
Aided by Google's AI arm, Google Brain, YouTube recommends over 200 million different videos to its users, helping them discover content they didn't know existed. YouTube account stats show by analysis of each user's personal history, these recommendations are continuously improving and account for 70% of all viewership. They are also nudging viewers to spend more time on the platform.
(Social Media Today, The Verge)
46. Millions were raised through gaming tournaments to be donated for several causes, including COVID-19 relief efforts and WHO.
Once again, the gaming community showed they would do some incredible work and lend a hand to those in need. Gaming creators have organized numerous events throughout the year, raising awareness and millions of dollars. YouTube statistics show the Game Theorists' raised $3 million for children's hospital St. Jude, Jacksepticeye over $660,000 for COVID-19 relief efforts, and CouRage over half a million for the CDC Foundation. Many other tournament winners donated their prizes to WHO, the UN Children's Fund, etc.
(YouTube)
47. BTS was the most searched term on YouTube in 2020.
Another sign of the group's great fame in the last period is the search volume of the term "bts." With 16.72 million searches in the previous year, it was the top searched query worldwide. "Pewdiepie" was a close second, with 16.49, then "asmr" with 14.65 third. Some other popular search queries were "billie eilish," "baby shark," and "old town road."
(Ahrefs)
Conclusion
When YouTube first started back in 2005, few expected it to become the giant it is today, helping content creators make millions of dollars and allowing marketers to engage with audiences. YouTube's relevance cannot be ignored by content creators, consumers, or businesses. While the platform has been facing relentless competition from rivals like Facebook and Instagram, it has managed to hold its own, as these YouTube stats show. The company is also taking measures to ensure a safer, more relevant experience for its viewers, so there is no doubt it will thrive going forward.