Zoom just might be the world's most used web conferencing app. And yet, that wasn't the case until very recently. While around 400,000 people still signed up for it in the first month after its launch, the pandemic sent its numbers soaring. Zoom statistics show that the same number of users now access the app in a single day. Zoom has even become a verb for web conferencing. It runs the world of virtual calls and meetings, and we've prepared the stats to prove it. Enjoy.
Zoom Statistics (Editor's Choice)
In 2020, people downloaded Zoom over 485 million times. (Business of Apps)
In 2020, Zoom hosted 3.3 trillion meeting minutes. (Backlinko)
Zoom generated $2.65 billion in revenue in its FY2021. (Statista)
Zoom holds 60% of the US online video conferencing market. (ZDNet)
Zoom's profit jumped from $21 million to $671 million in one year. (Business of Apps)
Over 45 billion annual webinar minutes are hosted on Zoom. (Backlinko)
Zoom Usage Statistics
1. At the time it was launched, Zoom had 400,000 people signed up the very first month.
Eric Yuan launched the platform back in 2013. Zoom user growth quickly followed, and by the end of the first year, its meeting minutes climbed to 200 million.
(Backlinko)
2. In 2020, people downloaded Zoom over 485 million times.
In 2020, the pandemic made Zoom one of the most downloaded apps. It even joined a small list of applications along with Pokemon Go and TikTok that reached 300,000 million downloads in one quarter alone, Zoom statistics show. The Zoom users base has been growing ever since.
(Business of Apps)
3. Zoom holds a large base of 512,100 business customers as of Q3 2021.
The platform is mainly focused on its business base. In fact, the number of companies with over 10 employees using Zoom for the business grew from 504,900 in Q4 2020. As many as 2,507 of these customers contribute over $100,000 each in 12 months' revenue. They also represent 22% of the total revenue in Q3 2021 (up 18% YoY), according to Zoom stats.
(TechRadar)
4. In 2020, Zoom hosted 3.3 trillion meeting minutes.
Annual minutes represent a continuous runtime of Zoom calls over the year. The value is the result of calculating the total minutes from the quarter's final month multiplied by 12. The number of minutes logged in Q4 was 65% higher than in Q3 (2 trillion).
(Backlinko)
5. In April 2020, Zoom registered 300 million daily meeting participants.
According to Zoom meeting statistics, after the pandemic started, this company grew from 10 million users to over 200 million in a matter of months. In April, Zoom DAU had risen to 300 million. As a matter of fact, it was one of the most downloaded apps for iPhone and iPad in 2020.
(Business Insider)
6. The US is home to 50% of all Zoom monthly active users.
The largest part of the platform's users originates from the US. The UK has 6% of all Zoom users. But the platform also became popular worldwide. According to the Zoom statistics during COVID, Poland hit 1.3 million downloads in March alone. Further, in Italy, it had 11,706 Android app users in February 2020, but in March 2020, the number skyrocketed, reaching 136,497.
(Enlyft, Finances Online)
7. 30% of people surveyed in Sweden use Zoom.
Out of those people on Zoom, 61% are students. Other than them, 30% of employees use it for work, and 13% of Zoom's Swedish users are retired.
(Finances Online)
8. India accounted for six million Zoom app downloads by March 2020.
Amid the lockdowns, the number of users in India skyrocketed, Zoom usage statistics suggest. So the number of app downloads soared from 100,000 at the beginning of Q1 2020 to a spectacular six million in just two months.
(TechCircle)
9. 55% of $100,000 and higher revenue customers started using Zoom through an employee free trial.
The company has a bottoms-up approach. In practice, it means that junior employees convert the service rather than the top-down approach. Some of the highest paying users started with a single employee's free trial. So, Zoom users with a license further convert other users from their office simply by sharing the link.
(Forbes)
10. The company has acquired over 2,500 academic customers since 2015.
Zoom stats show that, by 2017, 65,000+ companies globally had already been using the platform. That includes many academic institutions, and among those, 90% of the top US universities. Moreover, the company captured 58% of Fortune 500 companies.
(Nira)
Zoom Growth and Market Share Stats
11. Zoom accumulated $2.65 billion in revenue in the fiscal year ending with 31st January 2021.
The company went through a staggering growth phase during 2020. The Zoom revenue growth in Q1 was 169% YoY, followed by 355%, 367%, and 369% growth in the other three quarters, respectively. Namely, the company generated $2.65 billion in 2020, increasing from $623 million in 2019. Finally, the company had a net profit of $671 million as opposed to $88 billion for 2019.
(Statista)
12. At the end of Q2 2021, Zoom's revenue exceeded $1 billion.
Despite some return to normalcy and many workers coming back to the office, Zoom managed to hold its ground. Zoom meeting stats suggest that most companies are turning toward a hybrid work model.
(Statista)
13. In the US, the platform holds 60% of the online video conferencing market.
Video conferencing statistics show that the Zoom market share in the US is continuously on the rise. Some of its main competitors include Microsoft Teams, Skype, and Google Meet.
(ZDNet)
14. Zoom was dubbed the most popular virtual meeting platform globally by 44 out of 118 countries surveyed.
The Zoom popularity is constantly on the rise, as witnessed by the results of the poll conducted in 118 countries worldwide on the most preferred video conferencing software. Not only did it pass others, but it was named a favorite in almost half of the countries.
(TechRepublic)
15. Compared to 2020, Zoom increased its market share by 22.3%.
In line with the recent Zoom statistics, the platform had a 48.7% market share in 2021, as opposed to 26.4% in 2020. Two other platforms saw a surge in their respective market shares — Google Meet went from 1.6% in 2020 to 21.8%, while Microsoft Teams grew from 9.7% to 14.5%. At the other end of the spectrum, Skype dropped from 32.4% to 6.6%, while Slack's share dwindled from 17.7% to 3.6%.
(TechRepublic)
16. The Americas had contributed $151.4 million in revenue for Zoom by the end of Q4 2020.
While the Americas region was the number one contributor to the company's revenue, Zoom statistics show that other regions experienced significant growth as well. For instance, Asia-Pacific added $31.3 million, while EMEA generated $51.3 million in the same period.
(Finances Online)
17. Zoom's profit jumped to over $671 million in 2020.
With the rise of Zoom usage, the company's profit increased too. Back in 2018, the platform generated $7 million. In 2019, this figure rose to $21 million, while in 2020, it generated a whopping $671 million, Zoom facts show.
(Business of Apps)
18. Just 156 customers are adding over $1 million in Zoom's annual revenue.
As of July 2021, the number of business customers contributing over $1 million to the annual revenue of the platform had increased 77% YoY. Namely, at the same time last year, the number of companies with such contributions stood at 88.
(Backlinko)
19. Zoom's Phone jumped from 0 to 2 million users in only two and a half years.
Zoom's Phone is an extension to the platform, comprising an easy-to-use cloud solution with advanced capabilities. Small, medium, and large businesses can take advantage of this solution. According to Zoom call stats, this phone has reached 47 countries in only two and a half years.
(Zoom)
20. Around 180,100 Zoom Phone customers employ over 10 people.
The number of Zoom users who have over 10 employees and opt for the company's phone solution grew 70% in just two quarters. For reference, the number of companies using Zoom Phone was 10,700 in January 2021, with 26 of these companies paying for over 10,000 seats each.
(Backlinko)
21. In 2020, Zoom spent $340.65 million on sales and marketing.
Back in 2019, the company spent $188 million on the same segment. Other than that, the company invested most in general and administrative areas ($86.84 million) and R&D ($67.08 million).
(WallStreetZen)
Other Noteworthy Zoom Stats
22. Zoom App Marketplace has over 1,500 apps available.
In October 2018, the company launched its own app marketplace. The app distribution solution serves as a depository where Zoom customers can download native and third-party integrations to improve their video conferencing experience. Since the beginning of 2020, the number of apps on the Marketplace has increased by 650%. As a result, there have been over six million app downloads from the Marketplace.
(Backlinko)
23. About a third of Zoom's customers would be very disappointed if they could no longer use it.
Zoom user statistics from a survey of 1,000 customers show that it's very likely that a lot of the software's users would feel disappointed if they couldn't use it again. As many as 30.3% would be very disappointed, and 48.6% would be somewhat disappointed. Just over a fifth (21.1%) claim they wouldn't be disappointed.
(Nira)
24. Half of all Zoom app users on iPad and iPhone are under 35 years old.
Around 23% of Zoom app users on iPhone and iPad are 25-34, while 27% are 18-24-year-olds, according to Zoom user statistics. Roughly 22% belong to the 35-49 age group.
(Backlinko)
25. The company announced OnZoom, a virtual event platform, at the end of 2020.
Considering that most workout classes, lessons, and conferences all occurred via Zoom and online in 2020, it's no wonder the company wants to tap into that potential. Based on the event industry statistics, this business has become vital for those who used to rely on in-person interactions. Companies have realized that virtual events allow them to reach larger and more distant audiences.
(Protocol)
26. Around 14% of women feel tired to some extent from using Zoom.
According to recent research, Zoom meetings for women seem to last longer with less time in between. Hence, 14% of women felt fatigued, as opposed to 5.5% men, Zoom fatigue stats indicate.
(The Washington Post)
27. Zoom employs over 500 people in R&D centers in China, accounting for 30% of its workforce.
Based on the Zoom company size, it makes sense that the video conferencing giant outsources a lot of operations. Out of the total workforce it outsources out of the US, Chinese employees account for 70%.
(CNBC)
28. Zoom statistics show the service is restricted in five countries that are on the US list of sanctioned nations.
Zoom officially restricts its services in Iran, North Korea, Syria, Cuba, and Ukraine (Crimea Region). On the other hand, it's also banned for business or official purposes in two countries — Taiwan and Canada.
(Finances Online)
29. The most common traffic source for Zoom, with 73.46%, is direct traffic.
The next spot is referrals with 11.45%, followed by search with 9.79%. In line with Zoom statistics, other notable sources are social (3.17%), email (1.42%), and display ads (0.71%).
(WallStreetZen)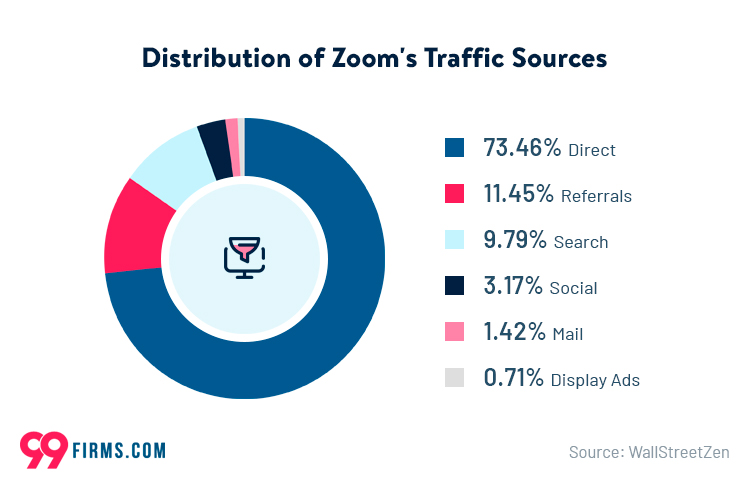 30. Zoom employs over 2,500 people globally.
Before the pandemic and the shift to remote work, which has partly been made possible by video conferencing software, most of the company's employees worked in their offices. Some of the platform's office locations include San Jose, Kansas City, Santa Barbara, Atlanta, Denver, and international offices in several cities in EMEA and APAC.
(CNBC)
31. According to Zoom facts, the company received the title of the second-best workplace in 2019, according to Glassdoor.
The company was dubbed one of the best places to work in 2019. It scored second place, only after Bain & Company. In-N-Out Burger took the third spot and Procore Technologies fourth. Finally, Boston Consulting Group made it to the fifth spot.
(Forbes)
32. Zoom's net promoter score is 70.
In 2019, Zoom reported that its average NPS is estimated at over 70. For reference, only the best companies globally register an NPS over 70.
(Nira)
Zoom Webinar Stats
33. Over 45 billion annual webinar minutes happen on Zoom annually.
In addition to video conferencing, Zoom also moonlights as webinar software. Compared to Q3 2020, the end of 2020 saw 7.14% more users hosting webinars over Zoom. Moreover, in April of the same year, there was a 14 times increase of webinars hosted on Zoom compared to Q1.
(Backlinko)
34. Zoom webinar solution offers access for up to 10,000 participants.
During the lockdowns caused by the pandemic, most companies turned to Zoom to aid them in hosting webinars. Aside from Zoom's video conferencing features and various pricing options, this platform makes it possible for up to 100 panelists and a large number of attendees to access webinars. Zoom statistics show that it further has ample features to aid users during the event, like chat, recording, Q&A section, polls, branding, and many more.
(Owl Labs)
35. Only 20% of people are actively listening and giving feedback during Zoom webinars.
According to webinar statistics, many people have divided attention while listening to video conferences or meetings on the platform. For instance, 27% of people are doing other stuff while waiting for someone to call their name. Similarly, 26% are trying to listen but often zone out. Finally, 27% of people listen carefully, but they prefer to stay silent, Zoom meeting statistics confirm.
(WallStreetZen)
Zooming in on Future of the Platform
When the pandemic swooped in across the world, not everyone was ready for online meetings, and Zoom emerged to save the day. Today, people use the name of this platform as a verb, which speaks volumes of how impactful it was on the world of video conferencing. These Zoom stats confirm it. Not just that, but it's also not going anywhere - with or without the pandemic.
Zoom FAQ
When was Zoom created?
Eric Yuan established the company in 2011 and released a beta version in 2012. However, the real launch occurred in 2013. In just a few months, the Zoom platform counted one million users. Its real success, however, came as COVID-19 wreaked havoc upon the world. In March 2020, it was downloaded over 2.3 million times in one day. In April of the same year, it had 300 million daily active users.
(Dispatch)
How much is Zoom worth?
In 2017, Zoom reached a $1 billion value, attracting a $100 million investment from Sequoia Capital. Based on the Zoom stats, 2020 brought incredible growth to the company, and as of February 2022, its market cap stands at about $44 billion.
(Business of Apps, Companies Market Cap)
How many people use Zoom?
Zoom had around 300 million daily active participants in 2020 (including free and premium users). Compared to December 2019, it's a 2,900% increase. In 2020, Zoom's business customer base increased by 470.33
(Backlinko)
How many employees does Zoom have?
Zoom stats show that in 2019, the company had a total of 1,702 people working there. Next year, when the pandemic started and the company witnessed stellar growth, it grew in size to 2,532, or a 48.77% increase YoY. In just three years, the company grew nearly three-fold.
(Macrotrends)
How many schools are using Zoom?
With schools closed during the initial lockdowns and the entire education concept changed, Zoom stepped up. This video call service became the foundation for the new way of communication between students and teachers at all levels of education. Namely, in over 100,000 schools, from 25 countries, Zoom was the leading service in use. Moreover, 35,000 people from 154 countries took part in Zoom Academy for K-12 educators, Zoom statistics show.
(EdSurge)